Upgrade Your Wardrobe with Our New Arrival Body Shapewears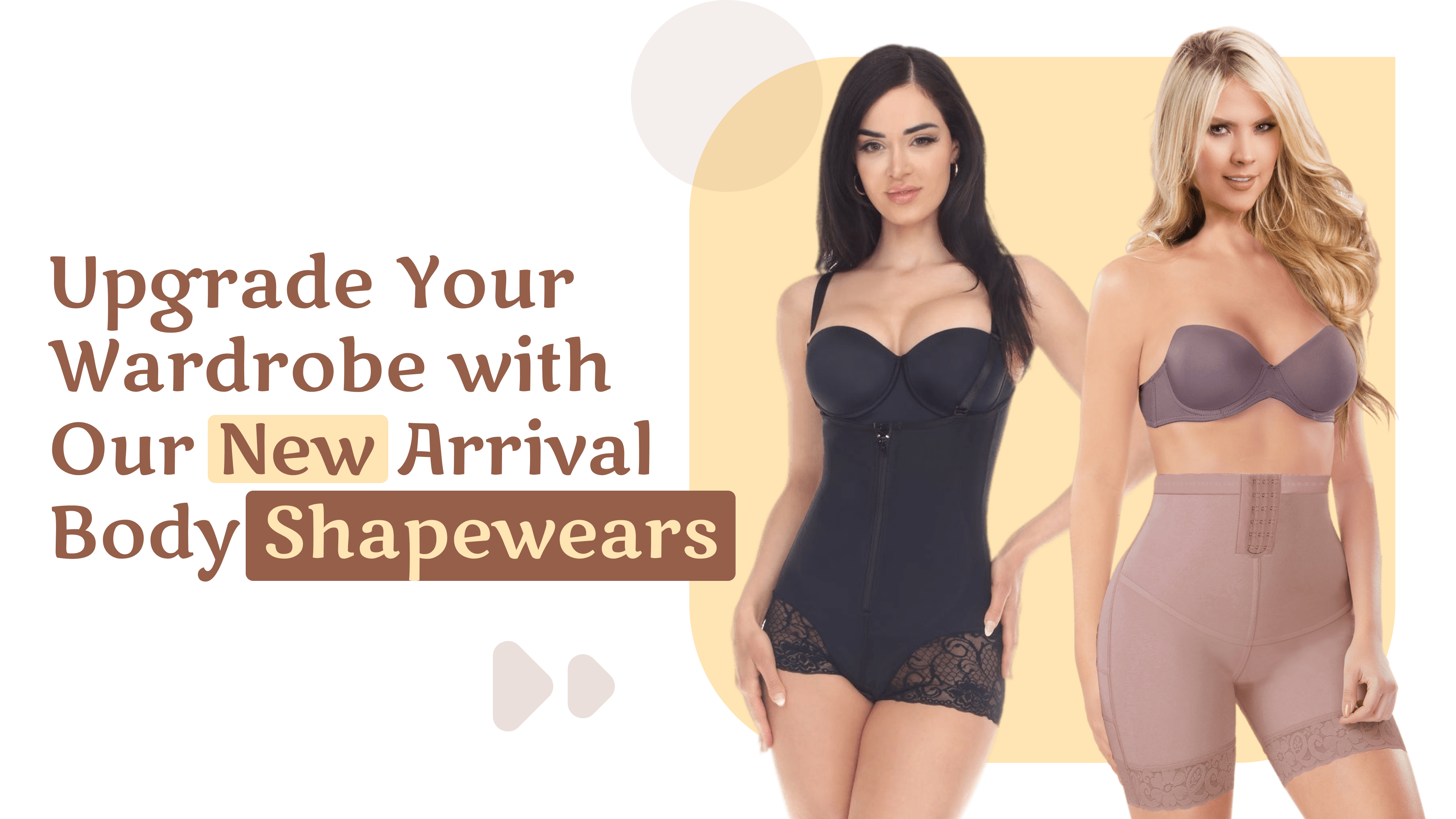 When it comes to fashion, the most important aspect is always feeling comfortable and confident in what you wear. And what better way to flaunt your figure and bolster your confidence than with our latest body shape wear arrivals? These cutting-edge garments are meant to enhance and support your natural curves, giving you a flawless look in any outfit.
Whether you are going to work, attending a special event, or running errands, we have a perfect fit for you. They are made of superior-quality materials that provide excellent compression and shaping. By smoothing out any bumps and lumps, they provide a sleek look that flatters your form and allows your outfit to fit even better. That said, check out our latest collection of body shapewears.
Enhance Your Curves and Confidence with the 3304 High Waist Tummy Compression Butt Lifting Shorts
The 3304 high waist tummy compression butt lifting shorts with three row Hooks are a versatile and unique shape wear that will improve your curves and provide a pleasing silhouette. Aside from being a faja shaper, these shorts are made of high-quality materials that combine comfort and functionality to shape your figure.
The high waist design gives full coverage and tailored compression to the belly area, helping in the smoothing and flattening of your abdomen. Compression technology not only slims you down but also supports your core muscles, promoting better posture.
The shorts also have a unique three-row hook system that allows for customizable compression levels. This adjustable mechanism offers a great fit and allows you to gradually tighten the shorts as your body sculpting journey progresses.
The buttlifting effect is one of these shorts' most notable qualities. The strategically placed seams and panels serve to elevate and enhance your natural curves, creating a more rounded and lifted appearance. These shapewear shorts are designed to make you feel confident and empowered in any outfit, whether you want to smooth out your tummy, improve your posture, or accentuate your curves.
Get the Perfect Silhouette with the 3097 Strapless High Compression Girdle
The 3097 strapless high compression girdle with hooks is the best solution for a sleek, sculpted appearance. This unique shape wear combines comfort and effectiveness to provide you with the boost in confidence you deserve.
The strapless feature, designed with the modern lady in mind, offers a seamless look under any outfit, allowing you to use it with your favorite strapless dresses or shirts. The high compression fabric shapes your waist, hips, and abdomen while providing optimum support and control.
The addition of hooks increases convenience and customization. You may effortlessly modify the compression level to suit your comfort and preferred level of shaping with numerous hook closures. This flexible girdle can be worn for a variety of events, from daily wear to special occasions when you want to look and feel your best.
Say goodbye to bulges and hello to sleek, hourglass form. The Strapless High Compression Girdle with Hooks is your secret weapon for a faultless appearance, allowing you to rock any outfit with confidence.
Flaunt Your Curves With Comfort With Our New 2105 Butt Lifter Shapewear Tummy Control Short Panties for Women
Feeling confident and comfortable sometimes needs extra support. Enter our new 2105 women's butt lifter shapewear tummy control short panties. These revolutionary panties are designed to flatter and shape the lower body and provide many benefits.
First and foremost, the buttlifting feature creates a more defined and rounded posterior by providing a natural-looking lift. This instantly boosts your confidence, allowing you to comfortably wear your favorite clothing. Furthermore, the belly control feature smooths and flattens the midsection, creating a sleek and streamlined silhouette.
These panties are made from high-quality material and provide a comfortable and airy fit, allowing you to wear them all day without discomfort. They are also discreet, with a perfect design that is invisible beneath your clothing.
Get a Flawless Fit With Our Unparalleled 2050 Seamless High Waisted Body Shaper Shorts
The 2050 Seamless High Waisted Body Shaper Shorts have been intended to revolutionize comfort and style. These unique USA shapewear shorts provide a smooth and faultless fit, embracing your body's natural curves with elegance and confidence.
These shapewear shorts, made with innovative fabric technology, provide amazing shaping and support without sacrificing breathability. The slimming impact of the high-waisted shape emphasizes your waistline and creates a seamless look. These shorts provide excellent comfort throughout the day thanks to a blend of softness and shapewear dresslike elasticity, making them great for everyday use or special events.
It takes a progressive approach to fashion, encouraging inclusivity and promoting diverse body types. These body shaper shorts are available in a variety of sizes and colors, allowing you to express your unique beauty.
Discover the 3327 Hourglass BBL Girdle with Mid Legs and Hooks, Your Perfect Companion for Post-Surgery Recovery and Everyday Comfort!
Whether you're recovering from surgery or simply searching for comfortable everyday wear, finding the right girdle can be life-changing. The 3327 Hourglass BBL Girdle with Mid Legs and Hooks is styled and functional to fulfill both needs.
This faja shaper, made with superior fabrics and professional tailoring, provides exceptional support and compression for your waist and thighs. It has a hook-and-eye closure system that allows you to modify the fit to your preference. Just like a shapewear dress, its mid-leg design provides the right shaping while getting rid of unwanted rolling or shifting.
The Hourglass BBL Girdle is ideal for post-surgery recovery since it reduces swelling and bruising while helping the body's natural healing process. It also helps to contour and sculpt the waistline and hips, improving the outcomes of interventions like the Brazilian Butt lift.
The faja shaper is excellent for regular wear in addition to its post-surgery benefits. Its seamless design offers a flawless silhouette under any clothing, while the breathable material keeps you cool and at ease all day.
Embrace Your Comfort in Style with the New 3073 Bikini Style Waist Control with Lace Trim
The 3073 Bikini Style Waist Control with Lace Trim is an extraordinary garment created to deliver unrivaled comfort, support, and style. This waist trainer USA shapewear is another ideal choice for people recovering from surgery since it provides gentle yet effective compression to aid in the healing process.
The 3073 Bikini Style's booty-lifting style is one of its most notable qualities. This shaping bodysuit enhances your curves and adds a confidence-boosting lift to your behind, giving you a gorgeous profile.
This waist trainer garment is made of high-quality Powernet fabric and provides ideal compression without causing skin discomfort. The Powernet material is breathable and flexible while also providing the desired shaping bodysuit effect.
The 3073 Bikini style's bathroom-friendly design makes your everyday routine more convenient. You can easily slip in and out of it without trouble, ensuring an enjoyable experience.
The garment is proudly made in Colombia hence the name fajas colombianas. They are the result of great craftsmanship and durability. The 3073 bikini style Waist trainer is the ideal blend of post-surgery recovery, bathroom-friendly convenience, booty-lifting design, and elegant lace trim. This increases your confidence while ensuring you embrace your curves like never before.
Boost Your Confidence with the 3261 Mid Thigh: The Revolutionary Shapewear with Built-In Bra and Arm Sleeves
The 3261 Mid Thigh with Built-In Bra and Arm Sleeves is a new garment designed to enhance the outline of your body while also providing optimal support. This high-quality USA shapewear with a powernet design provides strong control, giving you a smaller and more defined silhouette. The built-in integrated bra lifts and supports the bust, ensuring a cozy and flattering
One of its primary features is the arm sleeves, which not only offer compression for thinner arms but also help tone them up. This garment's tailored compression technology corrects your posture, giving you a more confident and poised look, and can be a perfect alternative for a shapewear dress.
The Mid Thigh pattern extends down to the thighs, shaping and sculpting your legs for a toned and streamlined appeal. Furthermore, the open bust design allows you to wear your own bra, allowing you to accommodate diverse bust sizes and personal preferences.
This all-in-one bodysuit is revolutionary in that it combines many benefits into a single garment. With its powerful blend of toning, support, and posture correction, the mid Thigh with Built-In Bra and Arm Sleeves is an ideal solution if you desire a slim and confident silhouette.
Conclusion
Body shapewear, also known as fajas colombianas, is a game changer when it comes to revamping your closet. Our newest body shapewear collection is the perfect solution for getting your desired silhouette! Whether you're looking to accentuate your curves, reduce your waistline, or increase your confidence, our latest arrivals have you covered. Don't miss out on this chance to revamp your wardrobe and enhance your look. Visit our store today to learn about the magic of body shapewear. Embrace your body. Embrace your confidence!cele
---