Shapewear for New Moms: How to Get Your Body Back After Giving Birth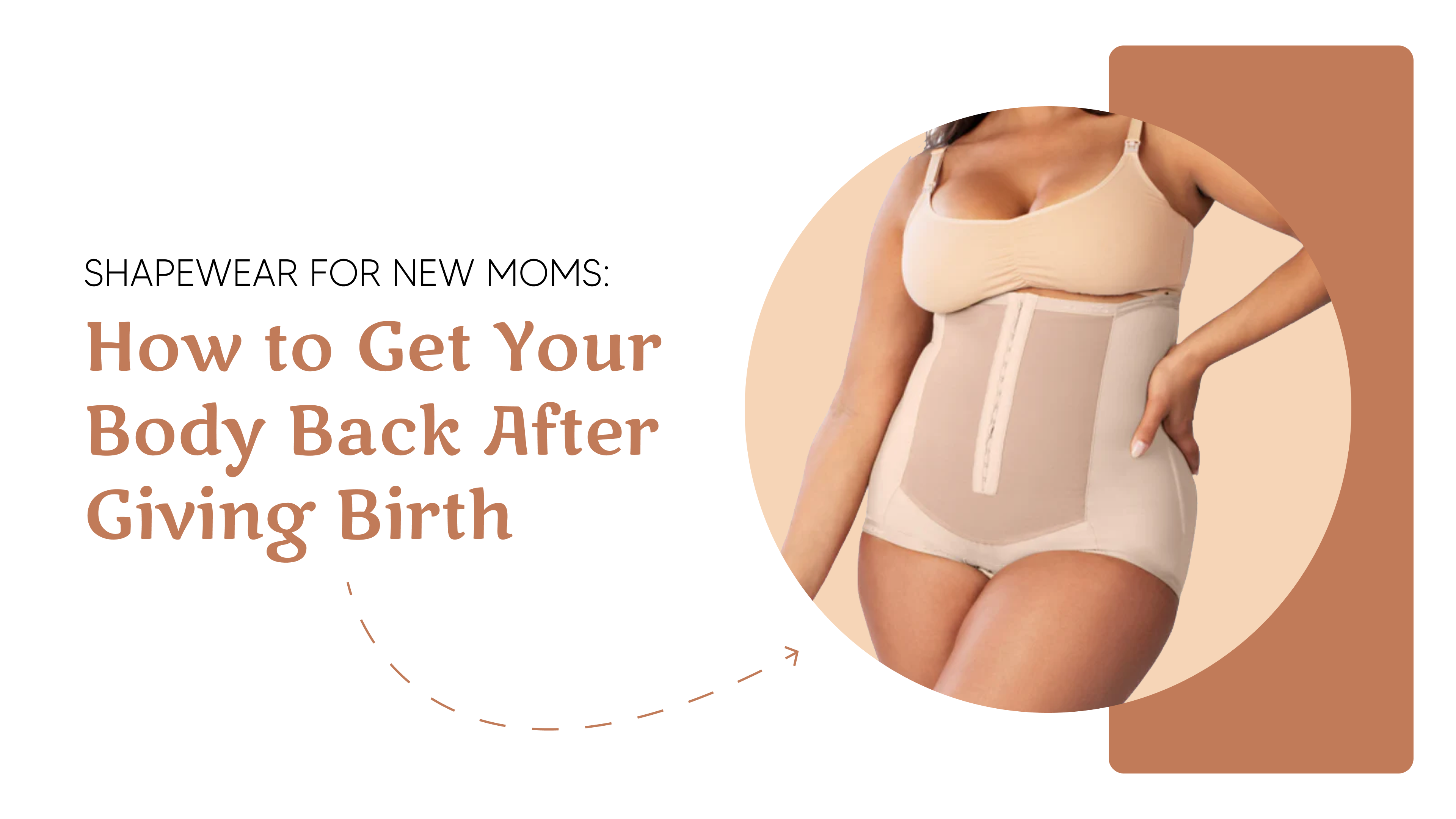 Giving birth is an incredible experience. Nothing can compare to the feeling of holding your little bundle of joy in your arms for the first time — but the weeks following birth can also be overwhelming. In between all of the hormonal and bodily changes you experience as a new mom, getting your body back after birth can sometimes feel out of reach.
Fortunately, postpartum shapewear can help you restore your pre-pregnancy body shape and feel confident in your own skin sooner. But with so many options on the market, how can you know which is the best postpartum shapewear for you?
In this article, we'll cover everything from the benefits of postpartum shapewear to who it's for to finding the best postpartum shapewear for your needs. Whether you've recently had a C-section or are recovering after a natural birth, Perfect Shape has got you covered with postpartum shapewear for every new mom. Let's dive right in!
What is Postpartum Shapewear?
Postpartum shapewear is designed to help new moms get their prepartum bodies back after giving birth. It offers extra abdominal support, helps enhance body shape and figure, relieves discomfort and pain associated with post-birth recovery, boosts confidence levels, and can even help you during the recovery process – all while looking great!
Postpartum shapewear comes in many different types such as belly bands, bodysuits, waist trainers, and more. Since new moms are busier than ever, this is the perfect solution for helping you reclaim your pre-baby body without having to go through intense workouts or dieting regimes while they're busy caring for their new little one.
The Benefits of Postpartum Shapewear for New Moms
If you're considering trying out postpartum shapewear, the benefits are vast. Most importantly, postpartum shapewear provides vital abdominal support following a C-section by helping to keep the stomach muscles and skin tight while improving posture. This allows women to get back on their feet quicker than without its use –– which is crucial when you're caring for your new bundle of joy. Not only that but they also help reduce pain and bleeding associated with C-sections significantly. And if you're several days post-op, you already know how tender and swollen it can get once you remove your bandages. Investing in quality postpartum shapewear for C-section is key for recovery.
Even if you gave birth naturally, wearing a postpartum shapewear bodysuit can help you enhance your body shape and figure, allowing you to regain your pre-baby physique in a short time. They provide not only physical relief from the discomfort associated with postpartum recovery but also mental relief as it boosts confidence levels, making the transition back into everyday life easier for new mothers.
Not only that but shapewear for postpartum is designed specifically for pregnant or postnatal women looking for comfort and style during pregnancy or nursing. The best postpartum shapewear is made from breathable materials that allow moms to move freely while still providing necessary compression which can help reduce swelling and speed up healing times after delivery.
Types of Shapewear Postpartum
At Perfect Shape, we have a wide range of options for new moms. One of the most popular options on the market for regaining your pre-baby figure is a postpartum latex shaper. It offers exceptional comfort while still providing the necessary compression to help heal quicker after delivery. This type of garment also helps improve body shape, enhancing curves while lifting sagging skin due to pregnancy weight gain or post-C-section swelling.
A Waist Reshape Velcro Training Belt is another revolutionary piece of postnatal gear that not only gives added abdominal support but also works on reshaping your waistline over time through its special design features. Its thick neoprene fabric increases blood circulation and promotes fat-burning capabilities within the abdomen — all while improving posture.
If you're looking for something more comprehensive, then opting for a postpartum shapewear bodysuit may be just what you need! This all-in-one solution allows you full coverage from the chest down to the hips, while still maintaining breathability thanks to its lightweight fabrics. Our Lock It In Bodysuit Shaper is the perfect everyday solution for lifting your booty and tucking in your tummy under any outfit.
How to Choose the Right Postpartum Shaper for You
When choosing the right postpartum shapewear, it is important to understand your needs and how you want the garment to fit. Size, fit, and comfort are key factors when selecting a postpartum shapewear garment that will provide optimal abdominal support and reduce discomfort associated with post-birth recovery. Consider whether you need one-piece coverage or two separate pieces that can be worn together for increased compression in certain areas.
Style is another factor to consider when shopping for postpartum shaper garments since this type of clothing comes in many different shapes, colors, and designs. From traditional waist trainers with adjustable straps to full-body suits offering maximum coverage from the chest down – there's something out there perfect for every mom's personal style! When selecting a style make sure it also meets your function requirements. Do you need extra abdominal support following a C-section? Or do you need more targeted compression around the lower back area to help with pain relief? Knowing what specific functions you require will help narrow down which is the best postpartum shapewear for your needs.


Ready to Embrace Your Beautiful Post-Partum Body With Confidence? Try Our Shapewear Now!
Postpartum shapewear is an excellent choice for new moms looking to regain their pre-baby figure and reduce discomfort associated with postnatal recovery. With a wide range of styles, materials, and features available on the market today – there's sure to be something out there perfect for your needs! From traditional waist trainers providing extra abdominal support after C-section deliveries to full bodysuits providing maximum coverage from the chest down – all these garments offer both form and function tailored just for you.
Most importantly, always remember you're resilient, mama! You've just brought life into this world and your body goes through an incredible transformation during pregnancy and after giving birth. With the right shapewear, proper rest, and support from your loved ones, you'll be on the right track to feeling great in no time!
So, why not try our Perfect Shape Postpartum Shapewear range out for yourself? Order yours now to experience what so many other new moms have already discovered — that postpartum shapewear can truly make a huge difference in your confidence and comfort levels during those crucial weeks following childbirth. Best of luck with your new little one!
---