How to Shape Your Legs with Thigh Shapers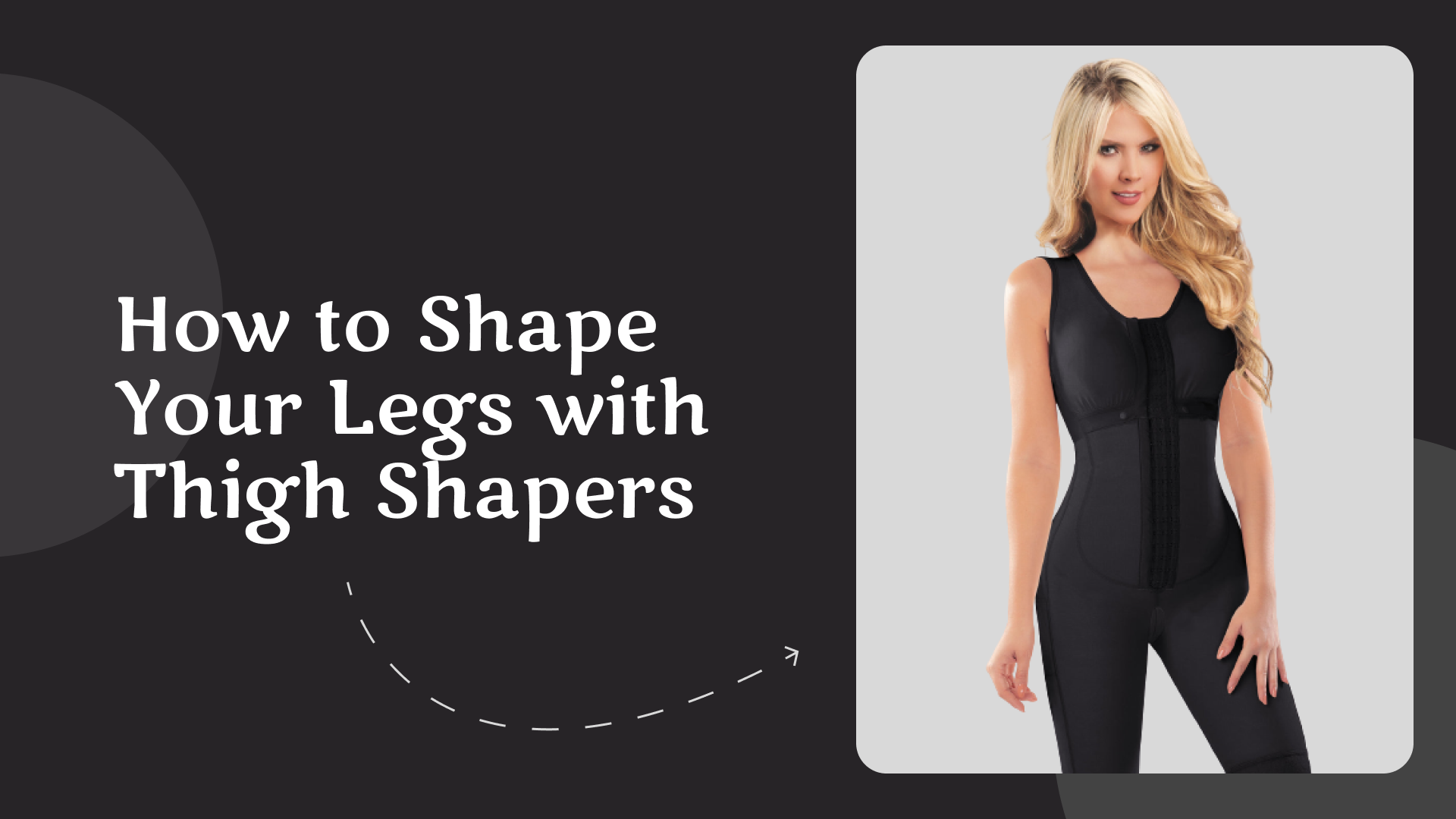 Many of us are constantly pushing to achieve that elusive thigh gap or simply a more streamlined lower body. It's frustrating. We get that. But what if we told you there was a way to discreetly enhance your silhouette and transform your entire look?
It's called leg-shaping shapewear.
Thigh shapers, leg shapers, and thigh slimmers for women are a godsend for any fashion-conscious individual looking to achieve thigh-slimming magic. Let's dive deeper into this world of figure-enhancing beauts and explore how they can help you rock those slim and toned thighs with confidence.
Thigh shapers have taken the world by storm
If there is one thing that connects the Kardashian sisters, Beyonce, Lizzo, and Demi Lovato, it's their love for shapewear. And there is a mighty good reason for their unabashed love. Once you have tried shapewear, there is simply no going back.
Imagine slipping into a garment that feels like a second skin, gently hugging your curves, and sculpting your lower body with finesse. That's exactly what leg shapers and thigh slimmers are and what they do. These ingenious garments are meticulously designed with precision and care to provide you with the ultimate leg-enhancing experience.
With their seamless construction and intelligent compression technology, thigh shapers offer a snug fit that instantly smoothens and sculpts your legs, making them appear slimmer and more contoured. Talk about a confidence boost!
Why you need thigh shapers and leg shapers in your wardrobe
Thigh shapers and leg shapers offer a myriad of benefits that go beyond mere aesthetics. These remarkable garments are key to unlocking a range of benefits that will leave you feeling confident, comfortable, and undeniably fabulous.
Curvaceous Confidence
Nothing compares to the surge of confidence that comes from knowing you look absolutely stunning. All the best thigh slimmers provide that extra boost of self-assurance, allowing you to rock any outfit with poise and grace. They enhance your curves and give your legs a tantalizing allure that will make heads turn wherever you go.
A slimmer, smoother silhouette
Thigh shapers for women, like our Perfect Bust to Thigh Shaper and Strapless to Knee Firm Body Shaper with Butt Lifter, work their magic by providing seamless and smooth coverage that hugs your curves in all the right places.
With their intelligent compression technology, these innovative garments instantly contour and tone your thighs, giving you a streamlined silhouette that leaves everyone in awe. No bumps, lumps, or unevenness. It's like having your very own personal stylist craft figurine perfection for you with every outfit.
Boost your comfort, not just confidence
Who says you have to sacrifice comfort for style? The best thigh shapewear doesn't just stop at enhancing your legs' appearance. These bad girls give you a snug yet breathable fit that allows you to move with ease and excellent support and comfort so that you can strut your stuff all day long without a hint of discomfort.
Whether you're wearing them for a night out on the town or a long day at the office, thigh slimmers have got your back (or, rather, your legs) covered and delightfully shaped!
From Casual Chic to Glamorous Glam
One of the most delightful aspects of thigh shapers is their versatility. Thigh shapers are the ultimate chameleons of the fashion world, effortlessly adapting to any occasion. It doesn't matter what you are going for—a casual chic look or a glamorous evening ensemble. These shapers seamlessly adapt to your style needs. Pair them with your favorite jeans for a casual day out, or slip them under a slinky evening dress for a red-carpet-worthy appearance. With thigh shapers, you'll always exude confidence and fashion-forward flair.
Shaping your legs with thigh shapers
With Perfect Shape's thigh shapers and leg slimmers, you can sculpt, shape, and lift your legs and thighs to achieve the figure you've always desired. Experience the power of thigh lifting and compression, the convenience of bathroom-friendly designs, and the confidence that comes with flaunting your perfect curves.
Here are some ideas to get you started:
1. Lower body sculpting

Perfect Shape's Bust to Thigh Shaper helps you get beautifully shaped legs and thighs. This figure-flattering mid-thigh shaper is the pinnacle of waist-cinching, thigh-hugging compression, and booty-lifting style.
Made with powerful Powernet material, it provides targeted compression to your waist, bust, buttocks, and thighs, giving you a flawless silhouette. The three-hook design makes it simple to adjust the compression to your desired level, not to mention the design that lifts your booty and makes you feel amazing.


2. Full body sculpting

Getting full body compression is not a pipe dream anymore, thanks to our lovingly crafted Hook Arms to Knees Shaper. Unlike many other shapewear options on the market, it provides the necessary supportive compression without irritating the skin or making it difficult to breathe. This versatile shapewear targets your tummy, legs, and arms while providing a stunning booty-lifting effect. This shaper will be your best friend, whether you are trying to get back in shape after a series of operations or just want to tone your entire body.
"Perfect Shape is hands down the best shapewear brand for us ladies out there. I have my fair share of experience with tummy tuckers and leg shapers, but the Hook Arms to Knees Shaper is on a different level! It targets my tummy, legs, and arms, providing the support I need while also having a fantastic booty-lifting effect." - Jessica


3. Perfect shape sculpting


Perfect Shape Compression Shaper makes perfect body shaping ridiculously easy. Designed to shape your tummy and legs, it's the perfect foundation for any outfit. It accentuates your natural curves while also providing definition where it is needed. It can also be worn after surgery as a garment to help reduce swelling and give the appearance of a lifted buttock.




4. Leg shaping with tummy tucking


If thigh skin lifting with a bit of tummy tucking is what you are looking for, then our Lock it in Tummy and Legs Shaper is a true game-changer in the world of thigh and leg shapewear. Powernet material smooths, shapes, and lifts your body in this all-in-one compression garment. Its breathability, comfort, and support will amaze you. Because it can assist in the reduction of swelling and promote smoother results, it is also an excellent choice for wear after surgical procedures.
Here is what Emily, 36, and one of our longtime customers said to us:
"I had been looking for shapewear that would lift and shape my thighs while also tucking in my tummy. Perfect Shape's Lock it in Tummy and Legs Shaper exceeded my expectations. It lifts my body flawlessly. It's incredibly comfortable and breathable, and it works under all my favorite clothes!"


5. Slimmer legs with slimmer arms



For those seeking a tucked-in look and full-body support, our Lock it In and Arms to Knees Shaper is the ideal choice. This shapewear not only targets your tummy, legs, and arms but also provides a booty-lifting effect, making it another excellent shapewear post multiple surgeries.




Find your next thigh and leg shapewear at Perfect Shape
Nothing quite compares to the feeling of self-assurance that comes along with showing off your curves. That is why Perfect Shape offers only the best thigh and leg shapewear for women. We have a wide variety of shapewear to help you achieve your desired results.
A more defined waist, perkier breasts, or trimmer thighs and legs are only one shapewear away. Browse our collection of high-quality and comfortable thigh and leg shapewear today and get ready to rock your look.
---