How many times have you worn a new dress, shirt, or blouse out in public with a bra, only to be told that your straps are constantly showing or that you can see the bra directly through the top? How many times have you worn a new dress, shirt, or blouse out in public with no bra, only to be told that your nipples can be seen or that your breasts are sagging?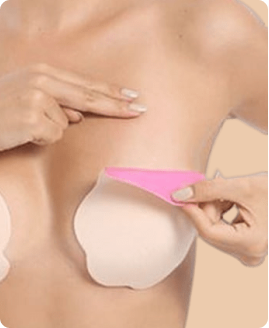 There's no need to worry anymore about any of those concerns when using Perfect Shape pasties! Feel comfortable and confident in public with our reusable silicone nipple covers and skin-friendly breast pasties. These easy-to-use body tapes, pasties, and nipple covers allow you to find your perfect fit for breast lift, coverage, and ease.
Benefits of Pasties
The benefits of using Perfect Shape breast lifting tape or nipple pasties are endless. Some of them include:
- A sleeker look under any of your clothing
- When you are looking for modesty under revealing outfits
- When you're wearing a top or dress that you simply cannot wear a bra with, i.e backless, low cut, etc.
- When you're looking for a little extra lift without needing to wear a push-up bra
- When you have a large chest and want to help reduce the appearance of your chest
- When you are a smaller chested person and are looking to create a little extra oomph with the appearance of cleavage and breast contour
These reasons and so many more show the sheer versatility and benefits of using pasties or body tape for your day to day!

Who Should Use Pasties
Breast lifting tape and nipple covers are really for anyone! Small chested, large chested, and everyone in between are perfect candidates for the use of these items.
Nipple covers, or pasties are perfect to help with a modicum of modesty under any top, blouse, or dress that you could wear. Dare to go backless or with a deep v-cut top, blouse, or dress and have no worries about it.
Body tape is perfect to help lift and emphasize your chest if you want, or to help flatten and minimize your chest if you want. The most versatile of the two items, you can lift, separate, flatten, boost, create contours, create cleavage, and create bra-free support
When to Use Pasties or Lift Tape
You can use nipple covers or breast tape at any time, and that is the beauty of their versatility! You can use these for everyday use underneath your clothing, you can use them for special occasions when you really want to dazzle, or you can use them on specific outfits where a bra or lack thereof just won't work!
The best use of these, if you decide to use them every day or only for special occasions, is to make sure that you're breast area is thoroughly cleaned and dried before using them. Make sure there are no oils, moisturizers, powers, or fragrances anywhere near the nipple covers or breast tape while you are using them. Any of those products near the nipple covers or breast tape could cause the adherence to fail in public, and no one needs that.


Create Your Perfect Shape with
HerPerfect Shape Pasties
Use our nipple covers, pasties, and breast tape to give you the sleek and chic look that you desire in any outfit!
Buy now