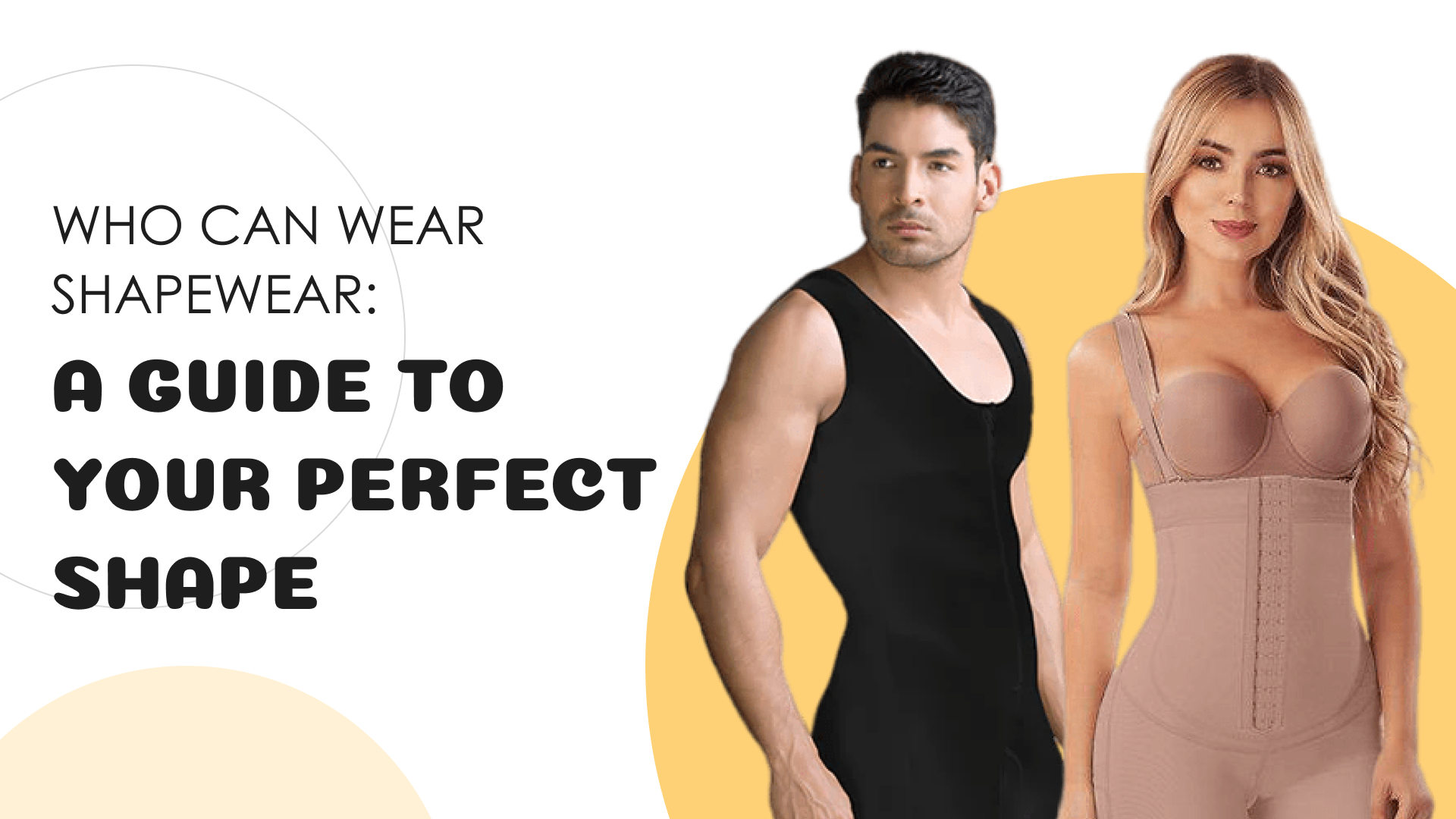 Today, the need for people to dress and shape their bodies in a truly magnificent way has finally been met. The world has finally opened to sports and fashion shapewear brands that have helped both genders shape their bodies.
Shapewear has proven to be a game-changer and an instant solution for giving you your dream look without losing weight. Who wouldn't want a work-shy, no-dietary, pocket-friendly, and efficient figure-shaping way to streamline your body? Unlike in the past, when bodywear was worn separately, the shapewear era has brought a seamless basis for every ensemble.
Shapewear is available in different colors, patterns, shapes, designs, and types. You may be conversant with shapewear but need an idea of how to use it. There are misunderstandings and misconceptions revolving around shapewear.
Therefore, in this informative article, we will look at everything you need to know about shapewear, why you need it, and also clear up the misconceptions and misunderstandings around it. Read on to find out.
What is Shapewear?
It is an undergarment that helps you create a smooth silhouette and sculpt your figure to highlight your natural curves and support some areas of your body, especially when wearing tight-fitting clothing.
The Versatility of Shapewear
Shapewear has proven versatile; whether you want a streamlined body or not, a shapewear option that fits that purpose is there. It is, however, essential to note that shapewear is not limited to only streamlining your body to a shape you desire, as it is volatile. Let us discuss some of the ways shapewear can be versatile.
Helping in Post Surgery Support Functions
After undergoing a surgical procedure, shapewear can be of more significant help in aiding the healing process. These garments provide individuals recuperating from post-surgery or delivery with considerable benefits in the healing process.
They give the body stability and support as the healing continues after the surgical procedures. The surgeries include one at the tummy tuck, supported by the shapewear garment to fasten the post-surgical healing process. These support garments also assist in regulating blood circulation, thereby securing the healing process.
Sarah, a post-pregnancy mother, complained about the uncountability of having loose skin in her mid-section after giving birth to her child. She testified that she used postpartum shapewear to support her abdominal muscles and help speed her healing process. She said that it worked as the compression from the shapewear held her muscles together, giving her the comfort, she required while tightening her skin.
Maternity Shapewear
Shapewear can also be worn by pregnant mothers to prevent thighs from chaffing and eliminate growing belly discomfort by supporting it.
In addition, maternity shapewear shields the whole abdomen area, eliminating the worry of letting your belly open. It also helps shape your stomach beautifully and smooth out your lumpy legs. You can wear your beautiful maternity dress during a baby bump photoshoot or a baby shower celebration.
Shapewear for Formal Functions
Formal event shapewear enhances your natural body shape, bringing out the beauty of your posture and making you feel fabulous as all eyes will be on you.
Workout Shapewear
Around the globe, shapewear makes people feel confident and better about themselves. A study shows that women are often more confident when they wear shapewear daily than when they don't. Workout shapewear enables them to have an admirable posture that further enhances confidence.
But, besides, shapewear items are made of fabric that makes them extremely tight. This quality allows the material to compress the muscles, keeping everything in order while at the gym, thereby preventing injuries.
Benefits of Wearing Shapewear
For many, getting into a desirable shape has always been an exotic thought, with no idea of how to turn the thought into action. Wearing shapewear has proven to be the best solution. There are countless benefits you can get from wearing body shapers. Let us discuss them in detail.
Enhances Performance When Exercising
Shapewear can help you maximize your workout by supporting your core muscles and correcting posture. This can lead to faster weight loss and overall health benefits.
Boosts Confidence and Attitude
Besides shaping and contouring your body, shapewear improves your confidence and gives you a positive attitude toward working on your weight loss. Shapewear helps your body make a sexy silhouette and will encourage you to keep up with your weight-loss efforts and curves.
Boosts Ones Mental and Emotional Status
Body shapers can provide your body with the comfort it requires, especially when wearing breathable garments made from high-quality fabrics. Comfort gotten from high-quality garments can enable your body to relax, elevating your mood and reducing stress.
Shapewear can also help you accept your body as it is, thereby improving self-esteem/confidence while, on occasion, elevating emotional and mental stress.
Increasing Blood Circulation 
The compression garments will increase blood flow to areas of your body by applying pressure to your body, pushing blood to different areas of the body. It also helps in promoting organ function and cell growth.
Shaping the Body
Shapewear's purpose is to support and compress body parts and help shape the body into desired curves. It does this by compressing around saggy body parts and tightening the skin to give it the best shape and size.
A 33-year-old, Maria desired to have a lifted waist and a more defined waistline. She started wearing a butt-lifting and waist cincher underneath her clothes. This shapewear helped her achieve her goal of having the hourglass figure she dreamed of.
Why is it important to choose the right shapewear?
Choosing the right size that fits you well is essential because if you select shapewear, that is exceedingly applying pressure on your body as it can impede free blood circulation. The wrong choice of shapewear can be the genesis of problems, including health issues. Therefore, evaluating the best shapewear that gives you the benefits you need is essential.
Here are some other benefits of choosing the right shapewear.
Convenience

Comfort

Management of weight

Increased clothing options

Improved posture
Remember, when you choose the wrong shapewear that does not fit your body well, you risk encountering problems such as restricted movement, discomfort when doing your daily duties, or, in the worst case scenario, bruising your body. It is crucial, therefore, to be keen when choosing shapewear that fits you well.
Various Shapewear Options Available in the Market
From Fajas Colombianas to Fajas and BBL, many different types of shapewear garments are on the market. Each type of garment is designed to provide various types of compression to different body targets.
Perfect shape store stands out from the rest as the best and most all-inclusive shapewear store. Our products are hand-sewn and cater to any concerns you might have. Our stores have a diverse selection of shapewear, including;
Women's liposuction, tummy tucks, facial surgery, arm lifts, thighs, popular shapewear, butt lifts, and men's surgery, to mention a few.
Click here to find our store's complete list of products/collections of shapewear.
Unique Features of Shapewear
Different shapewear has different features and how it performs its required function. Let us discuss five types of shapewear, their features, and how they perform their functions differently.
Tummy-tuckers
This super elastic, firm, anti-rolling shapewear creates a smoother, more streamlined silhouette under form-fitting clothing.
Functions - it helps to flatten the stomach, cinch the waist, and smooth out any bumps or lumps.
Body Shaping Bodysuits
This firm shapewear contains moderate compression pressure that helps in various functions.
Functions - it helps smoothen belly bulges and shrink the waistline, hiding your body's lumps, bumps, and bulks.
Men Shapewear
These are men's body shapers that are used for various functions, including;
Functions - flattens man boobs, suppresses beer bellies, uplifts your assets, or gets you that perfectly rounded butt.
Waist Training Belt
This body shaper can be used in your daily activities, e.g., working out, exercising, and shopping at the office.
Functions - stimulating sweating, accelerating the burning of belly fat, and contracting the belly area.
Posture Corrector
Posture correctors help your body stay fit and maintain its posture without altercations.
Functions - creates body awareness to maintain balance, stability, and flexibility.
Shapewear Recommendations: Do's & Don'ts
DO

- wear it according to its compression level. You should wear low-compression shapewear for 8-12 hours, medium 6-8 hours, and high-compression for about 4-6 hours.

DON'T

- never surpass the recommended wear time, as it may cause unprecedented problems you don't know about, including the fracture of your skin.

DO

- look for body shapewear that fits your body perfectly and observe hygiene protocols.

DON'T

- do not share shapewear with anyone.
Conclusion
Recently, body shapers have proven to be the best option for streamlining your body to a shape you've admired. Choosing shapewear that fits your body perfectly, provides breathing space, and allows you to move around easily is essential.
Luckily, the perfect shapewear store is here for you. We provide men's and women's shapewear that compliments your unique style and boosts your confidence. Our collection offers shapewear for all body shapes, which is remarkable for everyone.

Feel free to contact us today for the best shapewear product. You can also visit our online store for a chat and to find out more about us. We'll provide you with instant answers to your questions.
---