Trim Your Tummy in Minutes with a Simple Tummy Shaper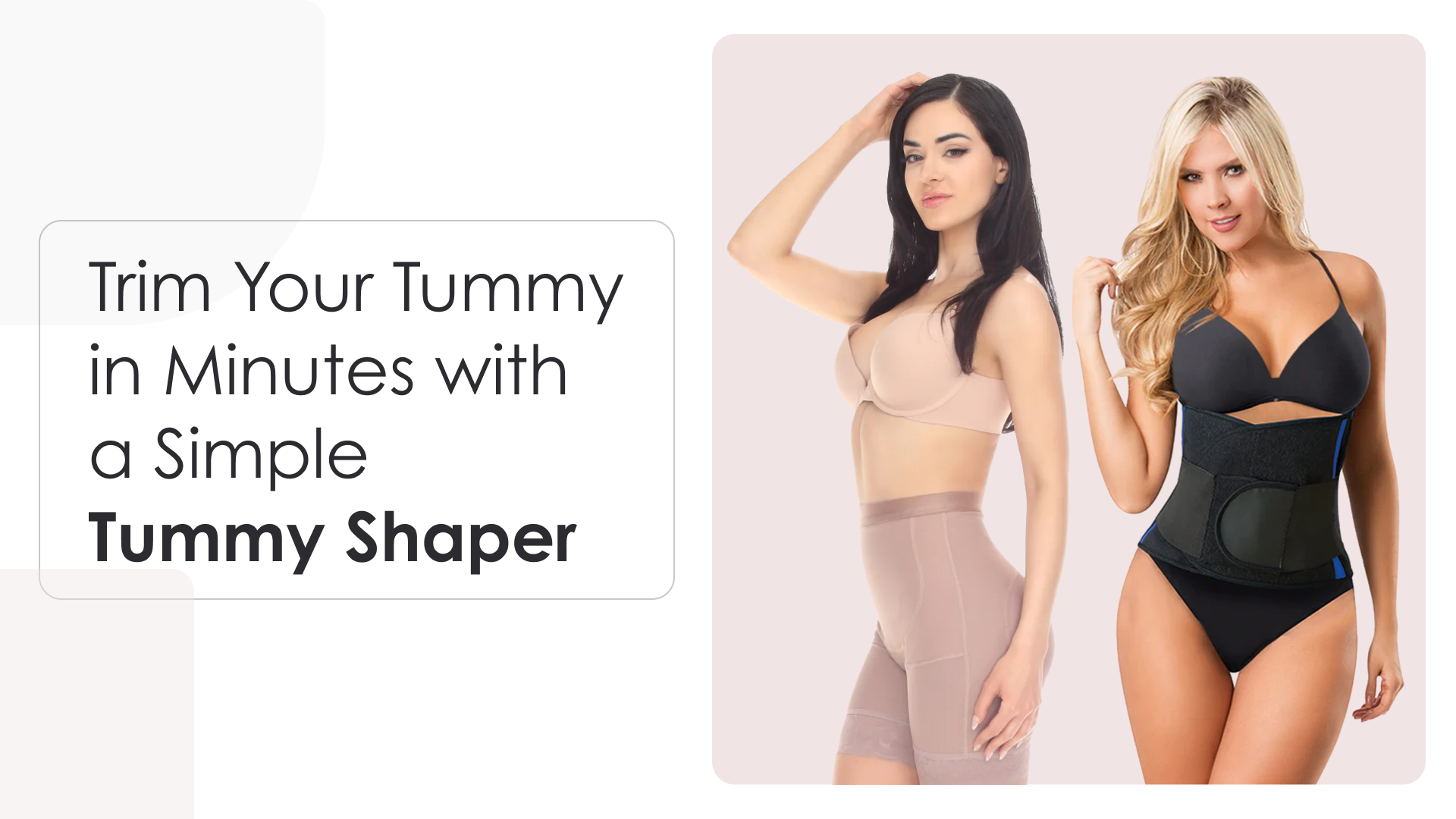 Even though there are a lot of debates around the benefits of using a belly shaper, one sure thing is that it slims your waist. The known fact is that a tummy shaper works as a compression garment as it smooths the body's curves. This trims your tummy in minutes, giving you the desired shape despite recently undergoing a post-surgical procedure.
A tummy shaper can hide unwanted belly fat, increasing your confidence in any outfit. It can also support and improve your posture by encouraging an upright position that improves breathing, especially while exercising.
Additionally, a body shaper can lift certain areas of the body, like the butt or bust, enhancing your look and giving you the confidence, you need while wearing any outfit. But you need to choose the right type of shapewear for tummy and thighs, which depends on the amount of fat around your stomach, to get the desired shape.
Features of Tummy Shapers
Before buying any body waist shaper, you need to understand its features, which depend on the type you opt for. Remember, the features of the tummy shaper make it easier for you to benefit from using it and enhance your silhouette.
Some of the features to look out for include:
Material Used to Make the Tummy Shaper
Shaper shorts are available in different materials like spandex and nylon. Each of the materials has unique features, which make them an ideal choice for tummy trimmers. For example, spandex is a synthetic fiber that's highly elastic and durable.
It's advisable to go for stretchy shapewear that allows you to stay comfortable all day long.
Size
Since the shapewear for the tummy and thighs comes in different sizes, it's good to go for the perfect fit that suits your body type. The right size of a tummy shaper makes it easy to meet your clothing needs.
You will also not have challenges walking when wearing the right size. Having the right size of body shapers will also ensure you can tuck all the bulges into the compression zones resulting in smooth curves.
Go for a medium compression garment to smooth out your curves and bulges.
It's also advisable to go for a size bigger than your body since it's challenging to wear tight shapewear.
Versatility
Another thing you need to consider while buying women's girdles is their versatility. Remember, you wear the body waist shaper for various reasons and with different clothes. So go for one that can serve different outfits, purposes for your daily use, or multiple occasions.
Common concerns and misconceptions around tummy shapers
Even though the market for body shapers for the stomach keeps booming, some misconceptions instill fear in most people. Such misconceptions prevent many from embracing and wearing waist trainers.
We are here to confirm that these allegations are never true, and you should consider wearing any of our tummy shapers to boost your confidence levels. You can get out of the fear after understanding how the waist shaper works.
First, know that the compression garment only compresses or smoothes your body's curves. However, it does not help lose belly fat or offer a slimming solution but creates the illusion of a thinner or flatter stomach. So you must follow the right steps or methods to lose belly fat.
Apart from that, you must understand that a tummy thigh shaper should be an ideal choice for your everyday wear, which is against most people's common misconceptions.
You can overcome the misconceptions after exploring the following concerns:
Breathability
One of the concerns most people have about tummy shapers is their breathability. Some people believe that the constriction garment holds tight to the body, making one sweat and leaving the skin moist. They argue that such conditions can lead to bacterial buildup and skin infections. However, this is not true, as shapewear for the tummy and thighs is made of breathable or fibrous materials.
Since the shapewear fabrics differ, choosing the right one is advisable, depending on your region. For example, if you're in hotter areas, use lightweight spandex fabrics or cotton, which absorb moisture. But if you live in colder regions, go for a material that can help maintain warmth or absorb heat to keep you warmer.
Comfort
Another great concern leading to misconception is that women's girdles are uncomfortable. This has led most people to fear wearing shaper shorts, limiting the kinds of dresses they can wear. The good news is that our shapewear for the tummy and thighs is very comfortable and ideal for daily use.
All you need to do is choose the right material to keep your skin comfortable. Also, choose the right size that's comfortable and will not squeeze your body. A stretchable tummy shaper is advisable, as it can expand to your size. Buy the customizable belly shaper with hooks or zippers on different rows to allow you to adjust to a comfortable fit.
Avoid going for a small fit, as it squeezes your skin and can lead to other health complications. Buying a size bigger than your body for comfort and ease of wearing is advisable.
Suitability for Different Body Types
Some people also argue that Fajas are ideal for a given body type. They claim that it best suits plus-size bodies and not slimmer people. However, this is not true, as almost everyone has body insecurities and is looking for ways to achieve a smooth body shape.
That's why we have different women's girdles suitable for different body types. All you need to do is know your size and preferred Faja fabric, and confidently enhance your curves. Remember, a tummy shaper's job is to give you the desired figure and make you more confident in any outfit.
The Best Tummy Shapers for Different Body Types to Try Out
You can achieve your desired body goals using any of the following compression garments:
Perfect Shape Wide Strap Shaper


Hide the unwanted fat around your belly using this tummy shaper. It has a high compression level and three closure hooks that provide a secure fit. The wide strip offers more support preventing it from rolling over your clothes. The body shaper is made of latex and is a good choice for lifting the bust.
Zipped Up Waist Shaper
You can also trim your tummy using this zipped-up waist shaper that helps reduce your belly by 3-4 inches. It's made of latex for better compression. Furthermore, it improves your posture and provides lumbar support. You can adjust the fit using the hook and zipper closure for more comfort.
Perfect Shape Short Torso Sport Shaper

If you're looking for a tummy thigh shaper, this is one of the right picks. The three hook and eye closure ensure it remains comfortable on your skin all day. You can use it for workouts or enhance your shape for more confidence.
Since it's designed for fat burning and boosts thermal activity, you can use it to exercise to reduce your belly size. Latex compression helps maintain the desired body throughout the day.
1025 Perfect Shape Petite Torso Latex Shaper
Our collection also cares for petite ladies with stubborn belly fat. You can use this latex shaper to smoothen your waist and boost your curves in your favorite dress. Since it has three hook closures, it's easier to adjust for a perfect fit that leaves you comfortable. Its cotton lining protects your skin from irritability and sweating.
Waist Reshape 3 Hook Belt

Try trimming your unwanted belly fat using this vest compression garment. It's a good choice among the Fajas that support post-surgical healing. But you can also wear it comfortably without skin irritation because of the lycra inner lining that prevents sweating. You can adjust the vest through the three hook closure and achieve the desired body goal after the powernet material compresses your waist.
1024 Perfect Shape 3 Row Hook Latex Shaper

You will never go wrong by introducing this tummy shaper in your closet, as it offers the highest compression level. It stays in place, boosting your confidence in any type of clothing. Its design helps trim the tummy and lift the bust for a better look. The tummy shaper also offers additional lumbar support and improves posture.
Bottom Line
Everyone deserves a powerful, slim waist that makes it easy to wear any outfit for any occasion. However, this goal remains in most people's dreams as they are carried away by myths and misconceptions about tummy shapers.
Our USA shapewear is here to dispel all these concerns and assure you of getting the desired body shape without any risks. Contact us, get your preferred belly shaper, and rock that outfit without a second thought.
---