Transform Your Back with Our Best Shapewear Collection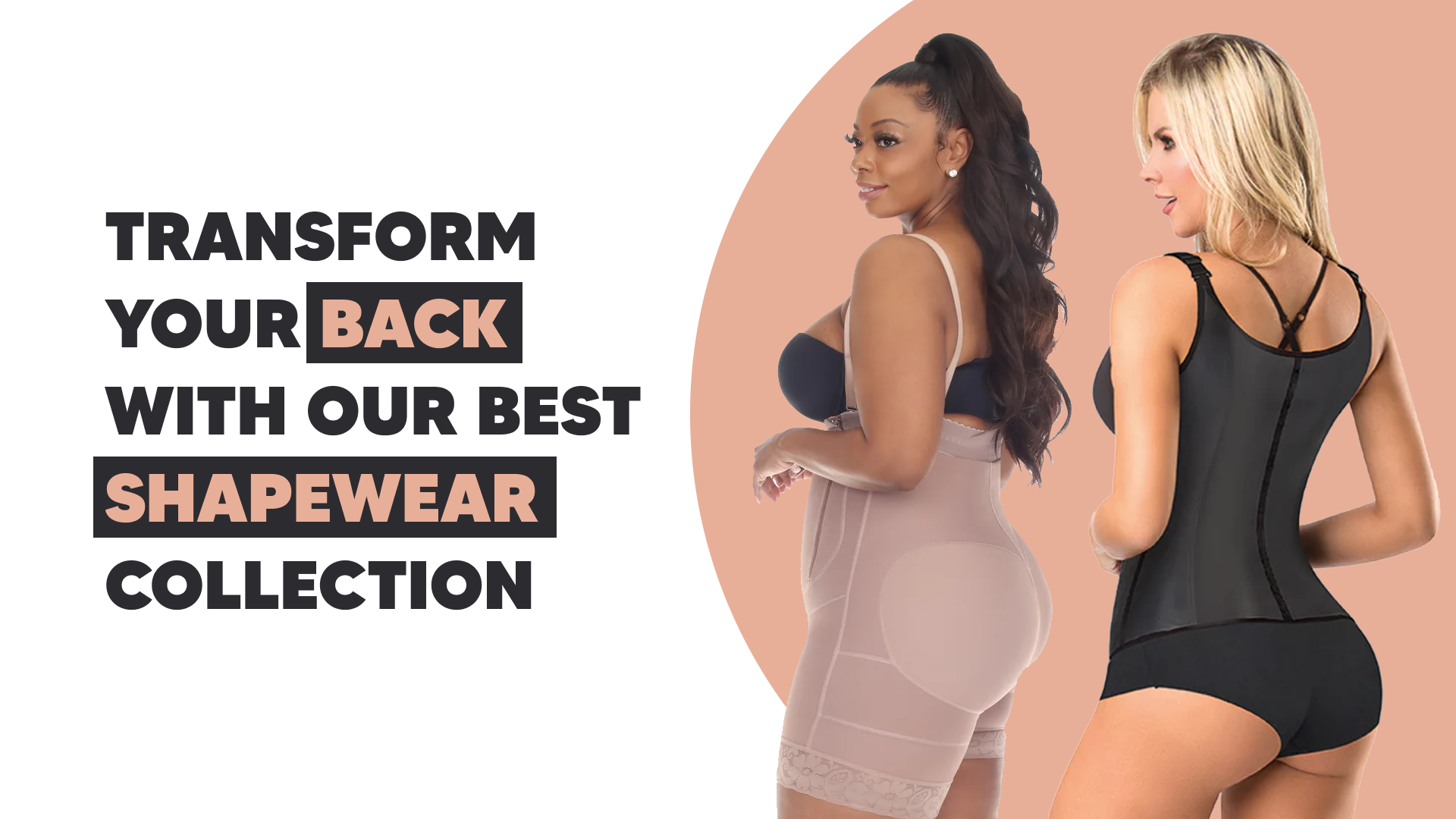 Your back shape is one of the simple ways to boost your confidence level and make you look stunning in any outfit. However, not everyone has that perfect back shape, as unwanted fat can result in unpleasant rolls.
Thanks to different shapewear for back fat, you can confidently wear any cloth without the uncomfortable rolls. But which is the best no back fat shaper to boost your body's confidence?
This guide explains more about different types of back fat shapers you can wear with any outfit.
Full Body Shapewear
One of the best shapewear for back fat you can consider wearing is for full body coverage. Such body shapewear has a higher back cover and can reach at least the bra line. It can smooth out your back fat and hide the lines from your bra, making you walk confidently with any cloth. Most full-body shapewear has an open bust that allows you to wear a comfortable bra without challenges.
Some of the full-body shapewear from our collection that you can consider include:
Lock It In Boyshort Shaper

Give your back the needed support and shape using the Boyshort Shaper. The Faja shaper is ideal for enhancing your natural body curves and achieving your desired shape. But you can also use it for post-surgery compression, which promotes healing.
Wear your favorite outfit to any special event without worrying, as this body shapewear will help manage your back fat. The ultra-soft lycra material provides the comfort your skin needs throughout the day and ensures you retain your shape. This body shapewear has a 3-hook closure, so you can adjust the size depending on the shape you want to achieve.
Lock It In Tummy and Hip Slimmer

Another full body coverage you can opt for is the Lock it in tummy and hips slimmer. You can use it as daily wear to hide back fat or use it for post-surgical needs. It gives your back the needed compression which results in a perfect shape.
Plus, it's comfortable and gives you enough support on the back. The front zipper closure makes it easy to wear and remove, and the open crotch allows easy restroom visits. This compression garment also has a natural butt-lifting effect increasing your confidence in any outfit.
Mens Full Body Shaper



Men can also manage unwanted back fat using this full body shaper. It has a zipper closure and works just as a training belt, as it encourages sweating. The compression garment comprises powernet material that aids in abdominal and spinal support.
Shaping Cami
You can also enhance the shape of your back using different shaping cami. The good thing about these back fat shaper is it covers the entire back leaving your bottom half free. This is ideal for those who like wearing only their regular underwear.
But you can also pair it with your preferred lower body shapewear for the best look. The open-bust cami is a good choice if you intend to wear your regular bra. But if not, go for the full cami that can help manage the fat around your bust.
Some of the shaping camis in our collection include:
Waist Reshape 3 Hook Vest

Get your shaping cami from our collection and easily achieve the desired back shape. The high-quality and durable Faja body shaper is customizable and prevents sweat and skin irritation.
The Powernet material it's made of ensures your back gets the needed compression for contouring and shaping. It has three hook rows and allows you to wear a preferred bra but covers the entire upper back.
Mens Slimming Body Shaper Vest with Zipper
Another type of shaping cami you can get from our collection is this vest with zipper. It has powerful compression that deals with stubborn fat at the back, giving you the perfect body shape.
It encourages sweating, and the x-shaped design under the shoulders tightens the back hiding the stubborn fat. The waist shapewear consists of quality latex material that provides a firmer posture and a flatter abdomen for enhanced shape.
Bodysuits Shapewear
Another type of no back fat shaper to consider wearing is the bodysuit. The extra firm waist trainer will ensure no back fat is visible on your outfit, regardless of its material. The best thing about bodysuits is that they shape everything from your breasts to the buttcheeks.
You can get them in different fabrics like nylon or spandex. But you can also opt for the lacy bodysuit, which requires an additional bra to cover your boobs.
You can try the following bodysuits:
Perfect Bust to Thigh  Body Shaper
One of the bodysuits you can consider if you're looking for a whole back cover is this body shapewear. Its three-in-one design ensures all unwanted fat is dealt with well and doesn't show through your clothes.
But you can also use this shapewear for back fat to lift the butt and get the desired shape. It has a bathroom-friendly design and is made from quality materials. What's more, it's fit for post-surgical use.
Lock It In Bodysuit Shaper
This bodysuit
will help you manage stubborn back fat easily. As a Faja shaper, you can get a molded figure that keeps eyes staring your way at that cute dress. It's comfortable, given that it has an inner hook and zipper design.
Furthermore, the open-bust design allows you to pair it with your favorite bra for more support. It has an open crotch for hassle-free bathroom visits. The butt lift effect furthers your confidence, as nothing is as satisfying as walking with a firmer, beautifully shaped back.
High Waist Shaper Shorts
Don't fear wearing the high waist shaper shorts, as they are also good at hiding the back fat. The high waist shaper shorts will help do away with lower back fat and shape your tummy, giving you the desired shape at any time. They also help tone the thighs, which is a plus for those with stubborn thigh fat.
Try the following body-shaper shorts:
High Waisted Body Shapershorts

This outstanding Faja body shaper short is among our collection that enhances your back looks. It's a recommended post-surgical compression garment that's comfortable on the skin. It helps manage swelling and has an easy closure design for comfortability.
The short is also waist shapewear, so you'll achieve the desired contour on your stomach without challenges. It's also bathroom friendly, meaning you don't have to remove the entire short while visiting the washroom.
Seamless High Waisted Body Shaper Shorts
You won't be wrong by including this waist trainer short in your closet, as it does a lot for your back view. The seamless compression garment offers a high compression level but doesn't irritate the skin.
It can control your tummy fat, and the silicone strips prevent it from rolling off your body. It's also a good butt lifter and is invisible under the cloth. The Faja shaper for women is also comfortable, and you can pair it with any dress or cloth for everyday wear.
High Waist Tummy Compression Butt Lifting Shorts with Three Row Hooks
If you want to control the back fat in your midsection and stomach, consider using this high waisted short. You'll get a big booty, a slimmer tummy, and a well-shaped back with these shorts. It has a no-slip design, ensuring it stays where it is the whole time.
Plus, the Faja Shaper covers your upper thighs for a frictionless experience. Since it has a 3-row hook design, adjusting it to a comfortable size is easier.
Corsets
You can also shape your back with a corset. Look for a comfortable corset to help manage your waist fat and make your back attractive. Some of the perfect waist trainers you can consider are:
Perfect Shape 3 Row Hook Latex Shaper

If you want to shape your midsection only while achieving the desired back shape, consider using this waist trainer. The adjustable 3-row hook latex shaper offers enough compression that helps do away with back fat.
Since it's a high-waisted back fat shaper, it will hide all the unsightly fats you never want visible on your clothes. But it also offers lumbar support and improves boning posture.
Perfect Shape and Posture Trainer
Such a training belt from our collection will not disappoint you as it stays closed regardless of how active you are. The waist trainer also acts as a posture trainer, ensuring your back gets enough support. Its high back design makes it easier to improve your posture, and the powerful latex offers good compression for the desired back shape.
Zipped Up Waist Shaper

Wear this zipped up waist shaper as your back fat shaper and see the wonders it does on your outfits. The 4-row hooks and zipper closure allow you to compress the unwanted back fat all day without feeling uncomfortable.
The high-quality latex material and the zippers offer instant shaping that makes you confident amongst your peers. The good thing about this compression garment is it provides lumbar support and improves posture, which you need for those great photos.
Bottom Line
Nothing is as satisfying as having an attractive back that enhances your confidence. So if you want to manage stubborn back fat and achieve the desired body shape, consider wearing any of our body shapewear. Contact us for all of the best waist shapewear you need for a sculpted silhouette and to boost your self-expression amongst your peers.
---