The proven way to Lift Your Butt without surgery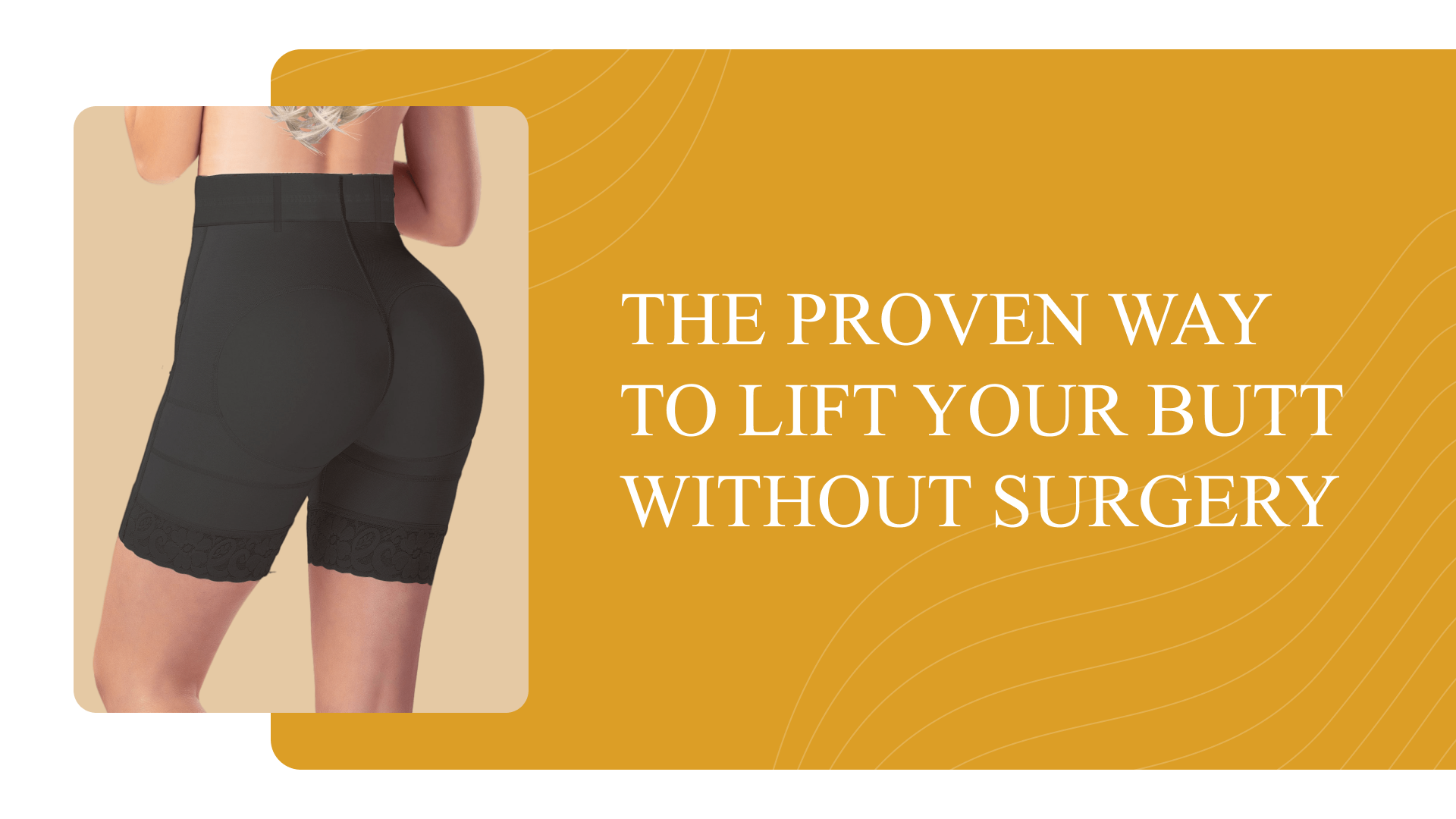 In recent years, most women have been preoccupied with possessing a high, well-defined derrière. The desire for a sculpted and perky butt runs throughout history, from the era of Marilyn Monroe to the current era of Instagram models. Everyone wants to feel more confident while wearing any outfit with style and grace.
This article will provide a quick fix to raise the bar for your posterior game: butt-lifting shapewear!
Benefits of a Lifted Butt
Enhanced Appearance in Various Outfits
You can expand your wardrobe when your butt is fuller. You can fit well in clothing options that were less flattering before having a lifted butt.
Boosts Confidence
A more toned and proportional butt makes you look more attractive. This results in an improvement in mood and general well-being and an increase in self-assurance.
Protects the Lower Back
Smaller muscles kick in to help if your bottom is too weak to propel your legs forward as you walk. This can lead to back, hip, and knee strains.
Makes Pregnancy Easier
While having larger butts won't make labor any easier, they will save your back from being overly stressed throughout pregnancy by balancing the weight of your growing kid and your expanding tummy. Having a bent spine during pregnancy lessens spinal pressure and injury.
Promotes Proper Posture
It can be challenging to get up straight if you have tight hips, an unavoidable side consequence of prolonged sitting. Contrarily, a strong buttock can help you stretch your hip flexors and hold everything in place, which reduces pain and prevents you from appearing slouched.
Streamlines Your Silhouette
Small, weak butts often cause people to tilt their hips forward and stick out their tailbone, creating the appearance of a gut. A strong butt can help alleviate spinal overextension, enabling you to tuck your hips under your torso and maintain a smaller overall profile.
Protects the Hamstring
Injuries to the muscles that go down the back of your thighs are very common. On the other hand, a strong buttock can protect the hamstrings by supporting movements that use the under-thigh region, such as picking up a heavy object off the ground.
How Shapewear Can Lift, Shape, and Enhance the Appearance of the Butt
Our skin losses its natural suppleness as we age and lose important muscular tone. Butt lifter shorts enhance the strength of the muscles and skin and preserve the body's natural contour. They draw attention to the buttocks and boost your self-confidence. They hold and lift your bottoms to create a smooth form, similar to how a bra lifts your bust to produce attractive cleavage.
A butt lifter such as this one gives your booty a physical and cosmetic boost without requiring lengthy butt exercises. They are made of a thicker compression garment to cover the tops of your legs and the front of your pelvis. The area above each cheek is either left bare or covered with a lighter fabric for a seamless appearance. The back is made of a different fabric to make your booty appear round while smoothing out the rest of your bottom.
Butt lifter shorts function because the compression garment raises your posterior, giving a perkier and rounder impression. The leg compression fabric also helps the appearance of a more rounded derriere by flattening the thighs just behind the cheeks and giving the impression of a wider bottom.
Types of Butt-Lifting Shapewear
There are numerous designs for butt lifter shorts, shaper shorts, and panties. Knowing the various types of available butt lifter pants and compression garments can aid in your purchasing decision. Consider checking our collection for your purchase needs.
Regular Jeans
These common butt lifters are made of a denim and spandex mixture to grip your butt securely. Some are padded, while others are not, focusing instead on sculpting your buttocks while being slightly clingy and comfy.
Workout Leggings
Often made of spandex and other sweat-wicking materials, workout leggings can hide cellulite and other flaws while raising your buttocks to make them look more attractive. Exercise is more comfortable because it is softer and more stretchable. Women who want to tone their glutes while still looking nice should opt for this style of shapewear.
Colombian Style
Colombian butt lifter clothing is referred to as "push-up jeans" since it fits and shapes women. It got its name because it was only worn by Brazilians and Colombians before gaining popularity in the United States.
The form of Colombian pants, which helps create a healthier waist and tummy, sets them apart from other types of trousers. It makes your appearance curvier while raising your buttocks. It is appropriate for business casual or working women.
Yoga Leggings
Yoga leggings are popular as they draw attention to your buttocks without giving the impression that you are wearing a body shaper. Like fitness leggings, these butt-lifting shorts allow you to perform a terrific push-up while maintaining a natural posture on your back and tummy.
Tips for Choosing the Right Shapewear
There are numerous considerations before settling on specific Fajas, shaper shorts, and panties. Some of them include:
The Body Part You Want to Boost
The various body parts that shape shorts and panties boost include:
Full Body

: If you desire a generally trim physique, your best bet is full-body shapewear. It offers complete comfort and support and is more like a bodysuit.

Torso

: A shaping cami is for you if you wish to reduce the extra flab on your stomach, waist, or back.

Bottom

: You can enhance your thighs, legs, and butt, from smoothing underpants to butt-lifting biker shorts.
Control/Compression
The different categories of control you can gain from shaper shorts and panties include:
Light control: Put light control shapewear below your clothing to minimize minor bulges. It is a great option to wear underneath regular clothing.

Firm control: Firm control shapewear flows with your body while subtly enhancing your shape using highly elastic and supple fabrics.

Extra-Firm Control: Shapewear with extra-firm control is a great option if you want to look lovely for a certain event, like weddings or cocktail parties.
Body Shape
The various types of body shapes for butt-lifting shorts include:
Rectangle Body-shape

: Concerns about not looking "super feminine" or having a "little too flat" behind are common among women with rectangular bodies. Contrary to what is commonly believed, each body type has several clothing options. Use shapewear to enhance your long, slender legs while adding to your curvy image. Shapewear will help you gain that extra curve.

Hourglass Body-shape

: Do you have the same wide hips, shoulders, and beautifully defined waist as the lucky girls? The desirable hourglass figure is yours! You only need the shapewear somewhat smooth out the jiggles and sides of your body; otherwise, you're good to go!

Apple Body-shape

: You have an apple body shape if you have broad shoulders and hips, a full stomach, and huge breasts. Invest in shapewear that dramatically defines your waistline if your body type tends to carry a little excess weight in your midsection and you're having difficulties finding fitted clothes.

Pear Body-shape

: Most women have a pear-shaped body type characterized by narrow shoulders, small busts, full hips and thighs, a well-defined waist, and a well-rounded bottom. Such women tend to focus on their bottom half, so your best bet is shapewear that slims the stomach region, hips, and back and shapes your thighs and legs.
Fabric
Always consider the desired outcome when choosing the shapewear fabric. Remember that your shape will vary more as the nylon proportion increases. If you only need to remove a few creases and bulges here and there rather than undergo a whole bodily transformation, a lightweight shaper made for medium constriction would be your best choice.
Denser garments with a higher nylon content offer greater compression, which shapes your figure. Women's shapewear made of microfibers and cotton mixes is preferred in the summer because it allows for better ventilation. Regular and well-liked butt-lifting shapewear is made of nylon and spandex, which limits the body's ability to breathe and increases sweating.
Color
Seeing shapewear in many vibrant and enticing colors can be intimidating. Remember, too, that you will be wearing the shapewear under your clothes, so it is preferable to stick with skin tones or nude colors.
Exercise Tips to Complement Butt Enhancement
Incorporating exercises into your butt-lifting plan guarantees faster results. Below are some of the excercises you can participate in while wearing butt-lifting Fajas:
Glute Bridge
Lie on your back, bend your knees, and keep your feet 12 to 16 inches from your buttocks. Brace your core and drive your heels into the ground while contracting your glutes to lift your hips to the ceiling. Maintain the position for two seconds before returning to the beginning position.
Donkey Kick
Take up a position on all fours on top of the mat. Bend your knee at 90 degrees and lift the leg into the air, forming a straight line from shoulder to knee. Repeat the exercise using both legs.
Squat Pulse
Clasp your hands in front while standing and keep your feet hip-width apart. Squat and raise your body a few inches, then lower it again. Repeat a few times.
Wrapping up
The skin often loses its essential muscular tone and natural flexibility as people age. Butt-lifting shapewear helps the body keep its natural shape and enhances strong muscles and skin. They accentuate the buttocks and increase your self-confidence in terms of appearance.
Perfect Shape is the best solution for all of your body-shaping needs. Our shapewear is made from premium materials designed to last while providing excellent support and comfort. We provide butt-lifting shorts and Fajas in various sizes to ensure everyone gets the ideal fit. Thanks to our cutting-edge technology, we promise your body will appear stunning in Perfect Shape shapewear!
---