The Hottest Gift This Summer: Shapewear for Your Loved Ones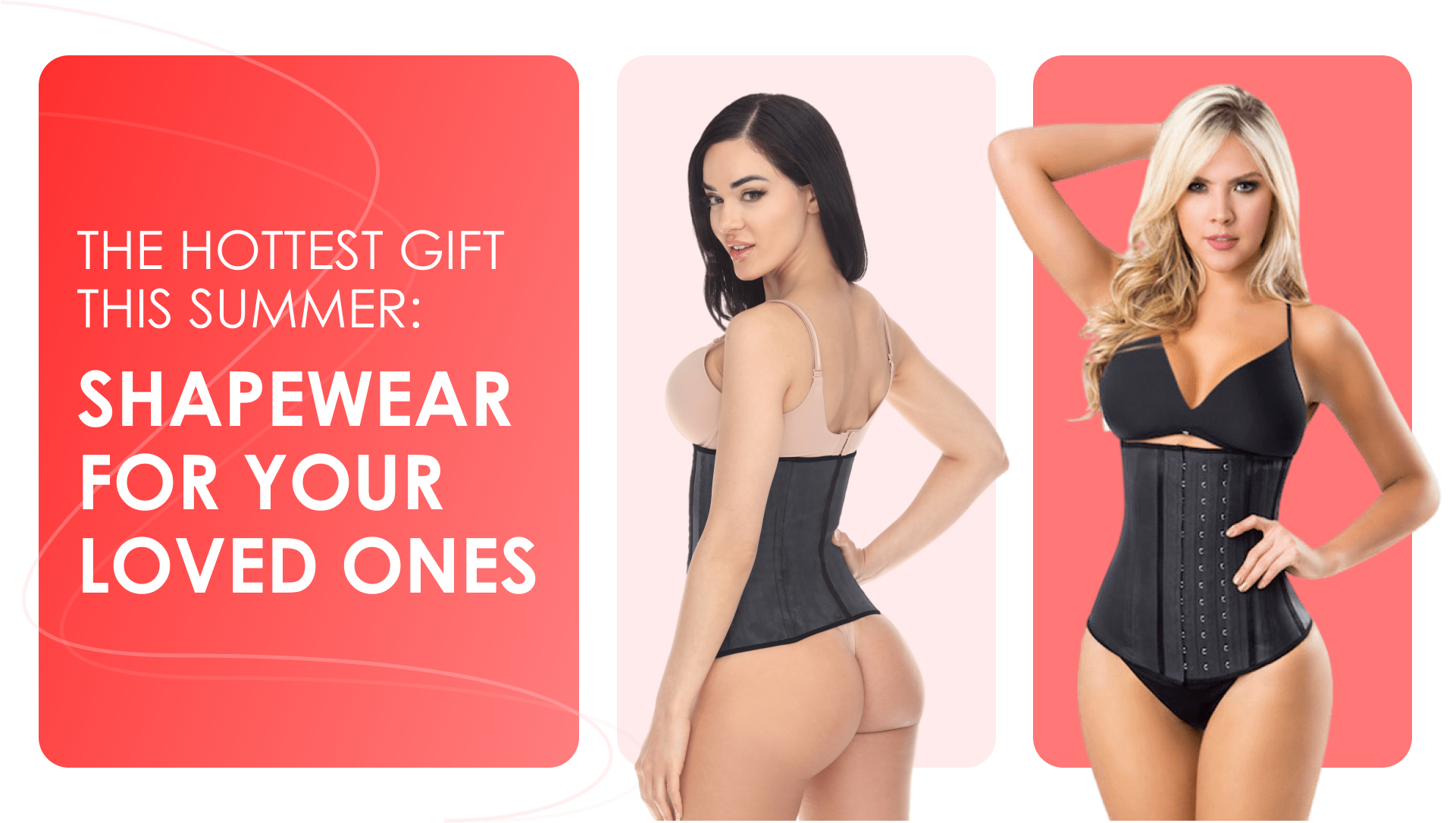 One of the most difficult—and rewarding—parts of the summer season is making gift ideas perfect for your loved ones. Giving a loved one a fantastic gift and watching their face light up when they receive it is lovely. Understandably, many of us stress about selecting the perfect gift—especially if you're shopping for a woman—because failing to hit the mark with a gift may be frustrating and unpleasant. Even women occasionally have trouble finding the ideal presents for their friends and family!
Women all across the world are becoming more and more accustomed to shapewear. Wearing fajas is a typical method of contouring and slimming the body, as these garments compress tissues and other body parts. The compressive garment is worn from the under bust or mid-waist region to cover the thighs or legs. The capacity of body shapewear to improve a woman's confidence and body image has led to its growing popularity.
Body shapewear might be one of your gifts to give to your loved one this summer, especially for arm lifts or BBL post-surgical. There are some issues, though, just like with any clothing gift. With that said, let's look at some potential shapewear benefits and tips for choosing them to ensure that you get the best breathable shapewear for summer.
How Can Shapewear Boost Your Confidence and Body Image?
Shapewear is an innerwear that aids in achieving a more streamlined image. Although some think of shapewear as a way to hide flaws or blemishes, it may also be useful for boosting self-esteem and improving body image. Here is how fajas enhances self-esteem and perception of the body.
Smoothing Out Lumps and Bumps

One of shapewear's most significant benefits is that it can help smooth out lumps and bumps, giving the wearer a more streamlined appearance. This is especially helpful when wearing a form-fitting dress or other attire that draws attention to all the body's curves and features. By enhancing the silhouette, shapewear can help one feel more confident and at ease in clothing.
Accentuating Curves
Although body shapewear is normally used to flatten the stomach or minimize the hips, it can also be utilized to positively accentuate body curves. For instance, a waist trainer or a corset can form an hourglass shape, whereas a high-waisted shapewear brief can aid in lifting the buttocks. Shapewear can help one feel more confident and attractive by flattering the curves.
Supporting the Body
Body shaper also supports the body, which is particularly useful when wearing bulky or unattractive clothing. For instance, a full-body shaper can support the shoulders and back, while a high-waisted brief can support the lower back. Shapewear can make one feel more at ease and confident by offering body support and stability throughout the day.
Boosting Posture
Fajas can help correct posture, enhancing confidence and physique perception. Shape-wear supports the back and shoulders to help the wearer stand up straighter and with greater confidence. This can improve general health and well-being as well as attractiveness and confidence.
Boost Comfort
Finally, shapewear can help one feel more comfortable in their clothes. Regardless of what they're wearing, shapewear can make them feel more confident and at ease in their clothing by supporting their body and smoothing out their form. Shapewear can boost confidence and help one feel more at ease in their skin, especially if they wear clothing that makes them feel self-conscious.
Types of Shapewear
Some might think there is little to shapewear because its main selling point is that it fits the body and is hidden behind clothing. Finding the right shapewear, however, can occasionally take work due to the wide variety of modern clothing and patterns.
Different types of shapewear are needed for different occasions and outfits. Some popular shapewear includes USA shapewear, Fajas Colombianas, bodysuits, shaper shorts, pasties, waist training belts, compression garments, and butt lifters.
There are several things to think about before settling on specific gift ideas. With more shapewear knowledge, you'll be better prepared to feel and look your best. Some of the best shapewear for summer include:
Control Camis
Control camis are the best shapewear for summer, ideal for women who want to reduce their belly fat but don't want to wear control trousers. It is also ideal for streamlining the breasts with a seamless look from hips to shoulders.
Control Tights
Not every faja is indeed intended to be worn beneath garments. These popular shapewear look lovely paired with a gorgeous party dress or skirt since they tuck in the thighs, stomach, and bum.
Corsets
One may wear regular undergarments while adding a layer of waist control with a detachable corset. It offers an even tighter fit than control pants and is recommended by superstars like Kim Kardashian. Although there are pull-up variations that are more obvious under clothing, this clip-open substitute saves time getting dressed.
Body Shapers
A body shaper is the best breathable shapewear for summer, ideal for girls who prefer complete coverage of their torso and boobs. The design has only light control and is suitable for daily usage; behind that, something slinky and tougher control options operate harder.
Singlets
Singlets are among the best shapewear for summer. They're an idea for showing off the cleavage by donning a plunging bra or when you can't locate a decent body shaper in a particular bra size. They come in various styles, such as briefs for a more liberated feeling and shorts for thigh control.
Control Pants
The original shapewear control pants are the best breathable shapewear for summer. They offer a simple method to give a little control to your underwear without adding any more layers. These pants are perfect for girls who want to slim their waists and cinch their stomachs or for post surgical BBL.
Half Slips
Control half slips are the best fajas to wear underneath short skirts or dresses for people who need stomach control during party season. Additionally, they are among the more comfortable fashions to wear.
Arm Shaper
Arm shapers are the best fajas for wearing alone over a slip dress or strappy top or underneath a long-sleeved shirt to add definition. Since it offers minimal control, it shouldn't be too uncomfortable to wear all day. It is an ideal gift for post surgical arm lifts.
Shapewear Gifting Guide
Different types of shapewear are available, including USA shapewear, Fajas Colombianas, bodysuits, shaper shorts, pasties, waist training belts, compression garments, and butt lifters. Choosing the right shapewear, especially when buying for a loved one, involves many considerations. Some of them include:
Look for Cotton-Blend Materials
The best fajas for people with sensitive skin or who live in a hot, humid climate are made of cotton-blend materials. Shapewear made from a fabric blend that contains a significant amount of cotton is much more breathable and pleasant than shapewear models made entirely of other materials. Although these cotton-blend styles are more expensive than shapewear items without cotton, they are cool and comfy all day.
Get the Right Size

Finding the right size is the most challenging part of buying shapewear for the first time. Although you can purchase shapewear online, you should visit a physical store if this is your first time shopping.
You can try on as many various brands, sizes, and styles as you like to find what fits and feels good. Bring it when shopping if you want to buy shapewear for a specific outfit. Knowing the measurements of the hip, thigh, bust, and waist can help you locate the right size in either situation.
Choose the Right Shapewear Style
Various shapewear designs are ideal gifts to give at certain times. Consider how long your loved one will wear it when choosing a shapewear style. Choose a shapewear style that is more comfortable for extended wear if you want them to wear it to work from dawn until night.
For instance, when they won't wear the shapewear for more than a few hours, save models that get less comfortable as you wear them longer, such as many full-body shapers. Some of the other popular shapewear include USA shapewear, Fajas Colombianas, bodysuits, shaper shorts, pasties, waist training belts, compression garments, and butt lifters.
Know the Body Shape
Shapewear is an outfit, and how well it will fit depends on the body type. Everybody has a specific body type, whether the ideal hourglass, triangle, pear, apple, rectangle or another shape. Shopping for a precise body type is crucial, even when purchasing shapewear.
An hourglass form, for instance, is when the waist is thinner and the hips and shoulders are almost the same size. A rectangle body form is when the shoulders and waist are almost the same size, but there is no distinct waistline.
High-waist shapewear or waist cinchers are excellent for accentuating the waistline. Also, consider whether your loved one is thin, medium-sized, or plus-sized. Some shapewear is more effective on some body types than others.
Consider the Level of Control
Shapewear has different levels of compression control. Light slimming is enjoyable as it offers minimal control and is appropriate for daily use. Light levels are stiffer than medium slimming levels, making them suitable for daytime or overnight journeys. On the other hand, the ultra-slimming technique offers maximum control.
Wrapping Up
Are you looking for fantastic gift ideas for post surgical arm lifts or BBL? This summer, show your loved ones that you care by giving them shapewear that improves their appearance and gives them the confidence to cherish every second. Whether for a special occasion or to make their everyday lives more comfortable, shapewear is a thoughtful and modern gift to give that will leave a lasting impression.
At Perfect Shape, we strive to make people feel good about their bodies. Our entire collection offers unmatched comfort while enhancing style because we believe fashion should always be comfortable. Discover our selection of designer lingerie and clothing crafted from premium materials to make your loved one feel stunning from the inside out.
---