The Effortless Way to a get Chiseled Jawline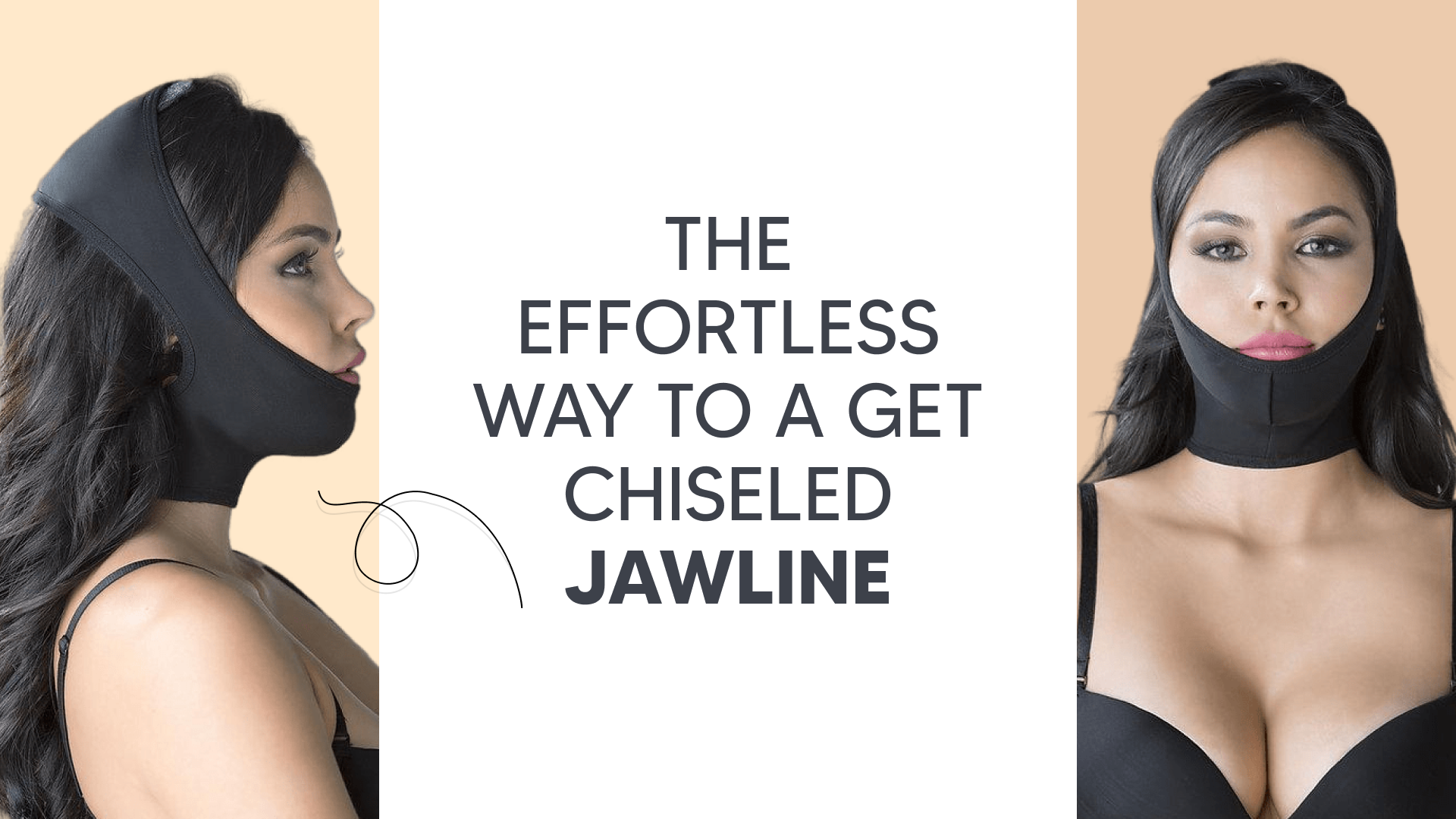 The face is a crucial body part that most people pay attention to, as it says a lot about a person. One of the features of the face that makes it stand out is the jawline structure. For example, the mandible bones that form a chiseled and defined jawline make one have a beautiful and contoured face that's admirable.
A well-defined jawline can boost your confidence by giving you a strong and prominent look that many people wish to have. However, not everyone is born with a chiseled jawline. This means you must look for the best way to get a chiseled jawline by toning your facial muscles to get a defined look. One of the simplest ways to do this is to use a face lifter.
But what is a face lifter, how does it work, and what are its benefits?
This guide explains all this in detail.
The Unique Features of Our Face Lifter Shaper

A face lifter shaper is a mask-like sheet you wear around the face to shape the chin area. It does this by lifting and defining the lower face, resulting in a contoured and chiseled jawline. Remember, you could be born with a chiseled jawline, but as you grow and lose collagen and elastin, your jawline starts sagging. This can interfere with the natural structure of your face, which is not desirable for many people.
However, this does not mean that a face lifter cannot shape your face if it doesn't have a naturally chiseled jawline. The face lifter shaper can achieve all these because of its distinctive features.
The features that should convince you to buy our face lifter shapers include the following:
Made of soft, lightweight, and breathable materials
Our face lifter shapers are comfortable to use because they are made of lightweight, soft, breathable materials. This allows you to wear them for more hours to achieve the desired outcome without challenges. You can wear face shapers covering the head, neck, and ears without experiencing skin irritability. You won't sweat while wearing it as the material is breathable and lightweight.
It has Adjustable Velcro Closure
The face lifter shapers also have an adjustable velcro closure, which allows you to customize their fit. You can adjust the length from the top of the head to the neck or from the chin to the back to lift the jawline to the desired shape. The design also provides enough room for your ears.
Multipurpose Medical-Grade Face Compression Garment
Additionally, our face lifter shapers are multipurpose in that you can use them as post-surgical face compression garments. You can also use them without undergoing surgery to get a chiseled jawline.
Our face lifter shapers are also multipurpose as they shape different face parts. For example, you can use it as a chin strap, a neck lifter, or one that does both for amazing results. They are also available in different sizes, so choose a style that meets your needs.
Benefits of Our Face Shapers
The benefits of the face shapers are:
Easy to Use
You will not have difficulty getting a chiseled jawline, as our under chin lift shapers are easy to use. All you need to do is wear them any time you're sleeping, reading, or watching. Open the adjustable velcro and fit the shaper on your chin and face. Then tighten it to a perfect fit and let it do its work.
Washable
Your hygiene is well taken care of by this washable face lifter shaper. The high-quality material won't get damaged after washing, making it a reliable addition to the closet. But you can reuse it for some time before washing it, as it's breathable and lightweight.
Safe and Painless
The best thing about using our chin compression garments is that they are safe for the body. They're made of soft materials that offer medical-grade compression. Furthermore, you can use it without surgery to get a defined jawline. The face lifters shapers also adjust the fit to avoid pain.
How It Works to Lift and Support the Jawline
Before we delve deeper into how the face lifter shaper works to support the jawline, let's understand the basic composition of the face. The face is covered by skin, which changes its features depending on the weather or genetics. For example, too much exposure to the sun affects the skin's health by reducing its elasticity.
Remember, also under the skin are soft tissues like muscles and tendons that contain collagen and elastin. When the soft tissues get damaged or old, collagen and elastin production are affected. And since the two determine the skin's elasticity, when its production level reduces, the skin on the face becomes saggy, making the jawline disappear.  
However, the face lifter shaper work miraculously on the face by tightening and lifting the skin, revealing the facial contours. When you adjust the adjustable velcro, the skin around the chin, face, and neck tightens and becomes more elastic.
Given that the face shaper has a compression material, it can also deal with the unwanted fat around your face, eliminating the sagging jawline. When the skin becomes more elastic and firm, the face reshapes, resulting in a defined jawline. The face lifter also redefines the double chin, eliminating the bottom-heavy face.
Step-by-step Instructions on How to Use the Face Lifter Shaper Correctly for the Best Results
Using our face lifter shaper is very easy. Follow the below steps:
First, hold the mask up and identify the three holes at each end. Choose the right hole to loop around your head, ears, and neck.

Then adjust the fit using the velcro strap. Don't make it too tight or loose, and ensure you apply nothing on the face before use.

Use the mask before bed while reading, watching, or driving. But wearing it while sleeping or exercising is also allowed.

Ensure the mask covers the intended areas you want to tighten and redefine.
Tips on Finding the Right Size and Fit
After buying the right size and fitting chin compression, getting a chiseled jawline is easier. However, most people find it challenging to choose face compression because they can't try it on before buying.
But don't worry, as here are the tips to make this easier:
Know Your Face Shape
You will easily get the right chin compression if you know your shape. So know your face shape just before making an order. You can use apps like Hiface or measure your face to determine its shape. With the right face shape, deciding which compression garment for a chin lift best suits you is easy.
Choose A Larger Fit/Size
Since the face lifter shapers are adjustable, picking a bigger size that will get through your head regardless of your hairstyle is advisable. Then adjust it to a perfect fit to help you have a chiseled jawline. A size bigger than your head is easy to wear and remove.
Start Small
If you have never used this chin compression garment, don't wear it the whole day on day one. Instead, wear it for 10 to 20 minutes and see how it works. From there, you can gradually increase the timing according to your preference. Finally, make it your daily wear for best results. The under chin lift is not a one-day process, so be patient and keenly observe the progress as time elapses.
Don't Apply Anything Before Wearing It
It's advisable to wear this face compression garment on a clean and dry face. So avoid applying oil or anything that can make you uncomfortable or sweaty. Let the mask do its work without third-party interference.
Common Concerns and Misconceptions About Using Face Compression Garments
Despite many people using face lifter shapers to get a defined jawline, others don't use them because of misconceptions and myths. Some of the myths and misconceptions about face compression you should be wary of include:
Face Compression Garments Are For Post-Surgery Use Only
This is one of the misconceptions about under chin lifts and shaping garments that needs to be corrected. You can use this compression garment without surgery to tighten the skin on the face and get a defined jawline. All you need to do is wear it often for some days and see the magic.
It affects Blood Flow
You might have heard about this myth or misconception. The truth is that chin compression garments help boost blood circulation as they keep the muscles active. When the skin gets enough nutrients from the continuous blood flow, it becomes more elastic. With time, you get to eliminate the saggy skin around the face, resulting in a chiseled jawline.
You Cant Wear the Chin Compression Garment for too Long
This is another myth you should never believe if you want to have a defined jawline. Remember, the more you wear the shaper, the more it achieves its goals. Since it's soft, lightweight, and breathable, it can't affect the skin if you wear it for long.
Conclusion
Confidence is a ground lever for many people in different fields worldwide. And the best way to boost your confidence is to work on your facial look and get a chiseled jawline. You can achieve this using our face lifters, which are available in different sizes and fits.
Get the right size and overcome the myths and misconceptions that surround the use of face compression garments. Contact us and order your face lifter shaper today.
---