The 10 Best Faja Shapewear of 2023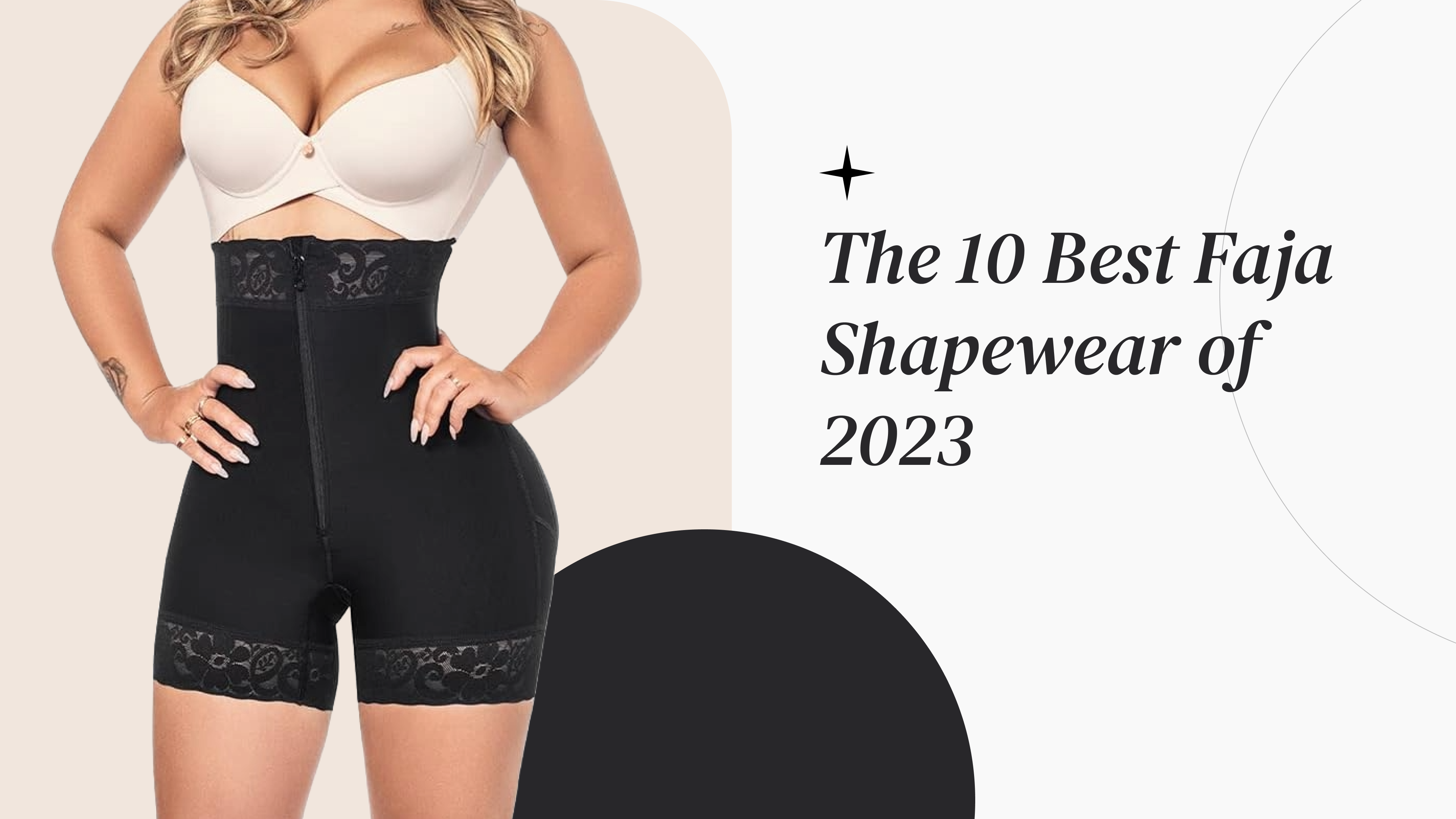 Shapewear is like a secret weapon on the red carpet. The figure-shaping undergarment lifts the bust, makes the stomach appear flatter and highlights women's natural curves. Shapewear is just not only for women with curves; but also used by slim women and after pregnancy to cover-up small problem areas under tight dresses and skirts. It is like a hidden gem for looking great on special occasions.
As we approach the end of 2023, It is the time to find the newest and trendiest shapewear that has been making headlines throughout this year. Explore our chosen list of the best 10 Best Faja of 2023 to boost your style and confidence in the New Year.
1. High Waist Tummy Compression Butt Lifting Shorts 3 Hooks Faja
This 3 row hook high compression Booty Lifter lifts your butt and slim your tummy. You can achieve the large booty look with any outfit! With its high waist style, the powerful compression garment shapes the tummy while simultaneously raising the butt for the ultimate form. Our no slip technology keeps your shapewear in place no matter how busy you are. These shorts cover the upper thighs for a friction-free fit. You won't want to take them off.
What customers love:
Everyday wearable
Stage 2 recovery
Upper-thigh coverage
Tummy control
Butt lift
Customized compression level
Hooks to adjust with different body sizes
Sizes: 2XS-6XL
Colors: Black and Cocoa   
2. Butt Lifter Faja Shapewear Tummy Control Short Panties
Shape your waistline and lift the butts instantly with our Butt Lifter body Shapewear. It is designed to give you the shape you crave without any surgery or workouts. Power-net waistband not only flattens the tummy but also and prevents the shaper from rolling down.
What customers love:
Instant booty lift
Tummy flattening effect
Daily use
Photoshoots
Thigh trimming
Special occasions
Sizes: S-3XL
Colors: Black and cocoa 
3. Faja Seamless Tummy Control Shapewear with Butt lifting Shorts Thigh Slimmer
Our Colombian Shapewear Collection provides invisible and seamless shaping. This shapewear is designed to be unnoticeable under your favorite strapless dresses. Our shapewear provides firm abdominal compression, boosting your figure and offering the desired shaping. Get rid of any concerns about unsightly bulges or uneven lines. Accept a smooth and perfect appearance that complements your natural curves.
What customers love:
Seamless effect
Strapless outfit
All day comfort
Abdominal compression
Sizes: S-3XL
Color: Nude                       
4. Colombian Butt-Lifting Push Up Shorts with Tummy Control
For individuals looking for a seamless silhouette, the Colombian Butt-Lifting Push Up Shorts with Tummy Control is a versatile and confidence-boosting option. This has a solid compression in the abdomen, which smoothens out undesirable bulges and uneven lines. Notably, these shorts emphasize the body's inherent curves. These Colombian-made shorts help you get that coveted butt lift, maintain belly control, or simply enjoy a more comfortable, polished appearance. Ideal for people looking for a shapewear that combines style, quality, and function.
What customers love:
Good for daily outfits
Pushup effect
Casual attire
Loose tummy


Sizes: XS-6XL
Colors: Black and Cocoa 
5. 3 Hook Faja Body Shaper with Sleeves
With our Perfect Shape Full Body Shapewear, you may take a step forward in confidence. It is made of premium quality compression garment that provides excellent compression without sacrificing comfort. With an easy 3 Hook closure and a user-friendly design, this adaptable shapewear is ideal for post-surgery recovery and daily wear. It is a popular choice for numerous surgeries because it targets the belly, legs, and arms while also boosting your curves with a pleasing booty-lifting effect. Discover Perfect Shape's confidence and comfort.
What customers love:
Post-surgery recovery
Daily wear
Booty-lift effect
Overall body soothing
Stage 2 recovery
Adjustable compression
Sizes: XS-5XL (Small size is out of stock)
Color: Cocoa 
6. Faja Tummy Bodysuit with Butt-lift
A versatile solution for smoothing and shaping your belly and thighs. It blends compression with comfort, decreasing swelling and improving your natural curves, and is made of high-quality compression garment. It prioritizes convenience with a front zipper and a bathroom-friendly style. It not only controls your tummy and thighs, but it also lifts and flatters your booty. Display your beautiful physique and feel great with any attire.
What customers love:
Stage 2 post-surgery recovery
Smoothing tummy and thighs
Daily use
Booty enhancement
Easy to wear
Sensitive skin
Back support
Sizes: 2XS-6XL
Colors: Black, Cocoa and Beige
7. Faja Colombianas Posture Trainer
Our high-compression waist shapers now have a high-back design that improves your posture gradually over time. This shaper provides the highest level of compression, allowing you to accomplish your body shape goals faster. The three hook closures keep it securely in place while adjusting as you go. It even has detachable thin straps that go with any outfit. This is the only waist trainer you will ever need, manufactured of high-quality Latex and designed to enhance posture and provide lumbar support.
What customers love:
Workouts
Posture improvement
Back support 
Flexible fit
Sizes: Black
Colors: 2XS/28 – 6XL/48 (M, L and XL sizes are out of stock)
8. Waist Trainer Wide Strap Shaper
This shaper is your companion in accomplishing body goals. You can rely on its consistent compression and feel-good quality. It has three hook closures that keep your shaper securely in place, so no slippage is required. The wide straps provide extra support, and the high-waist design is great for belly and bust control.
What customers love:
Posture correction
Tummy control
Daily essentials
Adjustable fitting
Bust control
Sizes: 2XS/28 – 6XL/48
Colors: Pink, Black and Blue
9. Fajas High Compression: Bust to Thigh Shaper
With our Perfect Shape 3-in-1 Shapewear, you get the best of waist shaping, compression, and booty enlargement. It has a handy 3-hook closure for shaping your waist, bust, buttocks, and thighs. Our shapewear is adaptable, making it appropriate for both post-surgery recovery and everyday wear. The compression aids in the reduction of swelling for smoother outcomes, and the 3-hook closure ensures that you achieve your ideal waistline.
What customers love:
Thigh control
Bust control
Stage 2 surgery recovery
All daywear
Targeted shaping
Reducing swelling
Enhancing curves
Sizes: XS – 5XL (L size is out of stock)
Colors: Black and Cocoa   
10. Hourglass BBL Girdle with Mid Legs and Hooks
The Hourglass BBL Girdle with Mid Legs and Hooks can help you achieve an hourglass figure with no effort. With its simple hooks and mid-leg length, this girdle is designed to complement your natural curves and give you the desired appearance. It's ideal for post-surgery rehabilitation and everyday wear, ensuring you look your best in any outfit. This adaptable shapewear solution provides confidence, support, and style.
What customers love:
Easy to wear
Daily use
Convenient hooks
Bathroom friendly design
Full back coverage
Sizes: 2XS – 5XL
Color: Black   
Are you planning to get your shaper today? Do not wait for a second: Explore our collection. We have a diverse range of best faja to make you confident. Happy Shaping!
---