Shapewear Bodysuit Styles You Need in Your Life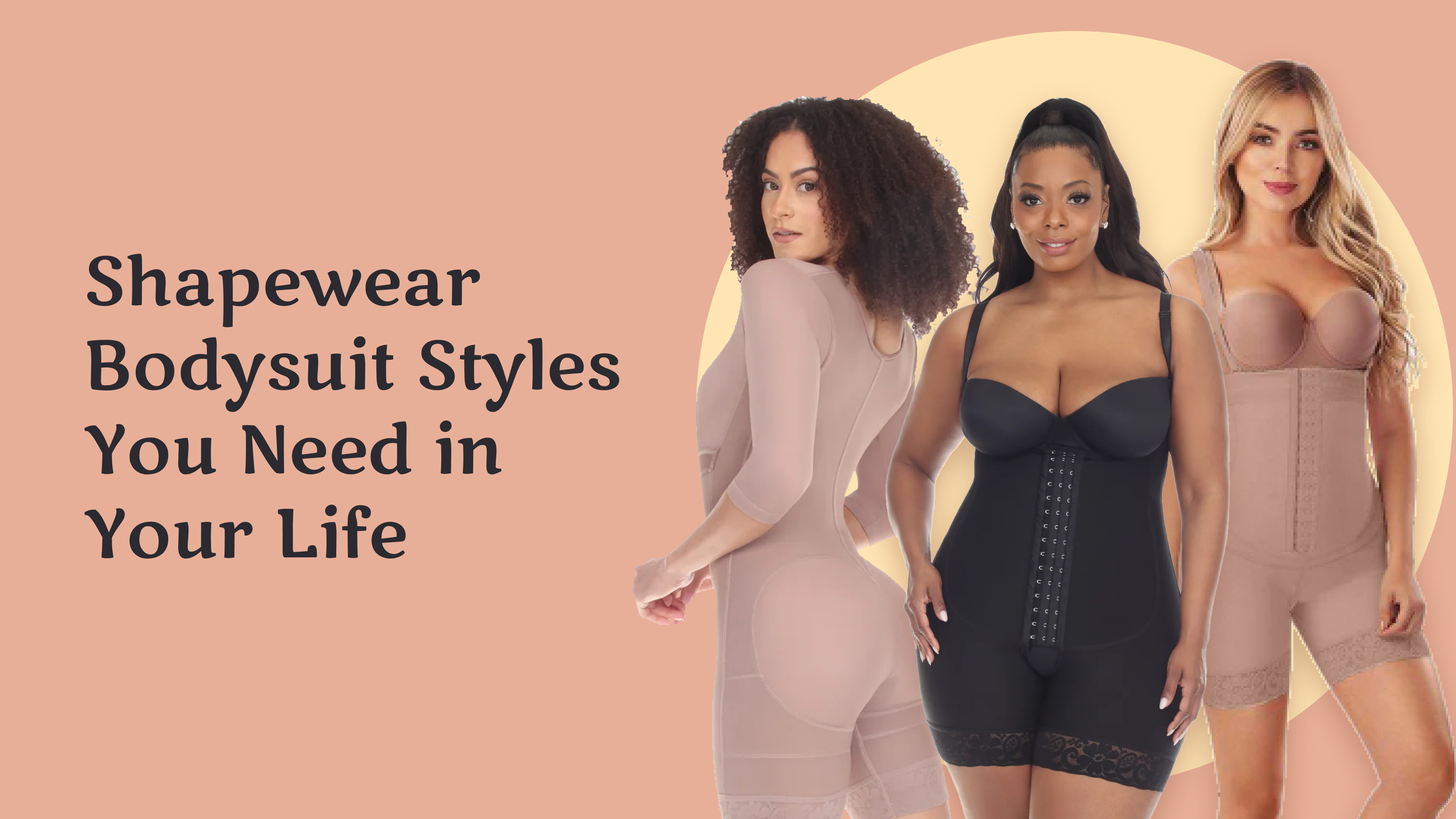 The truth is: we take a lot of garments we have today for granted - including shapewear. Back in the day, achieving the perfect figure and a smooth silhouette was a real struggle. To start with, there weren't a lot of options to choose from, other than girdles and corsets.
Plus they weren't that comfortable to wear and would often stick into the body, like it is the case with the Victorian corsets. They compressed the abdomen to a point where people experienced poor digestion, trouble breathing, and sometimes even rib cage deformities.
Up until the mid-20th century, girdles with flattening panels were a go-to choice. Today, shapewear has evolved. As time went on, shapewear become more comfortable, relaxed, and slimming.
Modern-day shapewear bodysuits are stunning products. Not only do these products give you a smoother silhouette, but they also provide extra support and accentuate your natural curves. Here is a quick look at shapewear products that you can add to your boudoir. 
The Benefits of Using Shapewear Bodysuits
Many people are using shapewear as they can lose inches immediately. Products such as these give a smoothing effect, bust support, and a high level of compression. You can use shapewear to shape your thighs, back, and abdomen, and achieve a mermaid look.
Other than the contouring and slimming benefits, shapewear bodysuits help improve your posture. They can reduce the strain on your back and help improve your walking. Modern-day shapewear uses breathable fabric and materials that flaunt your structure without sacrificing comfort or being highly restrictive.
Get ready to discover some of the most essential shapewear bodysuits for women and men. The styles listed below are sure to leave you feeling confident and looking fabulous, no matter the occasion.
1. 
Hourglass BBL Girdle with Mid Legs and Hooks
 

Reward: Best Overall

With the Hourglass BBL, you can say goodbye to pesky bulges and hello to a sexier and smoother figure. This shaper can help you achieve an hourglass figure. It holds the stomach in and hugs the body in all the right places. The product is neither too loose nor too tight. It is comfortable for daily wear, so there is no need to go down a size. 
2. 
Lock It In Bodysuit Shaper
Reward: Best open-bust design

If you are looking for a bodysuit that can give you the confidence to rock any outfit, look no further than the Lock It In Bodysuit Shaper. This Colombian-made shapewear is one of the most comfortable bodysuit shapers to wear. It offers firm control to shape the tummy and lifts the buttocks without irritating the skin.
Plus, we all know that wearing bodysuits women can be a real hassle when nature calls, especially if you have to peel off the entire thing just to go to the bathroom. But, this product is a time saver thanks to its open gusset.
When you are done, you can just put the bodysuit back into place, tighten the straps and you are good to go. So, whether you are at work, out shopping, or on a night out with the girls, you won't have to worry about wrestling with your bodysuit in a cramped bathroom stall.


3. 
Lock It In Arms to Knees
Reward: Best versatility
This full-body shaper is the ultimate secret weapon for achieving a streamlined figure from top to bottom. This is the best bodysuit when it comes to versatility. If you are planning to wear a form-fitting dress with sleeves, the Lock It In Arms to Knees shapewear will be your best friend. The shapewear smooths out any bumps or lumps, giving you a flawless silhouette. You can also pair it with some high heels and statement earrings for a sophisticated look.
But, if you want a more trendy and chic style, then this shapewear can work too. It goes well with high-waisted jeans. All you have to do is tuck in your favorite blouse and accessorize with a statement belt or a pair of heels for a stylish ensemble.
For a more polished and professional look, we suggest wearing the shaper with a pencil skirt. You can finish off this classic wardrobe staple with a pair of pumps and a blazer.


4.  Strapless Thong Shaper
Reward: Most discreet
This shapewear can smooth out the tummy and leave you feeling comfortable and confident. Compared to other body suit women, this product comes with a strapless and thong design, making sure there are no visible panty lines.
One way to rock this shaper is under a tight-fitted skirt, dress, or shorts. Pair it with a crop top or a blouse for a sleek and sexy look. And don't forget about the power of lingerie! This thong shaper is perfect for wearing with lingerie sets, especially with a stunning bra, providing you with a smooth and streamlined silhouette that can make you feel like a goddess.
5. 
Lock It In Tummy and Legs

Reward: Maximum control
Whether you need shapewear for a special event or a casual outing, the  Lock It In Tummy and Legs bodysuit can make for a solid pick. The knee-length design means you can wear it with any length bottom.
This compression knee-length bodysuit features a unique design that offers maximum control and compression. The product can smooth out any problem areas, like the tummy, thighs, and buttocks. And the best part? You can wear it with your favorite bra for additional support and comfort.
Looking for some fashion inspiration? Try pairing this bodysuit with a flowy maxi skirt for a bohemian-inspired look, or with high-waisted jeans and a bold-colored long sweater for a comfortable everyday look. No matter how you choose to wear it, this product is sure to help you turn heads.
6. 
Mens Full Body Shaper
Reward: Best comfort
The male bodysuit has recently gained popularity as more men have become interested in enhancing their physique. These shapewear pieces can create a more toned and defined look. A men bodysuit is designed to be comfortable, breathable, and flexible, making it easy to wear throughout the day without feeling restricted.
The Mens Full Body Shaper is a discreet shapewear that can be worn underneath a variety of outfits. Its breathable and comfy design can help you shape problem areas like the waistline, chest, and stomach. This shaper is not just for special occasions, it is perfect for everyday use too. It is designed to stretch and fit your body with ease.
Conclusion
Shapewear and bodysuits are not just for women - men can also benefit from these body-sculpting garments. Whether you want to accentuate your curves or flatten your tummy, there is a shapewear option for everyone. Visit Her Perfect Shape today to find the ultimate products that can help you feel like the best version of yourself!
---