Perfect Shapewear Choices for Backless Dresses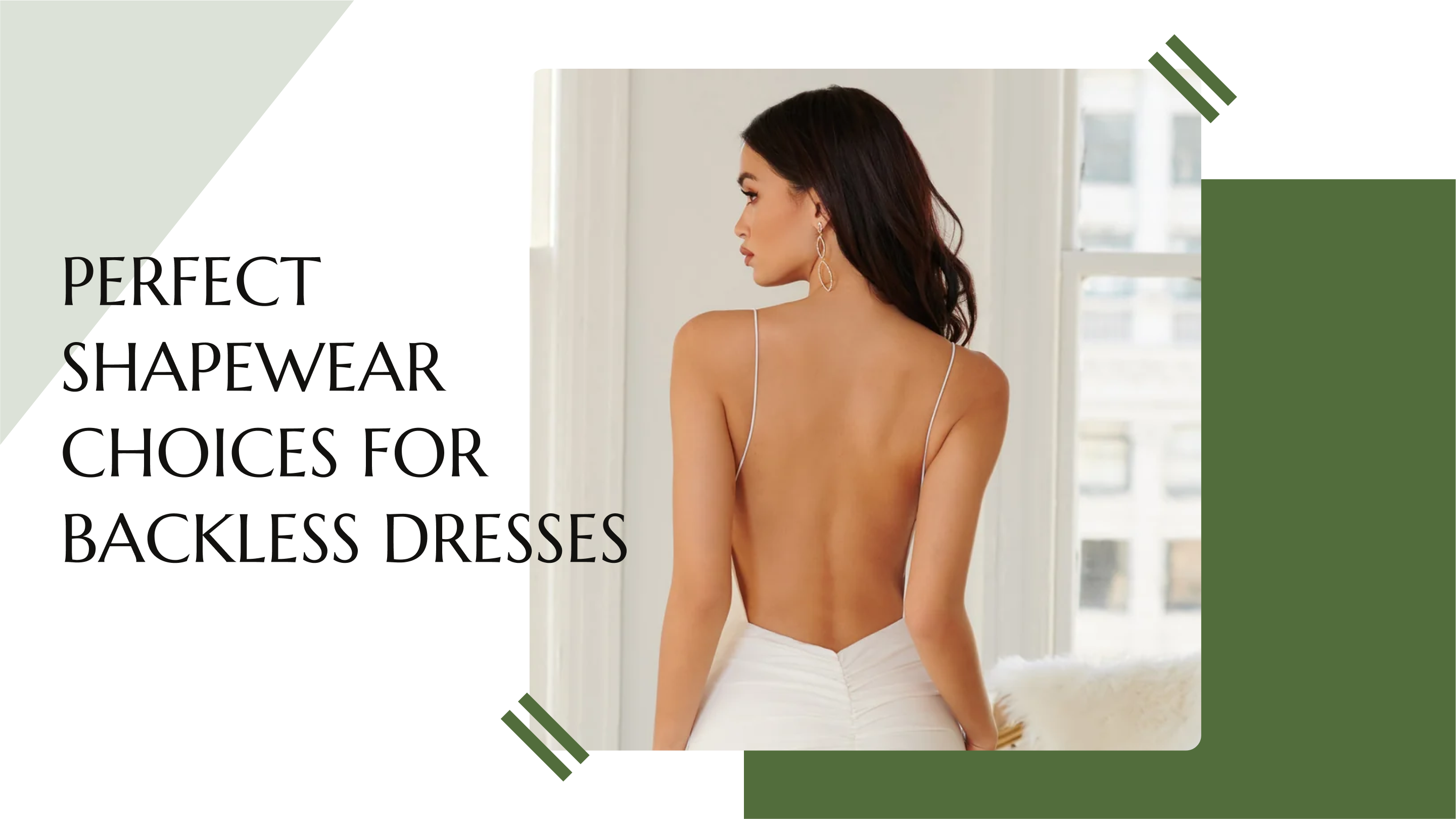 Fashion is the fundamental right of every woman, regardless of the event, season, or time. You have the right to look stunning in your outfit. Whether its a special event, a New Year's party, or an upcoming vacation, you may be considering a backless dress. You search for dresses you love, either online or at nearby stores. While backless dresses are a popular choice among many women, they can also be a source of anxiety for those who may be self-conscious about their back fat or love handles.
Shapewear helps you in smoothing out any bumps or bulges, give you a more streamlined shape. Perfect Shape offers a variety of Faja shapewear options to highlight your curves and enhance your style. I this blog, we'll be sharing everything you need to know about the best shapewear options for backless dresses, shapewear benefits and tips for effective usage of a shapewear.
Benefits of Wearing Shapewear for a Flawless figure
Shapewear isn't just about looking slimmer, it's also about feeling good and have number of other benefits. The right shapewear helps to improve posture by providing support and make you more comfortable by reducing chafing and preventing your dress from riding up. Shapewear also helps clothes fit better and look more flattering. With shapewear, you can enhance your natural curves and be more charming.
Types of Shapewear for Backless Dresses
There are several types of shapewear designed specifically for backless dresses. Some popular options include:
Backless Bodysuit
A backless bodysuit is ideal for those seeking full coverage and shape from bust to their thighs. It provides a smooth form and remove any bulges or lines. It shapes midsection and thighs while leaving your back uncovered.
Faja Strapless Thong Shaper- best suited for backless dress, tummy shaping and lower back support. This Colombian strapless thong shaper for women accentuates your waistline and enhance your derriere in a sexy thong fashion. The open-bust brief bodysuit offers and outstanding midsection control, bust aligning, tummy shaping and lower back support.
Pasties and Bra Tapes
Pasties and bra tape are best for those who prefer a more minimalist approach while wearing a backless dress. They help you to achieve a lifted appearance and contribute to an attractive attire.
Classic Silicone Breast Lift Pasties and Body Tapes for Breast are the options you can choose for glamorous look.
High-Waisted Briefs and Butt Lifters
High-waisted briefs and butt lifters are perfect for those who want to shape their belly and hips. They provide support and compression while still being comfortable to wear.
Let's explore our shapewear collection, which offers more than just support for backless dresses.
 Faja Colombian Butt Lifting Shorts – 3 Hooks, tummy control and bathroom friendly design. Powerful Power-net material creates compression on the tummy with this high waisted design, while simultaneously lifting the butt for the perfect shape. These shorts cover the upper thighs, for a frictionless experience.
Faja Booty Lifter Shorts –Tummy smoothing and booty lifting effect. Furthermore, the no-slip technology ensures it stays in place even during active movement. Its beautiful lace trim makes it an ideal choice for a night out.
Butt Lifter Faja Shapewear Tummy Control Short Panties –Tone waistline and flatten the tummy. Featuring a powerful power-net waistband to flatten the tummy, as well as laser-cut leg bands and a waistband to stay put - so you can shape up with confidence. 
Colombian Butt-Lifting Push Up Shorts with Tummy Control- Best coverage in upper thigh
High Waist Tummy Compression Butt Lifting Shorts 3 Hooks Faja – Adjustable fit, Bathroom friendly design and tummy compression
Fajas Colombianas Compression Butt Lifter Shorts –Butt lift and tummy slim with lace design. This shaper provides comfortable compression around the tummy and lifts the butt to give a flattering shape
High Waisted Body Shaper Shorts- High compression without skin irritation. Our Power-net material provides high compression, without skin irritation. Compression helps lessen swelling and smooth the parts of your body you've taken time and energy to be its best. All our compression garments feature easy closures and bathroom friendly design, so you can get the most comfort and ease out of your compression shapewear.
Exploring the Features of Faja Colombianas for a Perfect Shape
We are known for high-quality compression materials and superior shaping abilities. One of the key features of our shapewears is its compression technology, which helps to smooth out any lumps or bumps and create a more streamlined shape.
Compression
Shapewear provides compression by using specially designed material and targeted panels, which helps smooth out any lumps or bumps. It also helps improve posture and provides support.
Comfort
Our Shapewear is meant to be both comfortable and breathable, allows you to wear it all day.
Instant Body Shaping
Shapewear gives an immediate and obvious transformation, smoothing and contouring the curves of the body for a more attractive and toned appearance.
Breathable Fabric
Fajas are made from a breathable fabric that is comfortable to wear for extended periods. It also helps wick away moisture, keeping you cool and dry.
Versatility
Our shapewear is versatile and can be worn with a variety of outfits. Our backless bodysuits and high-waisted briefs are perfect for backless dresses, but they also offer shapewear for other types of clothing.
How to Choose the Right Size and Fit for Your Shapewear
Choosing the right size and fit for your shapewear is essential for achieving the best results. It is important to measure yourself accurately and consult the size chart provided with shapewear product. When trying on shapewear, make sure it is snug but not too tight. You should be able to move comfortably and breathe without any restrictions.
Tips and suggestions for Wearing Shapewear Comfortably
Wearing shapewear does not have to be uncomfortable. Here are some tips and suggestions to make wearing shapewear more comfortable:
Choose the Right Size
Choosing the right size is crucial for comfort. Make sure you measure yourself accurately and consult the size chart provided.
Practice
If you are new to shapewear, start by wearing it for shorter periods to get used to it.
Wear Cotton Underwear
Cotton underwear is breathable and helps prevent irritation. It is also more hygienic than synthetic materials.
Wash with Care
To keep your shapewear is in shape, follow the care instructions that came with it. Hand washing is frequently advised.
Apply Baby Powder
Applying baby powder to your skin before putting on shapewear can help prevent chafing and irritation.
Shapewear may not be a magic answer for getting the perfect body, but it can help smooth out any issue areas and increase your confidence. You can love your curves confidently and feel like the best version of yourself with the correct shapewear, because confidence makes you more beautiful. Whatever the dress, shapewear is the answer to your all-shaping problems.
---