Make your thighs curved without hassle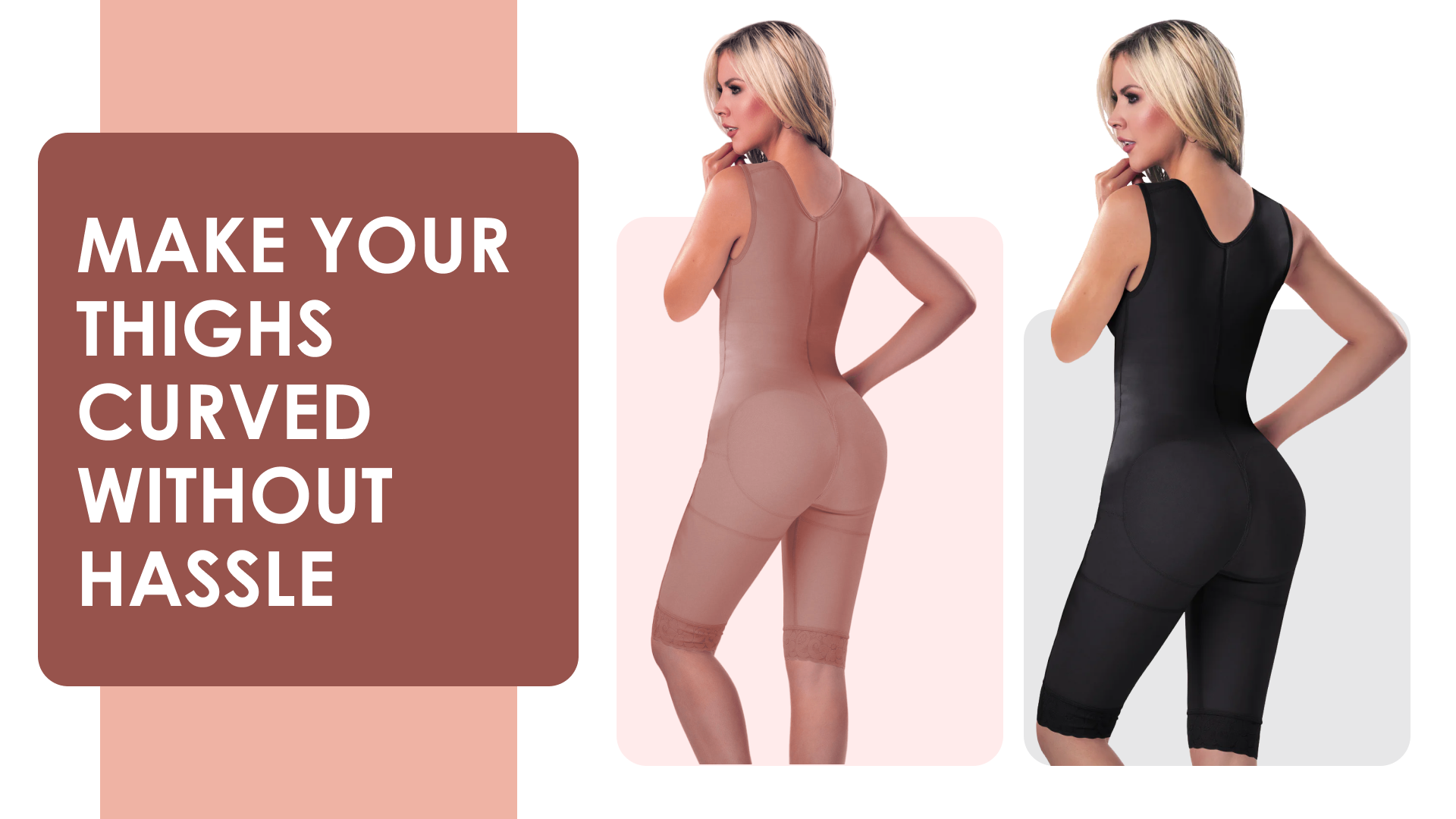 Sometimes all you need to keep your life moving in the right direction is body confidence, which is possible with a flattering silhouette. A positive body image allows you to interact with peers without challenges. It also boosts self-esteem, which makes achieving goals easier.
However, fats around your thighs or legs can cut this dream short, as they are stubborn and show aimlessly under any clothing. The good news is that you can instantly transform your thigh figure through the power of butt lifting shapewear. But which is the best body shaper for women to shape their thighs and remain comfortable all day long?
This guide elaborates on all these in detail.
Full Thighs and Legs Shapewear
Good butt lifting shapewear can help you hide unwanted bulging fat on your thighs, tummy, back, or arms. Underwear girdles for women can also lift the butt making your natural curves more evident. All these are only possible if you wear the best full-thigh compression garment that hides and holds the fat in a desirable shape.
Some of the full-thigh garments that can help you achieve your desired shape include:
Lock It In Tummy and Legs
Manage the excess fat around your thighs and legs using this shapewear. The 3 in one compression garments work on your unwanted tummy fat and those on the thighs and legs, giving you a sculpted body.
It's made of Powernet material for more comfort, breathability, and body support. You can wear it with any outfit without forming bulges or coming off, as the zip and strap design hold it in place.
Bust to Thigh Shaper
This is also one of the women's girdles that can help you manage unnecessary fat from your bust to your thighs. The shapewear is ideal for slimming all your body parts as it tucks the tummy and lifts the butt and thigh fat.
You can wear it comfortably throughout the day as it is made of superior-quality materials that can also enhance the bust. Its bathroom-friendly design makes it a good pick for any outfit, making bathroom visits easy. The 3-hook closure provides more comfort as you can adjust it to your desired fit.
3 Hook Arms to KneesShaper
As you grow, you will realize that other body parts, like your thighs, also increase, which can be challenging to wear. Thanks to this body shaper for women, you can manage all the fat from the arms to the knees. The shapewear also acts as tummy control underwear for women, with 3 hooks for perfect tummy tucking.
The Power net material ensures you remain comfortable without sweating all over your body. It's also easy to wear and remove, and the best thing is that it acts as butt lifter shorts, so it can improve your silhouette. You can also use it after surgery for body smoothing or curving.
Fajas Colombians
You can also shape-shift your thighs using various Faja Colombianas in our collection. Go for either thigh-high Fajas or knee-length shapewear that can prevent your skin from totally coming into contact.
Some of the best options to try out include:
Lock It in Tummy and Hips
If you feel your thighs around the hips are the problem, go for this Fajas Colombianas. The shapewear will contour your thighs and tuck your tummy for a desired look. It is made of high-quality powernet material and is comfortable on the skin.
The front zipper closure and the bathroom design improve comfortability, and it's the convenience you have been missing. Since it's thigh-high USA shapewear, pair it with a mini skirt, dress, or shorts.
3083 Strapless to Knees Firm Body Shaper With Butt Lifter
Another Fajas Colombianas to consider for your wardrobe is this strapless body shaper that covers up to the knees. It's an ideal choice to shape your thighs and have a sculpted look with any outfit.
The butt lifters further enhance your back look, increasing confidence in any outfit. Since it's a compression garment with powernet material, it won't irritate your skin, making it an ideal choice for everyday wear.
3174 3 Hook Open Bust Mid-Thigh Shaper
You can make your thighs look slimmer with this Fajas Colombianas bodysuit that acts as butt lifters. It gives the hips, thighs, and waist the needed support to make the shifted fat look natural.
Its 3 hooks off the front design and the thin adjustable straps help keep it firm on the body. It covers up to the mid-body, making it an ideal choice for shape-shifting the stubborn fats on this thigh section.
Thigh Highs
Confidence means dealing with body fat in whichever area it is. That is why we have thigh highs for getting the desired body shape. Our girdle for women comes in different sizes and shapes, ensuring everyone gets the right choice.
Some of the butt lifter shorts that can shape the upper thighs include:
Lock It n Tummy Control
This is one of the best thigh highs for those into short or high-slit dresses. It also tucks the tummy fat while lifting the butt making it easier to get a perfect shape. It has a bathroom-friendly design, so you can take it anywhere without worrying.
Its open bust allows you to wear a favorable design while the strap holds it in place. The Powernet material prevents skin irritability.
High Waist Tummy Compression Butt Lifting Shorts with Three Row Hooks
It is also possible to shape-shift your thighs using shaper shorts. Such shorts can also work as butt-lifting shapewear as they elongate the size of your hips but slim the thighs. Go for any of these high thighs shorts with a 3 hook design to hide the tummy and thigh fats.
It remains intact on the skin while active, as it's made with nonslip technology. You won't experience friction on the upper thighs, as the powernet fabric prevents this and sweating.
3097 Strapless High Compression Girdle with Hooks
Another high thigh to include in your closet is the strapless compression women girdle with hooks. It prevents friction on the upper thigh skin and compresses it to a perfect shape, regardless of the kind of cloth you wear.
The shaper shorts can also hide tummy fat as their 3-hook design promotes easy fitting. Wear it for post-surgical treatment or any purpose to support the waist and lift the butt, enhancing the thigh's looks. The straps and powernet material ensure you remain comfortable all day long. It also improves your back look for more confidence.
Mid-Thigh Shapers
Another option to prevent the unwanted thigh fats from taking center stage in your looks is wearing a mid-section compression garment. Such USA shapewear helps give your thighs the desired curves that look attractive.
Use the following butt-lifting shapewear to achieve a flattering silhouette:
Front Zipper Mid-Thigh Brief Girdle
Shape your mid-thigh using this front zipper women girdle and see how confident it becomes wearing any cloth. The shapewear is versatile, comfortable, and breathable, making it an everyday Faja. Go for the right size and use the zipper closure for extra support.
It will slim your tummy immediately after you wear it. Plus, its mid-thigh length makes it easy to pair with most clothes. The open bust area allows you to wear any bra, and the thicker straps offer extra skin support. The biker shorts are one of the best shapers in our collection for postpartum and post-operation needs.
3057 High Compression Girdle with Hooks
Let your thigh-shaping biker shorts also bring desired changes to various parts of your body. Wear this high compression girdle which lifts the bust, slims the tummy, and waist and enhances your bust and hips just as you wish. The best thing about this butt enhancer short is that it lifts and gives the back desired support, resulting in an outstanding look and posture.
The adjustable strap and three off-front hooks provide a customizable fit for more comfort. Moreover, it prevents skin irritation around the mid-thighs as the Powernet material controls skin contact.
515 Booty Lifter Shorts
You can also wear this booty lifter short to manage the fat around your mid-thighs and have a curved outlook. The Powernet compression ensures that the thigh-high short remains in place regardless of your activity.
Plus, it smooths the tummy owing to its high waist design. Moreover, it acts as a butt lifter with a friendly bathroom design for more convenience. So, wear these comfortable shaper shorts to reduce the friction between the mid-thighs.
3303 Butt Lifting Shorts
Use these butt lifting shorts to shape-shift your thighs and hide the imperfections in the midsection. The shaper shorts flatten the tummy, making your rear bigger for an enhanced instant look.
The Powernet material from Colombian textiles helps you remain comfortable all day, while the 3-row hooks are for a customizable fit. The nonslip technology helps keep the short intact without bulging under the cloth.
Bottom Line

Walking around in shaped thighs is satisfying, as it allows any cloth to fit in. So if you have been keeping some outgrown outfits, it's time to invest in the right compression garment that can shift your thighs.
With the right body shaper for women, you can instantly manage the unwanted fat all over your thighs and boost your confidence.
Choose any of our shapewear
and transform your look in a second
---