Let's Unveil the Secrets of Colombian Fajas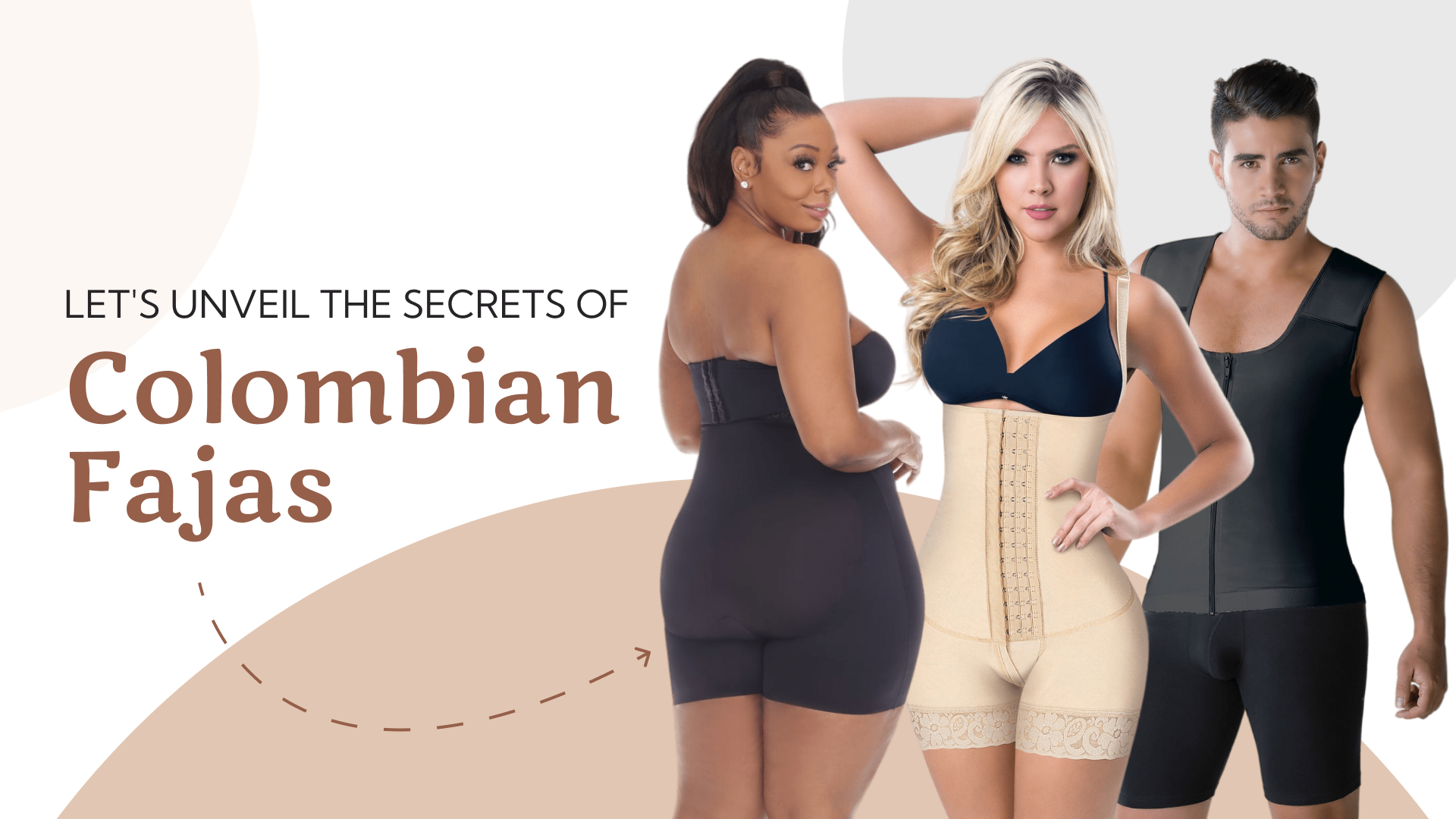 Colombiana fajas have blown up around the world because of the boost of confidence they give you and their incredible ability to help you achieve your ideal body. They provide excellent support for post-surgery procedures like tummy tucks or liposuction, and the fajas Colombianas can also be used as body shapewear to help those looking to slim down without surgery.
To find out what makes these transformative garments so effective — especially in comparison to other shapewear like Spanx — read on!
The Artistry of Colombian Fajas
The artistry of a faja body shaper is truly one of a kind. While body shapers like Spanx have been widely popular for helping you smooth your waistline, the solution is temporary. They don't give you the same compression and fat-burning benefits that Colombian body shapers can provide.
What truly makes Colombian shapewear superior is the internal boning can help you powerfully sculpt and cinch your waistline — even from chest to legs and the surrounding areas. At the same time, the best fajas Colombianas still provide comfort and breathability so you can move freely without feeling too restricted.
These garments are made with carefully chosen, high-quality materials that ensure an excellent fit and lasting longevity. The fabric used in making a faja body shaper usually includes a combination of materials like nylon, spandex, and Lycra, which provide compression while still maintaining breathability. Many body fajas Colombianas also feature strategically placed boning to help enhance waist-cinching effects along with panels for additional tummy-tucking benefits.
The artistry of fajas Colombiana is not just limited to their design. Colombiana fajas are designed to help you achieve your ideal shape while remaining comfortable throughout wear time. Fajas post-surgery are ideal when full coverage is needed but comfort is equally important to help you through your recovery.
Cultural Significance of Colombian Fajas
The history of Colombian Fajas dates back to the 16th century when they were first used by indigenous women in South America. They served as a symbol of status and identity, as well as being practical for everyday life. Over time, the faja gained popularity and was adopted by other cultures across Latin America.
During the 19th century, corsets made from whalebone became popular with wealthy European women who wanted to achieve an hourglass silhouette – which could also be achieved with traditional Colombiana fajas.
Today, Colombian body shapers are not only seen as fashion statements but also have cultural significance due to their history. The garment is closely associated with traditional dress in many parts of Latin America and is often featured in festivals or celebrations where people wear them proudly to demonstrate their heritage.
However, they've become so popular worldwide in today's day and age that even celebrities can be seen wearing them on the red carpet. Not only that but athletes use them in the gym and they're also a vital part of recovery from cosmetic surgeries and post-partum!
What Are the Best Occasions to Wear Body Fajas Colombianas?
When it comes to finding the perfect occasion to wear Fajas Colombianas, the possibilities are endless. You can find our Fajas Colombianas collection for liposuction, butt lifts, tummy tuck procedures, and more. Experience their invaluable role in expediting the healing process.

They can also be worn under everyday attire to help slim down your silhouette and help improve your confidence levels. These transformative garments can also be worn at special occasions such as weddings or formal events to give you that perfect hourglass figure — or even in the gym to hold your core in and improve your posture!
No matter what the occasion, Colombian Fajas can help you achieve the silhouette you're looking for. The breathable material allows for superior comfort throughout wear-time while still providing maximum body contouring capabilities – making them one of the most effective solutions when it comes to body shaping garments on the market today.
Create Curves in All of the Right Places with Our Body Shapewear From Her Perfect Shape
At Her Perfect Shape, our fajas for post-surgery offer superior contouring and support that can help you achieve your desired shape following lipo or similar procedures. Post-op fajas are key to getting you back up on your feet faster while minimizing discomfort in the weeks to follow. The breathable material allows you to wear them comfortably when recovering from surgery while still providing the proper support and assisting with swelling reduction.
On the other hand, if getting an hourglass figure has been on your wish list but surgery isn't an option, then our Colombian fajas for everyday wear can help you bring in your waistline without undergoing any cosmetic procedures. With easy-to-follow instructions included and high-quality materials used in every piece; rest assured knowing that we have the best fajas Colombianas that will provide long-lasting results.
Both our post-op fajas and Colombian body shapers for daily use feature strategically placed boning and panels that target areas like the stomach, legs, and even arms  – making it easier than ever before to get those enviable curves naturally!
The best part about our fajas is that they come in a variety of styles so no matter what look you're going for. From black to neutral colors to hide discreetly under your clothing – we have something perfect for everyone looking to enhance their curves with Colombiana fajas!
Finding the Perfect Faja Body Shaper to Meet Your Needs
For first-time buyers, it's important to consider the different types of post-surgery fajas Colombianas available and understand what features are best suited for your specific needs. Full-body fajas offer comprehensive coverage for post-surgery recovery or shaping purposes while more targeted options like torso shapers provide support in areas such as the abdomen or waistline.
Other factors should also be taken into consideration before making a purchase. The size of your faja should fit comfortably but not be too loose as this can lead to bunching and discomfort during wear-time – so make sure you measure yourself accurately according to our sizing chart before placing an order.
Post-op fajas should come with hook and loop closures so you can adjust them as the swelling goes down. This also allows you to slip in and out of them with ease and minimal discomfort.
Ready to Shop Body Shapewear? Order Your Faja Colombianas Today!
When it comes to body shapewear, wearing a post-surgical faja body shaper or waist trainer is  some of the most popular solutions to cinch your waistline and slim down from head to toe. At Her Perfect Shape, we offer a wide selection of fajas Colombiana styles for men and women to choose from.
We take great pride in providing quality products made with superior materials designed specifically for post-surgery and for slimming down in general. When you shop with us, you can be sure your faja Colombiana garments will last throughout wear time without compromising on any level of comfort. If you need help selecting the right garment for you, feel free to contact our team anytime.
---