How to Get Lifted Bust Appearance Effortlessly ?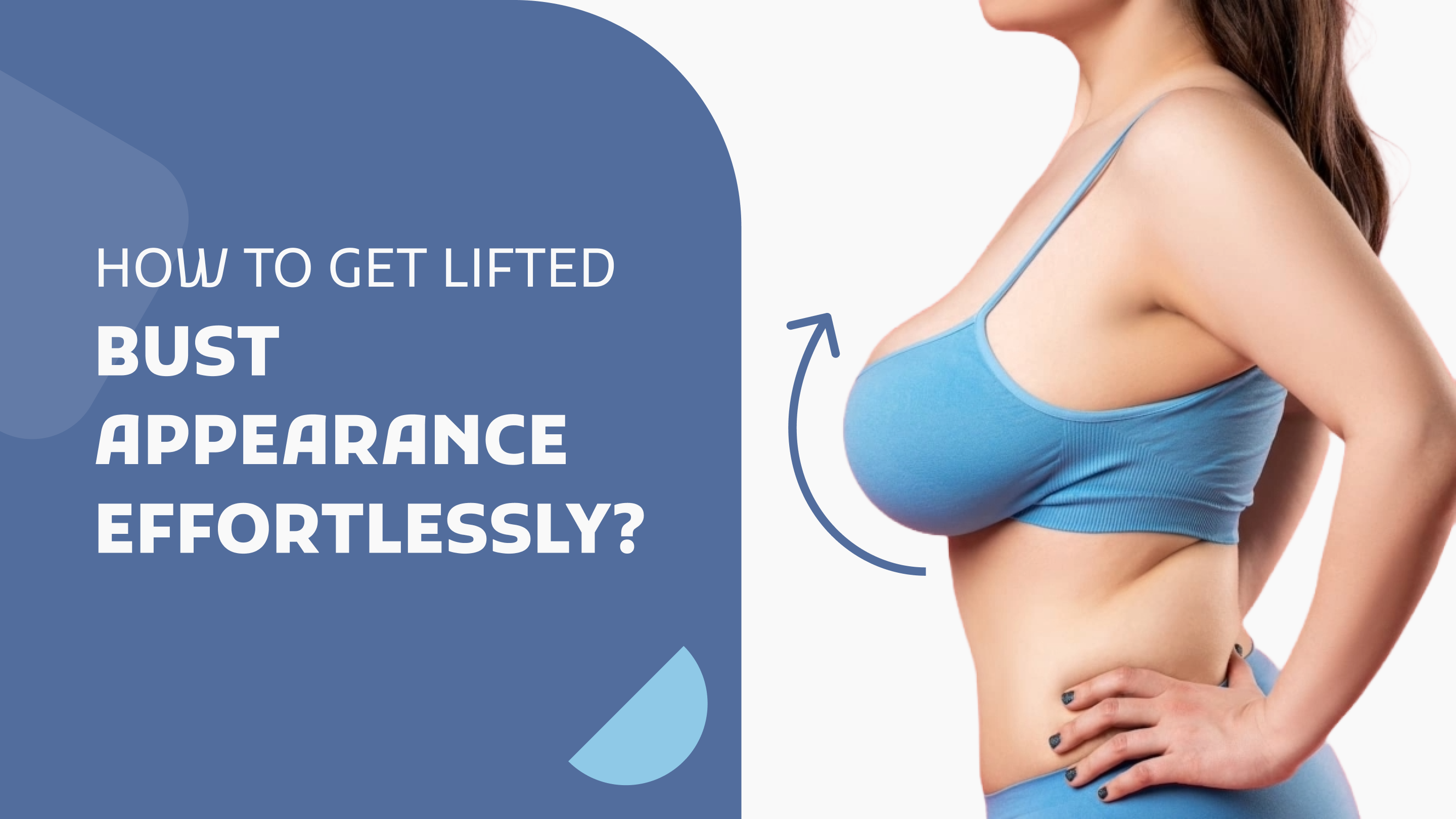 In a world of confidence and beauty, we, as women strive to be our best. How we feel about our looks reflects in our confidence. Achieving an ideal look is a goal for every woman, regardless of personal style, age and culture. Every woman desires to feel confident and gorgeous in any outfit she chooses.
Dressing plays a vibrant role in our style and when we talk about clothing, how can we forget about the desired look in a dress? Whenever we choose any dress, our first priority is to imagine how it would suit us. Not everyone has a perfect figure due to health issues and genetics, which can affect their confidence.
Among the many aspects that contribute to your overall appearance, the shape and lift of your bust is one of it. Ensuring that your bust looks appealing is essential when you want to look and feel your best in any attire. Whether a special occasion or your everyday style, a shapely bust can make a significant difference.
Tips and Tricks to Lift Your Bust Naturally
Many of you may feel unhappy that you don't have blossom bosom that you desire. But there is no need to worry about; we've got you covered. In this blog post, we will explore different ways to get lifted appearance. So let's dive in realm of enhancing your breasts and loving your new look.
Exercises:
Incorporating different exercises and yoga poses in routine can help to increase the breast mass and give you perkier and firmer appearance. Cobra pose, Camel pose, planks, Push-ups and dumbbell fly are effective to strengthen the pectoral muscles. Choosing the best one depends on your body type and stamina.
Balanced Diet & Estrogen rich foods:
Estrogen is a female hormone makes women's breasts bigger and rounder. This hormone transforms the young girl's body into adolescence and initiates the menstrual cycle.
A high level of estrogen cause significant body changes in young girls between ages of 12 to 16. After the end of the puberty period, the estrogen level decreases, which keeps the breast size relatively constant. Weight gain or estrogen enriched food can help you to increase bra size.
There are various breast enlargement foods to increase the bust size. Some food options include chicken, beetroot, milk, soy products, tofu, nuts, papaya, flaxseeds, green vegetables, and Fenugreek seeds. Consult your nutritionist to see which food is good for you.
Posture:
Bad posture or sitting hunched over a desk can make your shoulders round and push your breasts towards your chest. Standing up tall with shoulders back enables your chest to project outward and can help in appearance of larger breasts. Improvement in posture boosts your confidence             
Surgeries:
Augmentation mammoplasty- also known as breast augmentation is a well-known cosmetic surgery procedure to increase breast size. Breast implants are placed under either the breast tissues or chest muscles to give them fuller appearance. If you are considering undergoing this surgery, consult with a plastic surgeon to learn about possible complications and your health condition
Padded Bras:
Padded bras are a quick fix, instantly adding volume and lift. However, they may not be the most comfortable option for extended wear and can be noticeable under certain clothing.
Massage Techniques:
Circular massage with topical oils can also improve blood circulation and maintain breast tissue elasticity. Oils recommended for this purpose are almond, olive, flaxseed, soybean, lavender, and essential oils.
Shapewears:
A simple solution that adds volume and lifts the breast right away is a shapewear. Shapewear comes in a variety of designs to accommodate diverse body types. Shapers provides a hassle-free option by providing sleek and curvy look and sculpting your body.
There are various types of shapewear available to make your bust appear rounded and lifted to complement different clothing styles. These include padded bras, silicon pasties and push-up bras according to the clothes you wear.
Here at Perfect Shape, we offer the best body shaper solutions designed to provide instant lift. Have a look and find the optimal choice for yourself.
A simple solution that adds volume and lifts right away is a padded
Breast Lift pasties are perfect for achieving instant lifted and rounder bust appearance. This is perfect curvy Faja making you best for body-hugging dresses, backless tops, swimsuits, marriage gowns, and more.
A simple yet effective Boob tape provides the strong support you've always been looking for. Use breast tape with posterior bras, plunging necklines, strapless dresses, or any dress you prefer. This is hypoallergenic and skin-safe tape is easy to apply, let you feel your best and look effortlessly lifted.
With the help of this High- Compression Girdle, you can achieve toned waist, lifted butts, and gracefully enlarged bust. Compression garment supports your back, buttocks and tummy to give you a curvy figure. Thin, soft, and divisible strips to help you adjust it to your body size.
So, how are you feeling after knowing about all the possible solutions for a fuller and lifted look? We've discussed all the available options here for you. Now, it's up to you to decide what suits you the best.
For a healthier and natural approach, try estrogen-rich foods, massage, and exercise. However, remember that these methods require patience. For quick results, surgery is an option, but it is expensive and requires a surgical procedure. Recovery time is four to six weeks.
For the immediate results, a shapewear is the most optimal choice. But remember, whatever you decide please be remember you're beautiful in your own way
---