How to Choose Shapewear for Your Wedding Dress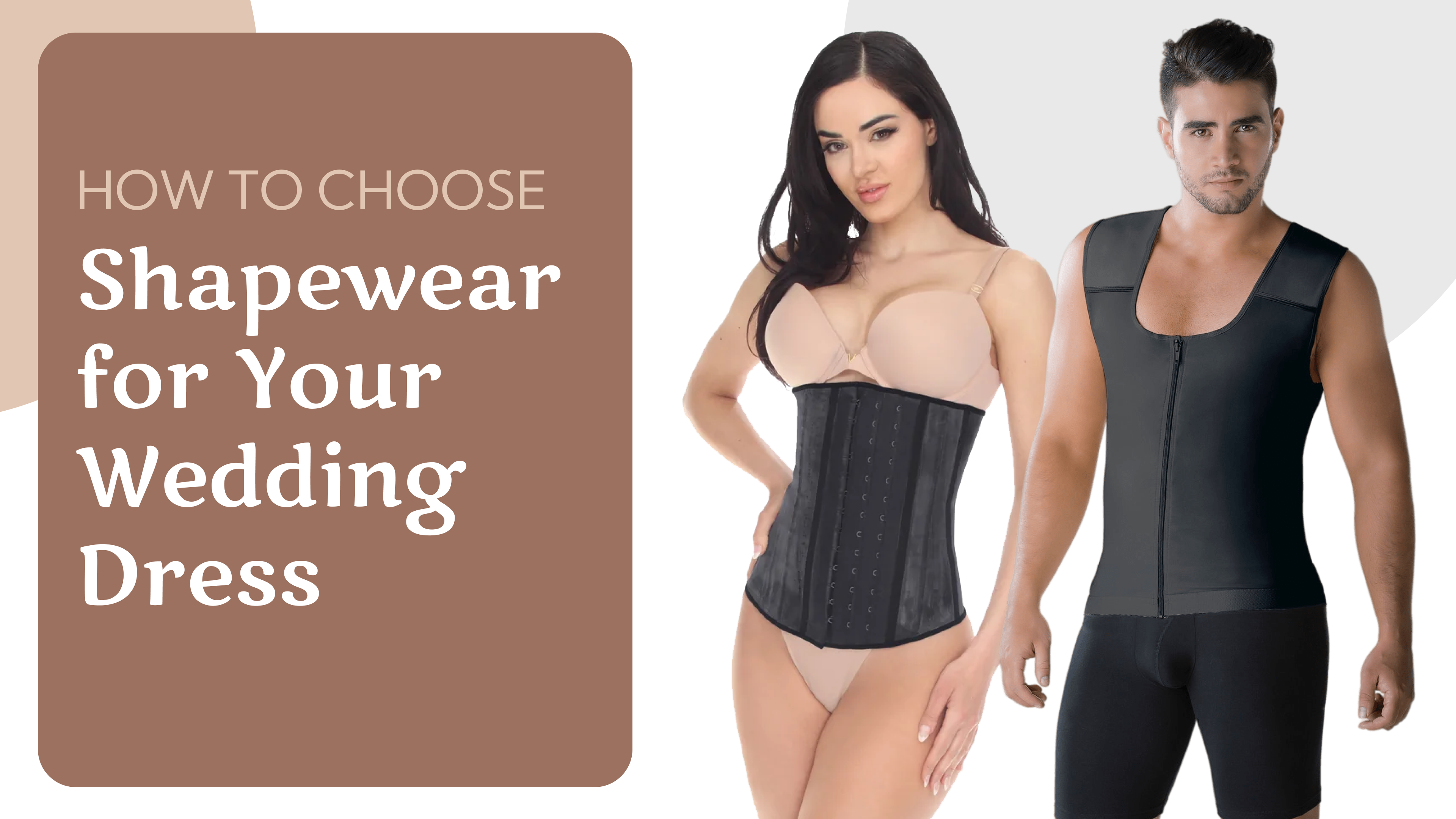 Few events in our lives are more momentous than the day we get married. The day we say those magical words, "I do" will live forever in our memories, so it's quite natural that we all want to look our absolute best on our wedding days. But looking our best means evening out those curves and contouring your body shape such that your body looks fabulous and just as natural.
Yes, your wedding dress will take care of the "fabulous" part. But do you know what's even better? Wearing shapewear underneath your dress. Combining your wedding dress with the right shapewear will leave you looking like a total diva.
Everybody—including your partner—will find it hard to peel their eyes off you. But for this magic to happen, you have to choose the right shapewear. And in this nifty guide, we will show you exactly how.
So, strap yourself in and follow our tips to find the perfect shapewear. Let's start with what you want your shapewear to achieve.
What do you want your shapewear to do?
Shapewear can do a lot of things. And there are different types of shapewear for different purposes. So, the first thing you should do is find out what you want your shapewear to do for you.
Do you want to create an even look under your wedding dress?

Create a smooth and seamless surface for your wedding dress to go on?

Do you want to enhance your shape?

Maybe balance your body proportions, add a bit of depth to your dimensions, and come off as naturally curvy?

Or, do you want to sculpt specific areas?

Flatten, lift, smooth, or contour specific parts of your body (tummy, waist, thighs, bust, etc.)?
Once you are clear on your intentions, the next step is to understand your body type. In most cases, your body shape will likely influence what you want from your shapewear.
What is your body shape?
If the shapewear of your choice doesn't complement your body shape, it will not give it your desired wow-ness. Below are a few pointers to help you understand your body shape:
Apple

If you have a fuller bust with a rounder midsection and slim arms and legs, you have an Apple body shape. So you should go for shapewear that does three things:
Lift your bust

Flatten your tummy

Smooth your back
Choosing an open-bust shaper that compresses your abs and enhances your cleavage would be a fantastic choice. A tummy tucker, like our Lock It In Tummy Control, will cinch your waist and support your back is another excellent option.
Pear


Individuals with pear-shaped bodies have narrow shoulders, smaller busts, and wide hips and thighs. If you're a pear, you should ideally go for a thigh leg shaper that shapes your lower belly and hips while also adding volume to your butts.
For your pear-shaped body, you really can't go wrong with these Butt Lifting Shorts. They will slip your hips and thighs and lift your rear while balancing your figure.
Rectangle
Butt-lifting shapewear suits rectangular bodies the best. Those with rectangular bodies have a straight silhouette with little to no waist definition. They also have an equal bust-waist-hip ratio.
So if your body shape is rectangle, you want shapewear that:



Creates curves

Alters your body dimensions slightly

Gives you a flattering figure
These Tummy and Hips shapewear and Colombian Faja High Compression Women Girdle will be two solid picks in this case. Both options will leave you with a smoother torso and a voluminous bust.
Inverted Triangle
On the other side of the spectrum, we have people with inverted triangle body shapes. If you have a small waist with narrow legs and hips, along with a broad set of shoulders and larger busts, then you should go with a bodysuit that compresses your upper body, makes your lower body appear fuller, and adds some lift to your hips.
Hourglass
You have an hourglass figure if your body has curvy proportions, a well-defined waist, and a balanced bust and hips.


Your choice of shapewear should be the one that accentuates your curves while adding some support to your busts, like these Perfect Shape Compression bridal body shapers. So, choose a corset or waist trainer that tightens your midsection or a bodysuit that hugs your body and gives your chest some lift. Both options will highlight and contour the hourglass shape of your body.
What is your dress style?
The choice of your dress style also matters. If you don't factor this into your consideration, you may end up with bridal shapewear that spoils your entire look. We will cover the five popular styles of wedding dresses and recommend shapewear that goes well with each.
Ball gown

Because a ball gown almost covers the entire body, a compression garment that gives you full-body shaping would make you look stunning in your wedding dress. A full-body shapewear, like our Perfect Bust to Thigh Shaper, would do the trick nicely, as would an open-bust shaper.
A-line
A-line wedding dresses hug a little more tightly to the skin than the others, which is why you should look at tightening your midsection which will create an hourglass figure. Both the Perfect Shape Wide Strap Shaper and Zipped Up Waist Shaper shorts are excellent at this. They will define your waist, even out any lines, and give you a delightful silhouette.
Trumpet

A trumpet wedding dress snugly wraps around the waist and hips before flaring out mid-thigh. Before putting on a trumpet dress, you want to slim down your waist, hips, and thighs. A thigh or leg shaper, like the Front Zipper Mid Thigh Brief Girdle, can balance your figure by reducing your thighs and adding volume to your rear.
Mermaid
 
Hook Arms to Knees shaper or any other full body shape wear beautifully complements mermaid wedding dresses. Mermaid dresses look a lot like trumpet dresses, except they flare out more dramatically. You want your bridal shapewear to have firm control over your body and adjust to the gown's neckline. Combine them with pasties, and you are all set.
Slip
A slip wedding dress is a simple yet sleek and sophisticated dress resembling a slip or lingerie. They typically don't have a defined waistline. So you want your bridal shapewear to smooth and contour your body without detracting from the dress's minimalist elegance.
You can pick a full-body shaper that covers your entire body and smooths out all the lumps and bumps. Or, you can go with a waist cincher or a thigh slimmer if you desire a more hourglass-shaped silhouette.
The 6 Best Tips to Choose the Perfect Shapewear for your wedding dress
What we have covered so far only gives you an idea of the type of bridal body shaper you should be looking for. The following eight tips will help you land on the perfect shapewear to go along with your wedding dress.
1. Get the right size
Size matters here. Literally. You don't want any clinging or bunching, which can bring down the beauty of the dress even by a few notches. Even the amount of shaping and compression you would need depends on the size of your body.
To get accurate calculations of the size of the bridal body shaper you'd need, do:
Stand as you normally would and measure your natural waistline. Round off the number you get to the nearest whole inch.

Do the same with your hips—around the part with butt is the fullest.

If you are looking at bridal shapewear with a bra or an underbust, measure directly under your breasts, and add five inches to it. This will give you the band size.

Once you have the measurements, simply refer to the manufacturer's size chart and pick the size that's closest to your overall measurements.
2. Consider the fabric and the build quality


The fabric and the stitching quality of your bridal shapewear matter, too. Since body shaper is something like a second skin, you want it to be soft to the touch and breathable. Perfect Shape's range of Body shapers are leagues apart from their counterparts in this regard. All our body shapers are made from soft and breathable Powernet material, and all the parts are seamlessly put together through our proprietary methods.
3. Take into account your wedding dress silhouette
Another secret to acing your bridal body shaper is to choose one that matches the shape and the style of your wedding dress. For example, if your wedding dress has any kind of fitted bodice, you will want to opt for a high waist trainer brief that you can tuck your tummy and hips into without creating those pesky panty lines.
4. Match it with the neckline of your dress

Taking the above even further, your choice of shapewear must also complement the neckline of your wedding dress. For dresses with strapless or off-shoulder necklines, consider the Strapless Thong Shaper. They will give your bust a gentle lift.
But for a halter or plunging neckline, a low-back body shaper—like these Perfect Shape 3's will be the better deal. You can also use Breast Lift Pasties to make yourself look even fuller.
5. Choose the right compression level
You should look for shapewear that gives you the desired degree of smoothing and shaping for your particular body type as well as your preferences.
If you want to highlight your curves, choose low or medium-compression shapewear that hugs your body without flattening it. High-compression shapewear, which compresses and sculpts the body without limiting movement, maybe the best choice if you have trouble hiding problem areas.
6. It should also be comfortable
If you plan on wearing your shapewear for several hours at a time, it should be comfortable, flexible, and airy. Shapewear with lace, boning, or hooks may irritate or scratch sensitive skin. Avoid tight, loose, or difficult-to-wear shapewear on your wedding day if you plan to dance.
Shapewear for all



Apart from body shapers, pasties, and fajas, we also have a growing and exciting selection of Men shapewear!
Swing by Perfect Shape, browse through our shapewear collection, and get ready to kill it on your big wedding day.
---