Get a Perfect Curvy Look with Butt Lifter Shorts - A Complete Guide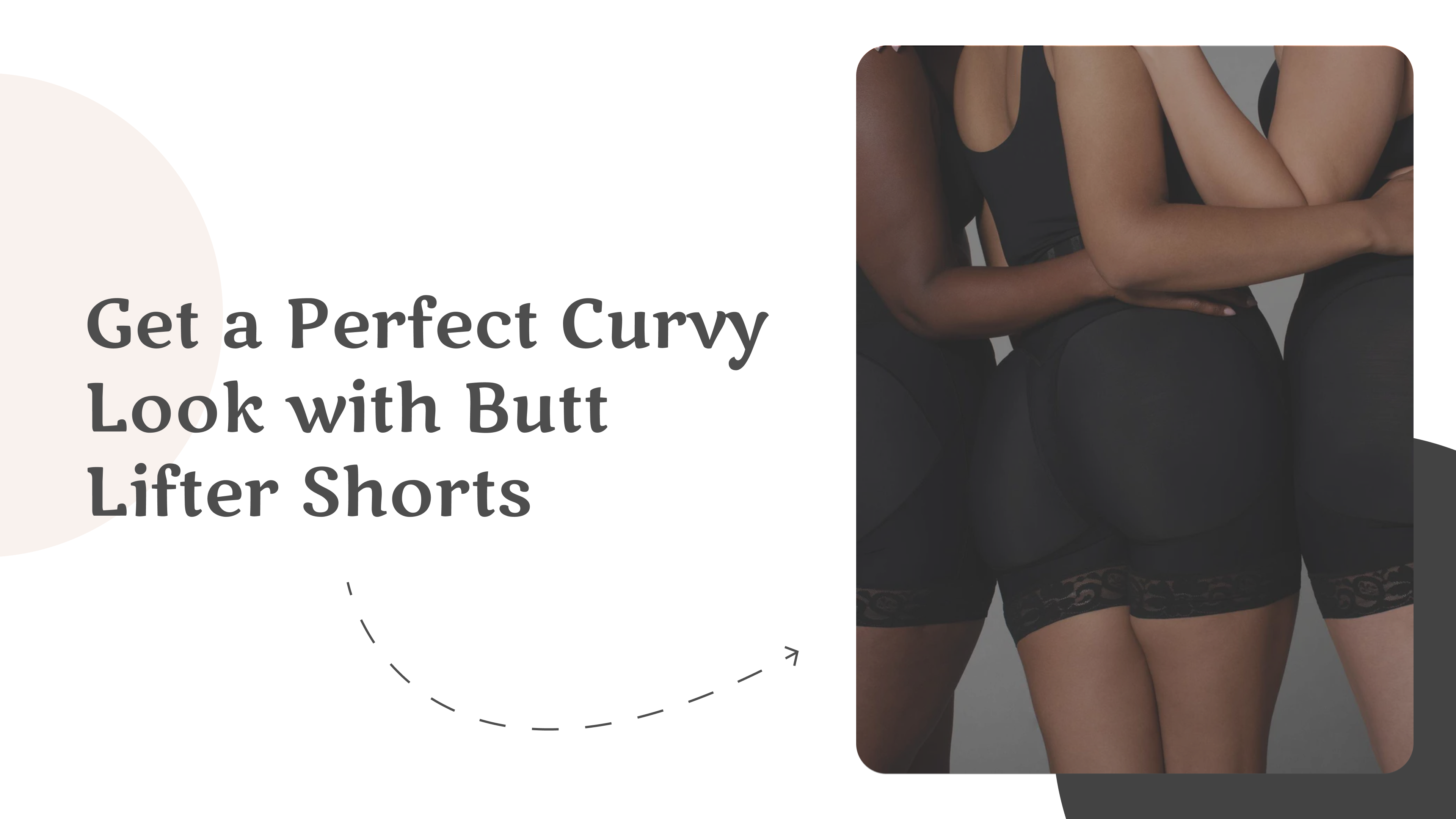 Not everyone has a plump round butt that looks great on every outfit, but that doesn't mean you can't get one. Butt lifter shorts, also known as butt bras, give your butt the shape you desire and has a no-show effect.
If you want to enhance your curves, look good and feel comfortable in any tight jeans or dress, a butt lifting shaper shorts will give you an ideal look.
With butt lifting shorts, you don't need surgery. It's a quick and efficient solution for your everyday look. So, how can these shorts help shape your body? Here is everything you need to know about butt lifter shorts.
What are Butt Lifter Shorts?
Butt lifter shorts are shapewear that helps women enhance the shape of their butt and feel confident. They enhance the butt and give a firm tummy.
The butt lifter shorts make you look your best and feel comfortable at the same time. The shorts are made of comfortable material that's easy to wear on all occasions.
You can wear butt lifting shorts under dresses or skirts to improve your look. Here's why butt lifting shaper shorts are good for you.
Experience a Safe Butt Lifting Effect
Butt lifter shorts improve the appearance of your butt without surgery or squats and give you a c-shaped butt. So, why desire a c-shaped butt?
A c-shaped butt is rounded and attractive. It looks good on any outfit and enhances your appearance. Wear the outfit you desire, like tight jeans, a dress, or leggings, without worrying about your body shape.
Flat Tummy With Butt Lift Shorts
Every woman desires a flat stomach. It's possible to have this desire with butt lifting shorts. The shorts not only give your butt a great shape but also make your tummy flat. That's why butt lifter shorts are tummy control for women. The shorts have a flat and wide waistband to flatten your belly and smoothen your curves.
The Powernet material flattens your tummy making it possible to wear a tight or loose dress and still look great. A dress that flatters your figure boosts your confidence.
Butt lifting shorts will smoothen your overall shape. It helps compress fat, smoothen lines, wrinkles, and bulges, and make your waistline look smaller. Looking your best with a flat tummy will also make you enjoy life more.
Boost Confidence
A flat tummy and a well-rounded butt can make any woman feel confident with what they are wearing. It makes you feel good about your shape and body.
When you are confident, you feel ready to experience life. A confident woman will likely move forward with people and readily take up opportunities. The right fitting clothes and colors radiate your personality and communicate to the world who you are.
Butt lifter shorts enables you to properly wear well-tailored, high-quality clothes that help boost your shape and confidence. When you are confident, it increases your ability to make the right life choices. It makes you less critical of yourself and boosts your self-esteem.
No Show Effect
Don't worry about butt lifting shaper shorts showing through your clothes. Butt lifter shorts are designed to be undetectable under your garments. There is a no-show effect. No one will know what you are wearing under your jeans, dress, or skirt.
Butt lifting shorts will not show at the waist or legs. They are as discrete as possible. The butt lifter shorts are invisible in different types of clothes that fit your personal style and make you feel incredible.
Butt Lifting Shorts are Comfortable
Butt lifting shorts will give you the edge you've been looking for and make you comfortable at the same time. They are easy to wear, use daily and breathe comfortably. Women don't have trouble breathing when they wear these shorts.
Breathable butt lifter shorts make your workout easier. The comfy fabric is lightweight and supportive. It lifts the butt just the way you want it and makes the tummy look and feel slim. It is not too loose or too tight and does not roll down your waist.
Whether you are working out or wearing your favorite dress to a special occasion, the butt lifting shorts make you feel stylish. The comfortable and soft fabric makes you quickly forget you are wearing butt lifting shorts
Best for All Occasions
Butt lifter shorts are perfect for different occasions. Women can wear them for yoga, weight lifting, running, or any workout.
They are also ideal for an everyday look. You can also wear shorts on special occasions. This helps women with different body types to achieve a specific look. Butt lifter shorts gives a well-rounded butt that will make you look and feel good in a favorite dress or skirt.
No Sagging
Butt lifting shaper shorts is the best way to get rid of sagging butts and get your confidence back. No sagging means you can confidently wear what you want at any time. A butt that looks bigger, fuller, and in the best position makes you feel attractive in anything you wear. Whether you are working out or attending a party, butt lifter shorts give you the perfect shape.
When sagging starts to show because of age or other factors, there's an easier and faster way to make your body look your best again. If you can't squat or do vigorous exercise, you can wear butt lifting shorts.
Waist Trainer
Butt lifter shorts can be your waist trainer. When you wear butt lifter shorts, the compression on your body helps redistribute fat and improve the butt posture.
Wearing butt lifting shorts also helps you stand straight and use your muscles effectively. Standing straight improves your blood flow and supports your tendons, ligaments, and muscles. It also helps your body to avoid excessive strain.
Shape Your Body with Butt Lifter Shorts
Although body shapes change with time, you can still have the look and shape you desire for any occasion. Appearance can shape who you are and make you more confident in your daily activities. Butt lifter shorts help you look and feel your best at any time.
Wearing these shorts under your dress, jeans, or skirt gives your hips, tummy, and butt the perfect shape. Butt lifting shaper shorts are also comfortable, and a few minutes after wearing them, you forget you have butt lifting shorts on your body. They are made from comfortable material, making breathing easier during workouts or everyday duties.
---