From Recovery to Radiance: How BBL Shapewear Supports Your Healing Journey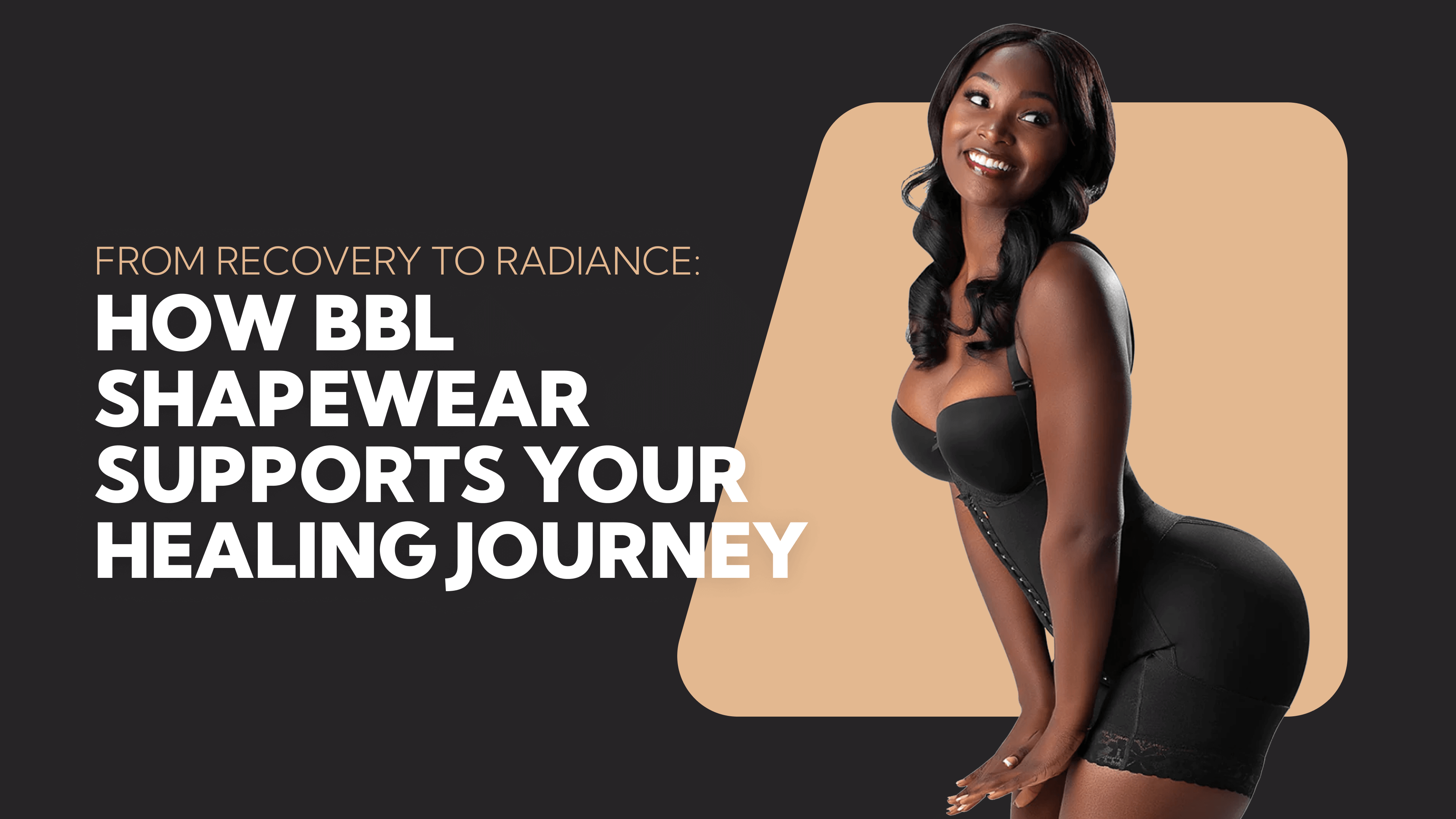 Over the past few years, Brazilian Butt Lift (BBL) surgery has become increasingly popular among women looking to enhance their curves and achieve a more voluptuous look. Since BBL uses fat transfer techniques to lift and shape the butt area, it's no wonder so many people are opting for this confidence-boosting surgery. The procedure can provide dramatic results with long-lasting effects, making it one of the most sought-after body contouring procedures available today.
But for patients to get the most out of their BBL surgery recovery, wearing shapewear is essential in healing quicker and achieving optimal results. Here, we'll dive into the benefits of BBL post-surgery garments, how to choose between the different types, and ultimately, which BBL shapewear is right for you.
Why Wear a Post-Op Compression Garment After a Brazilian Butt Lift (BBL)?
If you've recently had a BBL or are planning on it, you won't want to recover without the help of a post-op compression garment. The comfort and support they provide are essential for a successful recovery.
Here's how BBL shapewear can help you heal and enhance your booty even further after getting a Brazilian Butt Lift (BBL):
Speed Up Healing Time
Following your Brazilian Butt Lift, you'll need all the extra support you can get to sit down comfortably in the days following the procedure. BBL post-surgery garments help to reduce swelling and discomfort so you can resume your regular activities as soon as possible. Since they provide the butt area with so much extra stability, this allows you to get back up on your feet sooner — with minimal discomfort.
Enjoy the Added Skin Tightening Benefits
Most people who undergo BBL surgery desire a slimmer waistline with an accentuated booty. Fortunately, wearing BBL shapewear that supports your abdomen also encourages skin tightening in the waistline. Wearing a comprehensive piece helps keep newly transferred fat in place on the buttocks, smooth out the tummy, and simultaneously improve both circulation and lymphatic drainage at the same time. It works by providing gentle yet effective compression throughout these regions, which is why it works so well for compression and skin tightening.
Improve the Results of Your Surgery
Not only do people use compression garments to help speed up their healing time, but they should be worn to receive optimal results from the surgery itself! You've already gone through surgery to achieve your body goals, so the next step is wearing a post-op compression garment to maximize your results. BBL shapewear helps maintain the shape and contour of your newly enhanced butt while providing support to any other areas where you've had fat removed. This is vital for achieving your ideal body post-BBL!
Boost Confidence
Most importantly, wearing a proper post-op compression garment with the right fit can skyrocket your confidence levels. After all, this is why Brazilian Butt Lift procedures are so common! BBL shapewear will help flatten your midsection while giving your booty a lift even more than the surgery itself. So many people love wearing shapewear so much that they continue to do so long after their recovery!
What are the Types of BBL Post-Surgery Garments?
BBL shapewear comes in a variety of styles and fits. While there are options that provide a lift in the butt area only — that look like panties — other pieces provide more coverage with extra support in the abdomen, hips, thighs, and/or butt.
If you're looking for something in between, high-waisted shapewear can help to contour your body by providing coverage throughout regions where liposuction has been performed, such as around your waistline. For an even more comprehensive fit, you can find BBL shapewear that provides coverage from the arms down to the thighs to help in your BBL surgery recovery.
How to Choose the Right BBL Garment for You
When choosing your post-op compression garment, make sure your BBL shapewear is snug but not too tight, as too much pressure can cause discomfort or even interfere with the healing process. You should also be able to wear BBL post-surgery garments under your clothing, so make sure it's smooth and discreet.
To find the best fit, an important factor to consider is the size and shape of your body. Depending on your measurements, you may need to purchase a garment that is specifically tailored toward curvier or petite body types. Keep in mind that different types of BBL post-surgery garments come with either adjustable girdles or zippers for added flexibility.
Choosing a post-op compression garment with breathable fabrics will allow air circulation around the incision sites, which can help you minimize irritation or discomfort during wear time. Look for materials like lycra or powernet compression. You can even purchase a piece with non-slip technology to ensure it stays in place all day!
Lastly, the best BBL shapewear will be bathroom-friendly, preventing you from having to take off your garment every single time nature calls. You'll thank us later!
Caring and Wearing Guidelines
Once you have decided to undergo a Brazilian Butt Lift (BBL) surgery, it's vital to adhere to all instructions provided by your surgeon. This includes wearing post-surgery garments as instructed for the duration of your recovery period. It may be tempting to wear a garment that's too tight to maximize results but this could lead to complications like restricted circulation and increased discomfort. When it comes to how long you should wear shapewear during BBL surgery recovery, following the right protocol will help ensure you enhance your silhouette with minimal risk.
Looking for Quality Post-Butt Lift Products? Explore Our Collection at Perfect Shape Today!
Wearing post-surgery BBL garments is an essential part of ensuring successful results from this procedure. At Perfect Shape, we have BBL shapewear for all body shapes and types. Our unique non-slip technology and bathroom-friendly designs allow you to wear your shapewear with minimal discomfort and resume your regular activities in no time. Not only do our BBL post-surgery garments optimize your results post-surgery, but you'll also notice a major confidence boost! Each of our carefully crafted pieces is designed to enhance and sculpt your bottom while smoothing your tummy.
So what are you waiting for? Explore our collection of shapewear for BBL surgery recovery to get the big booty you've always dreamed of!
---