Discover Your Perfect Fit: Size-Inclusive Shapewear from Small to 5XL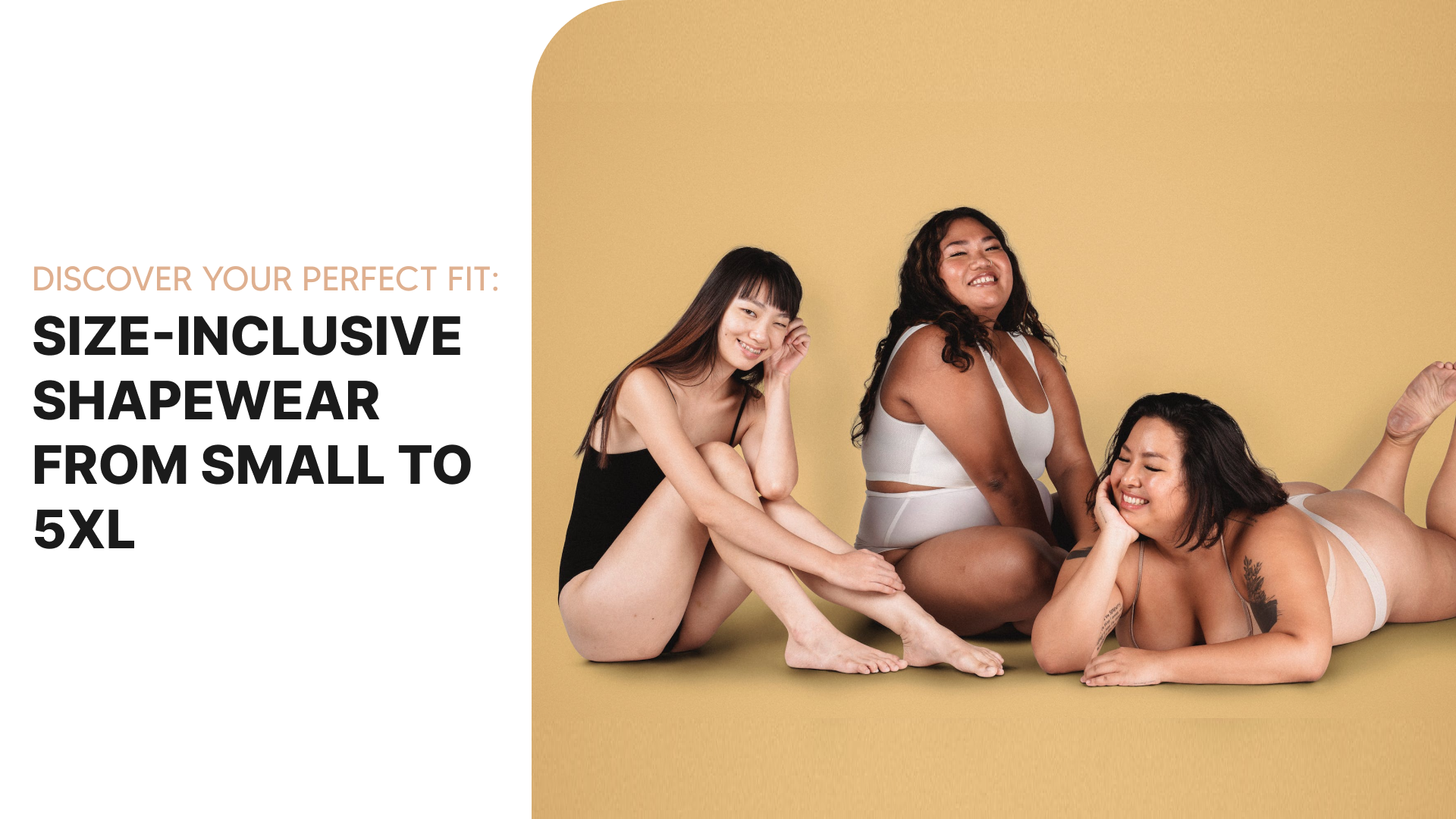 Most people think of shapewear as "restrictive" and "choking." Well, that's not true. With the right choice of size, shapewear is comfortable. Shapewear comes in different styles, too. For example, rocking a backless dress, high-slit skirts, and off-the-shoulder tops.
Finding the perfect fit in shapewear is easy. In this blog, we shall discuss our various types of shapewear to help you choose a perfectly fitting one based on your style and size.
Perfect Shape: Top 5 Body Shapers for Your Body Size and Type
We all desire versatile shapewear that fits perfectly, has smooth lines, and provides good coverage and lift. Every piece of shapewear from Perfect Shape is made for every body size, shape, and style.
A body shaper is designed to make you feel comfortable and confident in your outfit. Most shape wears are versatile, allowing you to wear underneath most of your curve-hugging outfits.
Whether you are looking for everyday support or a smooth figure for special occasions, we have a wide range of shapewear to accentuate your curves, no matter what you are wearing.
There are no wardrobe malfunctions our shapewear cannot solve, from thigh chafing, unsupported chests, bulges, and post-surgery recovery.
Step out with confidence with perfect-fitting shapewear!
Here are some of our best USA shapewear with sizes ranging from small to 5XL.
Seamless High Waisted Body Shaper Shorts
The body shaper shorts are high-quality seamless compression shapewear. It is made with Powernet fabric. It has a high breathability and compression level. It does not cause skin irritation.
The smooth, seamless design makes it undetectable under your clothes.
Features
Tummy Control

- The 360 waist shapewear boy shorts have silicon strips to prevent them from rolling or shifting. It keeps your tummy tucked and gives you a natural butt lift. The fabric is breathable and comfortable for extended wear.
Daily Wear -

The Body Shaper Shorts are made with superior and breathable fabric, perfect for daily wear. They are made with cutting-edge technology, ensuring durability.
Invisible Fabrics -

Fajas are made from quality materials and neutral colors, making them invisible while wearing everyday clothes. Available in black and cocoa colors.
Assorted Sizes -

The shapewear comes in a wide range of sizes: XS, S, M, L, XL, 2XL, 3XL, 4XL, 5XL, and 6XL.
Lock It In Tummy and Hips Slimmer

Yes, this mid-thigh shapewear is excellent for everyday wear and post-surgery recovery. It is designed with high-quality, breathable, and smooth materials.
It offers optimal compression and comfort throughout the day and during Stage 2 post-surgery recovery. The design gives you a perfect silhouette and accentuates your curves.
Features
A Convenient Front Zipper

– The shapewear has a front zipper for easy wearing and removal. Putting it on and off is hassle-free compared to most shapewear.

Butt Lifting Feature -

It naturally and instantly gives you a perfect butt-lift without flattening you. It accentuates your curves for a perfect silhouette.

An Open Crotch -

The 520 shapewear is designed with an open crotch for easy and fast restroom use. You don't have to remove the entire body shaper to use the bathroom.

All-Round Compression

- The body shaper offers firm back and stomach compression for perfect contouring and a slimmer appearance on the torso.

Versatile Shapewear -

The body shaper is excellent for women who have undergone surgery. It is also great for women who have not undergone surgery but wish to have everyday shapewear for body contouring.

Assorted Sizes -

The shapewear is available in different sizes, i.e., XS, S, M, L, XL, 2XL, 3XL, 4XL, and 5XL.
Classic Tummy to Bottom Body Shaper
Achieve a beautiful silhouette with the body shaper. It sculpts your hips and torso to bring out a flattering figure.
It is made with comfortable, breathable, and low-stretchy material. The shapewear is suitable for stage 2 post-surgery recovery and daily wear.
Features
Front Zipper

- The convenient front zipper allows easy wearing and removal. It has a cotton closure to prevent skin pinching by the hooks or zipper.
An Open Bust Design-

The open bust design allows for a natural bust lift. Also, it allows you to wear your favorite bra for a personalized look.
Streamlined Look-

The shapewear has a back seam to accentuate your curves for an hourglass figure. Also, it gives you a natural butt-lifting effect without flattening the butt.
Comfortable-

The shaper is made with quality fabric and a soft inner layer for comfort. It has adjustable straps for perfect fitting.

Available in Different Sizes-

The shapewear comes in assorted sizes for every body type. Available in 2XS, XS, S, M, L, XL, 2XL, 3XL, 4XL, 5XL, and 6XL.
Perfect Bust to Thigh Shaper
The 3260 body shaper is a 3-in-1 shapewear for waist compression, and bust enhancement. The shaper is designed for everyday wear and stage 2 post-surgery recovery. It is made with a high-quality Powernet fabric allowing for perfect compression and comfort. It features a three-hook closure, targeting the bust, waist, thighs, and butt.
Features
Tummy Control-

The shaper compresses the tummy and clinches the waist for an impressive hourglass figure.
Everyday Wear-

The shapewear is made with quality, breathable, and compressing fabric, making it suitable for post-surgery healing and daily wear.
Bathroom Friendly –

The design of the faja is easy to remove and wear back while using the bathroom.
Assorted Sizes-

The shapewear comes in a wide range of sizes: XS, S, M, L, XL, 2XL, 3XL, 4XL, and 5XL.
Neutral Colors-

Available in black and cocoa shades.
Strapless Body Shaper
The Perfect Shape Strapless Shapewear is designed for everyday wear and stage 2 post-surgery recovery. The versatile shapewear allows you to pair it with various outfits. The design allows you to stay stylish without compromising your comfort. It is made with quality Powernet fabric, ensuring optimum compression.
The fabric is soft, breathable and does not cause skin irritation. The shapewear will give you a smooth silhouette and enrich your curves.
Features
High-Quality Fabric

- The shapewear is crafted with quality Powernet material. The fabric of the faja is comfortable and breathable with excellent compression. It is gentle on the skin and does not cause skin irritation.

Bathroom Friendly

- The shaper is easy to remove and wear for bathroom easy and quick visits.

Versatile Wear

- The fabric's comfort and durability make it perfect for everyday wear. Also, it is recommended for post-surgery healing.

Invisible Shades

- The shapewear comes in neutral colors which do not show beneath your outfit.

Assorted Sizes-

The Faja is made in different sizes to accommodate all body types. Available sizes are XS, S, M, L, XL, 2XL, 3XL, 4XL, and 5XL.
A Guide to Choosing the Perfect Shapewear for Your Body
Here are a few tips for choosing a well-fitting and the best shapewear for your body type.
1. Know and Stick to Your Size
Most women are tempted to size down when buying shapewear for extra firmness. Wearing extremely tight shapewear is unhealthy and will give you undesirable bulges and bumps.
Also, extremely tight shapewear is uncomfortable and unhealthy. Health issues that might occur with wearing tight shapewear are digestion issues, acid reflux, skin irritation, and fungal infections due to chafing.
Most shapewear is size-inclusive and designed to fit you perfectly. The right size of the shapewear is your regular dress size.
Use the size guide to help you choose shapewear for a perfect shape.
2. Choose a Low-Stretch Fabric
A low-stretch fabric gives you a more defined, sculpted effect. On the other hand, stretchy fabric will keep shifting and moving with your body due to less compression.
Consider choosing a high-quality material that offers smooth compression without causing lines. Also, aim for a breathable fabric for comfort.
3. The Shapewear Must Compliment Your Shape
Shapewear should either alter or enhance your body's figure. So, choose a style and size that complement your body type. Knowing your body type can help you select the right fajas. 
4. Understand the Level of Compression
Shapewear has a varying level of compression, ranging from light to extra firmness. The choice of compression level will depend on the effect you want to achieve and your personal preference.
Light to medium compression is suitable for everyday wear. Extra firm compression is ideal for post-surgery recovery or special occasions.
When checking the compression level, strike a balance between the effectiveness and comfort of the faja.
5. Consider Additional Features
Features such as adjustable straps, the front zipper, hook-and-eye closures, the open crotch, and built-in bras enhance the shapewear's comfortability and effectiveness.
Consider such features as well as the level of support you need.
Conclusion
The key things to remember when buying shapewear are comfort, compression, and smoothing. Factors such as the fabric, design, and compression level will affect the comfort and effectiveness of the shapewear.
To get the right shapewear size, have accurate measurements of your everyday outfits. Picking a smaller size will not work for you. It will create bulges in the most unwanted places and cause you great discomfort.
Another thing to consider when choosing a body shaper is the type of dress you are wearing. Remember, the right shapewear should be smooth, accentuate your body shape, and sculpt it.
Buy your wholesale faja or single piece at
Perfect Shape
for the best prices.
---