Debunking 10 Common Myths About Shapewear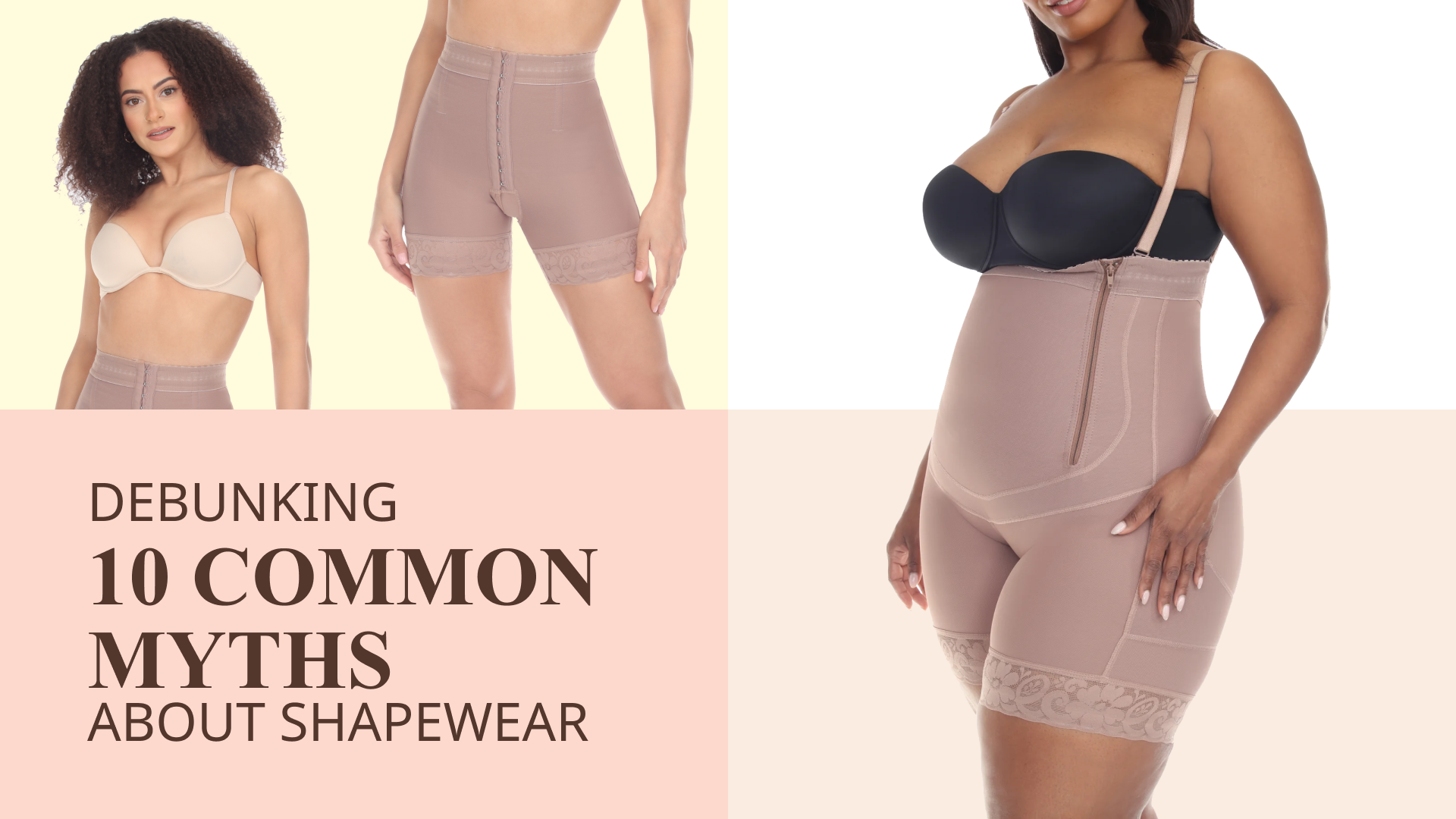 According to Popular Science, shapewear has a long and complex history spanning centuries and cultures. It has evolved from rigid corsets to girdles to modern bodysuits and waist trainers, each with its own benefits and drawbacks.
Today, shapewear has become an increasingly popular undergarment choice for women and men looking to smooth bulges, tuck in tummies, and enhance their figures. The global shapewear market size was valued at USD 1.9 billion in 2020 and is expected to expand at a compound annual growth rate (CAGR) of 8.0% from 2021 to 2028, according to a report by Grand View Research. In comparison to other lingerie types, the number of new shapewear debuts on the market in 2018 surged by 143 percent over 2017.
However, many shapewear misconceptions and shapewear myths surround their usage. Some claim that they are uncomfortable, only suitable for certain body types, and even potentially harmful to your health. It's time to debunk some of the most common myths about shapewear once and for all.
Many of these shapewear misconceptions are simply not true with the advancements made in fabrics and construction. These misconceptions have led people to make uninformed decisions or avoid trying shapewear altogether. By clearing up some of the most prevalent shapewear myths, you can feel more confident trying shapewear and discovering the silhouette-enhancing benefits for yourself.
This blog will tackle the top 10 myths about shapewear one by one using expert input, Shapewear facts, and real customer experiences. There are plenty of Shapewear realities that prove shapewear can comfortably complement your body when used properly. Getting the real facts on shapewear can help you make the best choices to support your needs, from subtle everyday smoothing to creating a seamless look under your favorite outfit. Once these myths are busted, you may find yourself eager to explore shapewear and embrace your body with a new sense of confidence.
Myth #1: All Shapewear is Uncomfortable and Constricting
One of the biggest shapewear misconceptions out there is that all shapewear feels too tight and constricting to wear comfortably. While this shapewear myth was true for older generations of girdles and corsets, modern shapewear is designed with comfort in mind. The use of lightweight, breathable fabrics with 4-way stretch capabilities makes today's shapewear pieces far more comfortable than their predecessors.
At Perfect Shape, we use intricate designs that compress and support targeted areas without feeling overly restrictive. Shapewear with adjustable straps and openings allows you to customize the level of compression. Users often report that our shapewear feels like a "second skin" that moves with your body. As long as you choose the right size and style for your needs, shapewear can feel imperceptible but effective.
Myth #2: Shapewear is Only for Hiding Imperfections
One common myth is that shapewear is only useful for hiding or covering imperfections. The thinking goes that shapewear allows you to appear slimmer by smoothing over "problem" areas you are ashamed of or want to conceal.
In reality, shapewear today provides many confidence-boosting benefits beyond camouflaging imperfections. While shapewear can discreetly minimize the appearance of bulges, rolls, back fat, etc., it is also designed for sculpting and supporting your natural curves as well.
Shapewear shapes and lifts areas like the buttocks, breasts, and core for a flattering silhouette when worn under properly fitted clothes. The compression acts as a gentle reminder to pull in your stomach and keep good posture. So shapewear effects are more about showcasing your body's best assets, not hiding flaws. With the right style, shapewear enhances what you have rather than changing your body drastically.
Myth #3: Shapewear Only Suits Certain Body Types
A common myth is that shapewear only works well for those with larger, curvier body types. The myth stems from shapewear often being marketed to plus-size models. However, the reality is that shapewear comes in a wide range of sizes and designs to suit many different body types.
In the past, shapewear was sized more limitedly and offered stronger, rigid compression. But today's shapewear contains stretch-compression fabrics and flexible slimming zones to comfortably work with bodies of all shapes and sizes. Leading brands offer sizes up to 5X and beyond to accommodate petite to plus figures.
Shapewear like sculpting camisoles and lightweight smoothing bottoms are specially engineered to contour and define the waist, hips, thighs, and rear on any body type. The adjustable compression levels and coverage options allow customization based on your specific comfort needs and the problem areas you wish to smooth or accentuate.
So whether you have an athletic straight shape, curvy hourglass figure, petite frame or anybody in between, modern shapewear is designed to help enhance your silhouette and fit issues. The versatility means anyone can experience the confidence-boosting benefits of smoothing bulges or imperfections.
Myth #4: Shapewear is Dangerous and Can Cause Health Issues
Critics of shapewear often raise fears that overly constrictive garments can cause health problems like acid reflux, weak muscles, poor circulation, and even organ damage. However, credible doctors like Dr. Jamile Wakim-Fleming, a hepatologist at Cleveland Clinic, have debunked most of these Shapewear Myths as factually untrue when shapewear is used properly.
Modern shapewear is designed to compress and sculpt the body without overly restricting breathing or blood flow. The limited compression applied to the midsection may improve digestion and circulation. As long as you choose the right size, only wear shapewear for the recommended period, and remove it if you feel any pain. Shapewear poses no serious health risks for most. But those with certain medical conditions, recent surgeries, and injuries should consult a doctor first.
Myth #5: Shapewear Will Permanently Change Your Body Shape
Skeptics argue that shapewear can make the body dependent on compression over time, leading to a loss of core strength or even distorted fat distribution. However, doctors confirm that temporarily compressing the skin does not permanently move fat cells or weaken muscles. Shapewear provides temporary slimming and smoothing while you wear it, but your body's natural shape remains unchanged.
In fact, light compression can improve blood circulation and lymph drainage. Shapewear may temporarily influence bloating and water retention levels that impact the look of cellulite. But it cannot alter your natural body shape. Using shapewear reasonably will not prevent you from regaining your core strength or cause "bulges" when not worn. As Dr. Wakim-Fleming says, by choosing the right size, you're bound to experience all the benefits of shapewear.
Myth #6: Shapewear is Visible under Clothes and Looks Unnatural
Wearing noticeable shapewear cautiously defeats the purpose of subtly smoothing bulges and lines. But Shapewear Myths exaggerate how visible shapewear actually is under clothing. When properly fitted shapewear is worn under correctly fitted outfits, the slimming effects should not be apparent.
Brands use lightweight, lined fabrics that are seamless under clothes. Tummy control shapewear is high-waisted to avoid lines across the stomach. Shaping camisoles covers the back and sides for all-over slimming. Opt for nude and black colors matched to your skin tone for the most discreet look. Shapewear is designed to complement, not alter, your body's natural shape.
Myth #7: Shapewear is Difficult to Get On and Off
Between hooks, zippers, and clips, getting in and out of restrictive shapewear seems like a hassle. That's why brands are making shapewear Quicker and simpler to wear while maintaining its slimming power. Many modern pieces use easy on-and-off closures like pullover styles, step-in leg holes, and row hooks for quick fastening.
Silicone strips and hems eliminate the need for adjustable straps. Light compression allows shapewear to stretch over curves comfortably. Taking a moment to adjust the straps and hems ensures the shapewear stays put. Follow care instructions to maintain shapewear's elasticity and prevent difficult removal. The convenience makes wearing shapewear a painless daily habit.
Myth #8: Shapewear Can Only Be Used for Special Occasions
While shapewear is popular for weddings, galas, and nights out, Shapewear Myths assume it is unsuitable for everyday wear. Light control options using breathable fabrics comfortably smooth and shape your figure throughout daily activities. Flexible stretch fabric, zones of control, and thinning panels help you move freely as needed.
Shaping camisoles and high-waisted shorts are easy to layer under work or casual outfits. Targeted tummy and rear shapewear streamlines problem areas without major compression. Everyday shapewear options mean you can privately embrace your figure 24/7. For special events, opt for firmer shaping levels and luxe details.
Myth #9: Shapewear Will Show Unsightly Bulges
A common fear is that shapewear will create lumpy, uneven bulges in areas it tries to slim. However, the best shapewear is engineered precisely to avoid this shaping mishap. Fabrics like Power Mesh and Flex-Fit contour smoothly over curves. Edgeboning and bands provide structure without digging in. Seamless options have no lines across the body.
Shaping is strategically placed in zones to gently compress problematic spots more than elsewhere. Areas prone to bulging, like the back and bra line, are specially reinforced. As long as you choose shapewear designed for your body type, it should sculpt seamless curves beneath clothing. Prevent bulges by ensuring proper fit and regularly smoothing out the garment.
Myth #10: Shapewear is Restrictive and Unsuitable for Exercise
Active women may shy away from shapewear for fear it will restrict movement during exercise. It's true that some brand's shapewear is too restrictive for working out. But flexible,  lightweight options work perfectly for yoga, running errands, light training, and more. Look for shapewear billed as activewear with stretch fabrics that wick moisture.
Breathable lightweight shapewear smoothes the figure during exercise without overheating. Some brands, like Perfect Shape, sell shorts with hidden pockets to hold keys, cards, and more. Seamless shapewear under workout clothes means no embarrassing mid-gym bulges. With sports-friendly shapewear, you can shape up with confidence.
The Bottomline: Feel Confident from Top to Bottom with Perfect Shape
These common shapewear misconceptions stem from outdated perceptions and a lack of awareness of modern innovations. The reality is today's shapewear is comfortable, versatile, figure-flattering, and medically safe when worn correctly. Debunking these myths helps shapewear become an understandable body confidence booster rather than a source of skepticism.
Once you experience the potential of shapewear firsthand, concerns over discomfort and restriction start to fade. Seeing your figure positively enhanced in the mirror breeds confidence. And knowing you can discreetly smooth bulges under daily outfits provides comfort. With a wide variety of shapewear styles and slimming zones available, it is easier than ever to find options that suit your specific needs.
Rather than let doubts based on myths prevail, give shapewear a chance to help you embrace your body. Browse the collection at Perfect Shape to explore all the possibilities. Make shapewear your secret ally on the journey to confidently loving your shape, no matter the dress size. The right shapewear will work with your body, not against it, to subtly amplify your best assets.
---