A Shapewear Solution Guide for All Body Types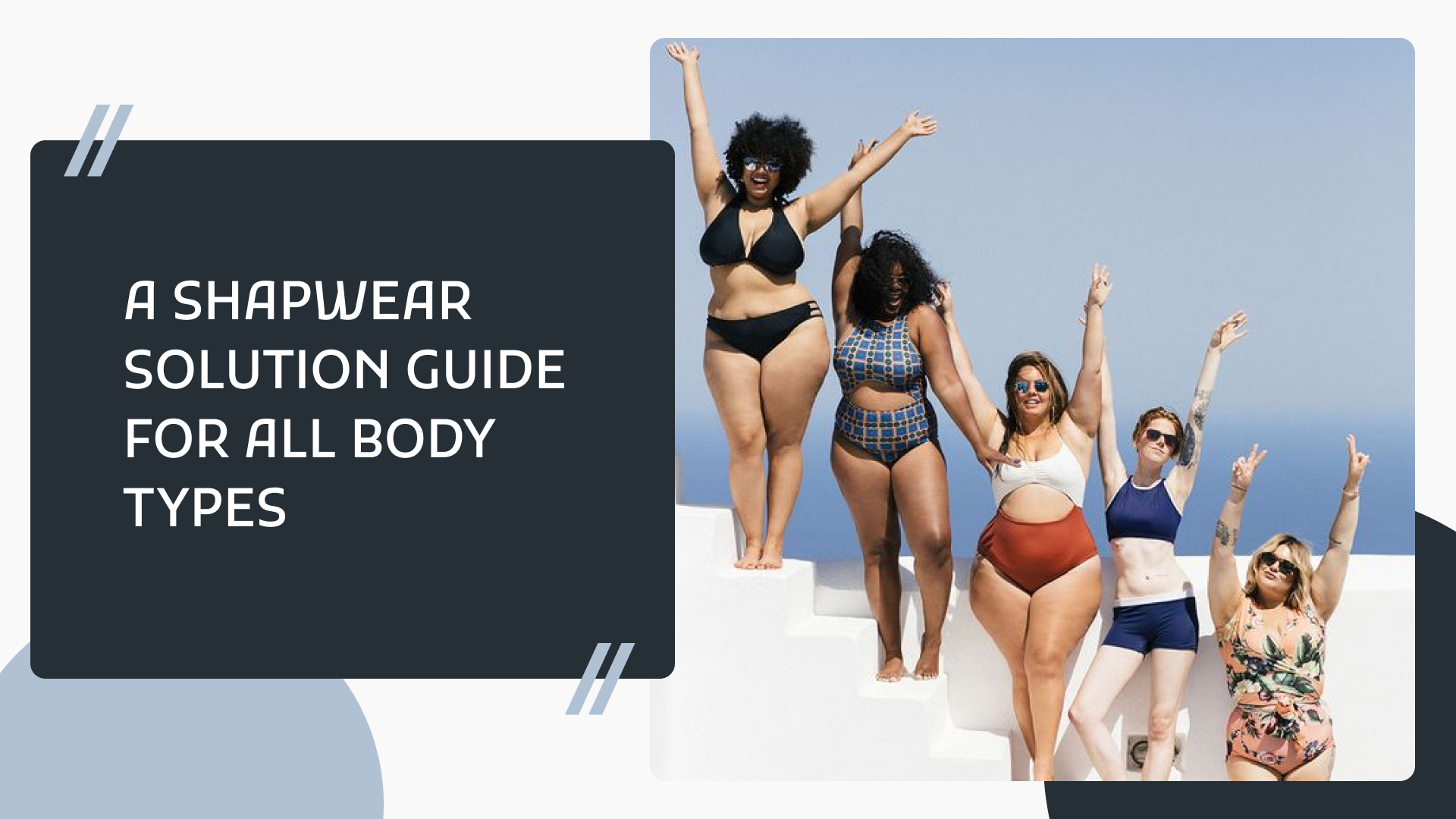 Natural beauty makes everyone feel confident and comfortable in their own skin. However, life challenges affect most people's natural beauty, leaving them with undesirable body shapes. 
Thanks to sexy shapewear for different body types, anyone can rock any dress without fearing unwanted fat showing out. The shapewear does this by smoothing out curves and accentuating your favorite features, which restores your confidence. 
This guide elaborates on the perfect shapewear for different shapes and sizes to help you embrace your individuality and confidently express yourself after transforming your shape.  
Pear/Spoon/Bell Shapewear
Women tend to have different shapes, which can change over time. One of the common shapes for women is the pear or spoon shape, which affects the type of clothing they can wear. 
Pear-shaped women do have bigger hip measurements than busts. But the butt, hips, and thighs are what determine the body shape of such people. Most pear-shaped women also have petite upper bodies, small busts, waists, and ribcages. 
If your body shape falls into this category, you need the best shaper for women to enhance your upper body. The sexy shapewear should also de-emphasize the lower body at the waist, hips, and back. 
Some of our shapewear you can use to achieve this include:
Lock It In Tummy and Hips
You can wear this Faja shaper to smooth and shape your thighs and hips. It's the perfect shapewear that consists of high-quality powernet material that provides comfort on the skin. The shapewear will help you feel confident all day long as it holds well on the body. Furthermore, it has a front-side zipper closure and a bathroom-friendly crotch design for easy toilet visits. 
Perfect Bust-to-Thigh Shaper
Another best dress shapewear you can use to enhance your pear-shaped body is this Bust to thigh shaper. It's ideal for shaping the thighs, butt, and hips, which are the problem areas for a pear shape. 
It also sculpts the waist and can enhance the bust for a firmer and more elaborate shape. The best thing about this sexy shapewear is that it's comfortable on the skin and covers the whole body for more confidence.
Full Body Compression Faja Colombiana Shapewear for Women
If you're a pear-shaped woman looking for a comfortable Faja Colombiana to boost your confidence, buy this one from our collection. It's made of high-quality Powernet material and offers the desired compression on body parts like the thighs without affecting comfort. It's a customizable fit, so it can fit different sizes comfortably. It shapes the tummy and legs, giving you a boost to your natural curves.
Straight/ Oval/ Pencil/Banana Body Type Shapewear
Those with oval or pencil body types mainly have problems with the waist and hip regions. This is because body fat is evenly distributed from the shoulders to the hips. So you should look for the best shaper for women to create a smaller waist and elongate the hips and bust. Restore your natural curves by wearing a Faja shaper that can create curves where they don't exist below and above the waist. 
Some of the best body shapers for women you can wear to achieve this are:


High Compression Girdle with Hooks
This Faja colombiana shaper for women can help oval-shaped women compress the waist and tummy and enhance the butt for the desired shape. It can also improve your back posture and contour your hips, giving you a perfect silhouette. Since it has adjustable straps and off-front hooks, it's easy to customize it to fit well. Plus, it's comfortable on the skin and is available at the Faja store near me.
High-Waisted Body Shaper Shorts
You can also enhance your body shape by wearing these shaper shorts that compress the waist. The comfortable and non-skin-irritating shaper shorts are easy to wear and have a bathroom-friendly design. Moreover, it can slim the tummy, giving you the confidence to wear any outfit.
Waist Reshape 3 Hook Vest
Another sexy shapewear you need to shape your abdomen, waist, and back is this vest that also accentuates the midsection. It's made of high-quality Colombian materials that are durable and comfortable on the skin. 
The shaper vest has 3 hook closures for a customizable fit, and the Lycra inner lining prevents sweating and irritation. It can also help you define your back, which restores your confident shape.
Hourglass Shapers
Even though most people consider the hourglass the perfect body type, you still need the best shaper for women to smooth out your natural curves. Remember, this body type might also have unwanted fat on the arms, hips, rear, and chest. 
To get the desired eye-turning shape from this body, consider wearing the following:
8-Thong One-Piece Tummy Control Shaper
You will often have tummy bulges despite the perfect hourglass shape. To conceal the unwanted fat in this area, wear this one-piece body shaper that fits any outfit. It holds comfortably on the skin and gives your waist and tummy firm compression to draw attention to these areas. 
3 Hook Bikini Style Shaper
You also need this bikini-style shaper to enhance your hourglass shape. The shaper will smooth your tummy and waist and lift the booty for a more natural, beautiful look. Since it's made of Powernet material, you won't experience skin irritation, and the bathroom design makes it easy to visit the washroom.
Front Zipper Mid-Thigh Brief Girdle 
Many women face a lot of challenges after giving birth, and the most common one is gaining unwanted weight around the waist. The postpartum weight can affect one's confidence, leaving you with limited clothing choices. The good news is that we have the best body shaper for women, which can help you restore your lost waistline and confidence. 
The shapewear helps you hide unwanted fat on various body parts, like the waist or chest. You can also wear sexy shapewear to manage the added fat on the thighs and boost the butt for a better hourglass body shape. 
One of the postpartum shapewear options you can consider to regain your desired body type is the Front zipper mid-thigh brief girdle. It's comfortable and offers enough support to transform the body within minutes. The Powernet Colombian-made postpartum shaper for the hourglass figure contours the waist and tummy. It also lets you wear a comfortable bra, making your chest more attractive.
Apple Body Shapers 
Apple-bodied women tend to have broader shoulders and narrow hips, meaning they need the best shaper to accentuate the legs and thigh areas. Some apple bodies also have larger bellies and flat butts. To boost your confidence under this body shape, you need sexy shapewear that can add volume to the lower section. Look also for a shaper that can balance the midsection and draw attention to the bust or legs, not the tummy. 
Consider the following shapewear to boost your apple shape:
Lock It In Comfort Tummy and Hips
You need this Tummy and hips shaper to enhance your apple body shape. The shapewear will help boost your butt shape, tummy, and thighs for a more confident look. Its Powernet compression will bring out the best natural features without causing discomfort or irritation. Its side zipper closure makes it easy to wear, and the bathroom-friendly design is more convenient.
Booty Lifter Shorts
You also need this sexy shaper short to smooth out your midsection and have a flawless figure under any outfit. This kind of a shaper short firms and lifts the butt for a wonderful shape. It also smooths the tummy and shapes the upper thighs. Its high waist design also helps hide unwanted fat around the chest, giving you the confidence you need to face the world. 
Tips For Choosing the Best Body Shaper for Women
It's satisfying to express yourself through different outfits, regardless of your body type. This is possible if you invest in the best dress shapewear to smooth and accentuate your body curves. To have an easy time finding the right Faja shaper, use the tips below:
Know Your Size and Shape Well
Ensure you know your hips, waist, and bust measurements to avoid frustration when looking for the ideal shapewear for your body type. You can use the size charts to guide you on the right size. This is after using a tape measure to know your size.
Consider the Problematic Areas
Consider the areas you want to shape or smooth according to your body type. After that, choose the preferred compression level for comfort and convenience. But avoid the smaller shaper, hoping it will offer extra support. Instead, go for those with higher control levels.
Go For the Right Style and Design
You need to choose the right shaper depending on the areas you want to smooth out and your personal style. If you love bikini-style shapewear, go for it, but ensure it gives you the desired shape. Go through our collection to choose the right style and design that meets your needs. 
Bottom Line
Everyone needs enough confidence to take on the world, which is achievable by wearing the shapewear Faja. The shapewear helps hide unwanted fat on different body parts for any body shape. You don't have to look for a "Faja store near me" to hunt for the ideal shapewear. You can get them all at Perfect Shape.
---