A Must-Try Collection: Discover Our Top 10 Popular Shapewears for a Perfect Shape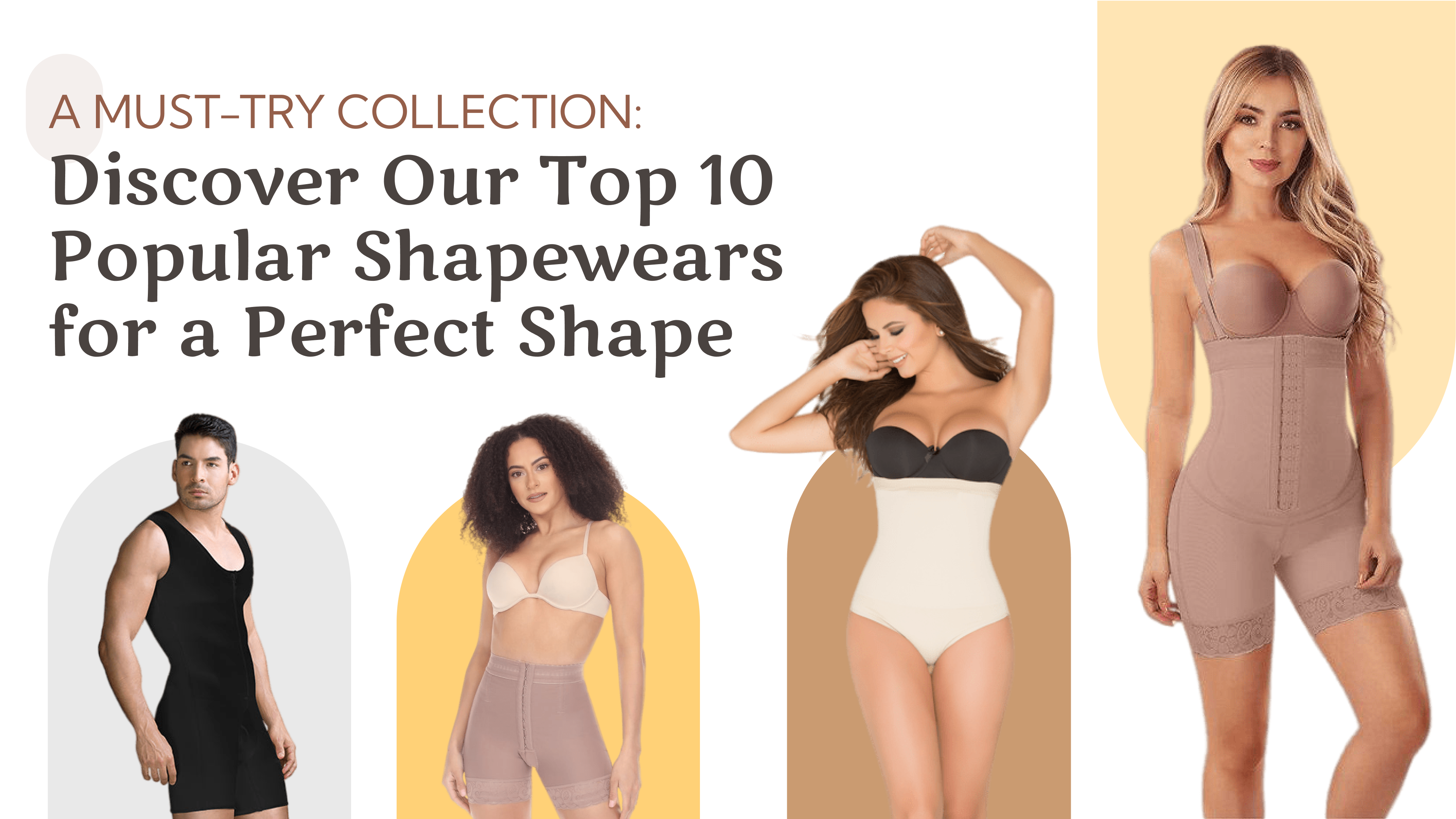 Are you trying to get a perfect silhouette and want to improve your shape? Look nowhere else! This post will introduce you to our extraordinary selection of shapewear that you simply must try, and that has become quite famous due to its extraordinary capacity to alter and enhance your shape.
These top 10 best-selling shapewear from Perfect Shape offer a variety of features and advantages that will enable you to embrace your body confidence, from stomach management to butt elevating. Join us on this adventure as we reveal the techniques for getting the body of your dreams.
1. 2105 Butt Lifter Shapewear Tummy Control Short Panties for Women
Do you dream of a perfect silhouette without surgery or squats? The 2105 Butt Lifter Shapewear is here to make your dreams a reality. With its powerful powernet waistband to flatten the tummy and laser-cut leg bands to stay put, this shapewear gives you the confidence to shape up. Say goodbye to insecurities and hello to flawless shape with the 2105 Butt Lifter Shapewear.
2. 3057 High Compression Girdle with Hooks
Crafted in Colombia, the 3057 High Compression Girdle is a versatile slimming bodysuit suitable for both post-surgery stage 2 compression and everyday wear. It offers a range of features that contribute to a more flattering appearance. The adjustable thin straps and easy on and off-front 3 hooks provide convenience and a customizable fit.
Experience a bust lift, flatter abdomen with tummy control, improved posture and back support with back control, and a defined waistline with waist control. The shapewear also contours the hips, slims, and shapes the thighs with thigh control, and enhances the rear with the specially designed butt enhancer. Additionally, the mid-back coverage offers extra shaping and support. The practical open gusset design allows for convenient use during post-surgical treatments.
3. 3097 Strapless High Compression Girdle with Hooks
For those seeking a strapless option, the 3097 Strapless High Compression Girdle is a perfect choice. This shapewear acts as a support system, providing a flat abdomen, a butt-lifting effect, and push-up effects for the bust. It reduces and supports the waist, hips, thighs, and entire abdomen. The thin adjustable straps and three front hooks ensure a customizable fit, while the open gusset adds practicality. Made with 100% Powernet fabric and crafted in Colombia, this shapewear guarantees superior quality and effectiveness.
4. 3172 Lock It In Tummy and Hips
The 3172 Lock It In Tummy and Hips shapewear is a perfect solution for shaping your tummy and thighs under any outfit. This versatile garment is suitable for both stage 2 post-surgery wear and everyday use. It is crafted from high-quality Powernet material, providing the compression you desire without compromising comfort. The shapewear gently hugs your body, enhancing your natural curves and reducing swelling for a smoother post-surgery recovery.
It features an easy front-side zipper closure and a bathroom-friendly open crotch design for maximum convenience. Not only does it shape your tummy and thighs, but it also enhances your booty for a lifted and flattering look. With the 3172 Lock It In Tummy and Hips shapewear, you can confidently show off your perfect shape to the world.
5. 3304 High Waist Tummy Compression Butt Lifting Shorts with Three Row Hooks
The 3304 High Waist Tummy Compression Butt Lifting Shorts can help you get the ideal form. These shorts are made to accentuate your hourglass figure by lifting your booty and tummy. The distinctive three-row hook system enables adjustable control and a personalized fit, while the high-waisted style and strong Powernet material give stomach compression. With no-slip technology, the shorts maintain their position, so you can continue being active without fear. These shorts provide upper thigh covering, which reduces friction and makes them comfortable to wear all day. These shorts are made in Colombia with careful attention to detail, ensuring both quality and efficiency.
6. 3226 Butt Lifter with Tummy Control
The 3226 Butt Lifter is a fantastic option if you're searching for a high-waisted shapewear item that provides both belly control and booty lift. For a flawless profile, it smooths and tightens the stomach while raising and boosting the bust. Effective compression on the stomach is guaranteed by the robust Powernet fabric, resulting in a sleek and sculpted waist. The shapewear's nonslip technology guarantees that it won't move around no matter how vigorously you move. The shorts' high-rise cut provides a smooth, friction-free sensation and a free range of motion through the upper thighs. Feel the ease and effectiveness of the 3226 Butt Lifter and proudly show off your curves.
7. 3327 Hourglass BBL Girdle with Mid Legs and Hooks
If you're recovering from a plastic surgery procedure like a BBL, Liposuction, or Tummy Tuck, or simply looking for an everyday body shaper, the 3327 Hourglass BBL Girdle is tailored to meet your needs. This post-surgery faja is made in Colombia with Powernet fabric, known for its elastic compression and superior sculpting. It offers stage 2 post-surgery support, along with butt lifting effects and full back coverage. The mid legs provide additional shaping and support. With three lines of hooks, you can adjust the level of compression and control according to your comfort. Choose the 3327 Hourglass BBL Girdle for a shapewear experience that enhances your figure and aids in post-surgical recovery.
8. Strapless Thong Shaper
Designed for women seeking accentuated waistline and enhanced derriere, the Strapless Thong Shaper is a Colombian-made shapewear that offers outstanding midsection control, tummy shaping, and lower back support. With its open-bust brief bodysuit design, it aligns the bust, controls the tummy, and supports the lower back. It is an essential undergarment for form-fitting dresses or casual jeans, providing coverage to problem areas and creating a smooth and tucked-in shape.
9. 3073 Bikini Style Waist Control with Lace Trim
Lock in your results and enjoy a smooth, tucked-in shape with the 3073 Bikini Style Waist Control shapewear. This powerful shapewear is designed to provide exceptional waist control and shape-enhancing benefits. The high-compression Powernet fabric is a key feature of this shapewear, reducing post-surgery inflammation and aiding in achieving better results. The bikini design with delicate lace trim adds a touch of femininity, making you feel confident and beautiful.
The easy closures ensure a snug and comfortable fit, while the bathroom-friendly design adds convenience to your daily routine. This shapewear works hard to smooth your tummy and create a lifted and enhanced booty, allowing you to confidently wear any outfit and embrace your curves. Crafted with meticulous attention to detail in Colombia, you can trust in the quality and effectiveness of this bikini-style waist control shapewear.
10. 4006 Men's Full Body Shaper
Men can also benefit from the confidence-boosting effects of shapewear, and the 4006 Men's Full Body Shaper is specifically designed to provide comprehensive coverage and support. From the torso to the thighs, this shaper offers full-body compression to enhance your physique. The zipper closure allows for easy wear and adjustability, ensuring a comfortable and customized fit. The two layers of 180g Powernet fabric provide targeted compression, particularly in the chest and abdomen areas, promoting sweating and aiding in the elimination of harmful fats.
By enhancing abdominal and spinal support, this shapewear improves your posture, giving you a more confident and lean appearance. Whether you're wearing it under a jacket, dress, or during daily activities, the 4006 Men's Full Body Shaper offers the benefits of a firmer posture, enhanced abdominal support, and lower back support. Experience the comfort, support, and transformative effects of this high-quality shapewear, specially designed for men who want to look and feel their best.
The Bottomline
As we wrap up our tour of the top 10 best-selling shapewear, we hope you've seen the enormous potential they possess for improving your figure. These garments can do wonders for your self-esteem and your figure, from butt lifts to waist-control bikinis.

Envision yourself leaving the house in a sleek, tucked-in silhouette, ready to take on the world in any ensemble you like. These must-have-shapewear can help you achieve your desired results, whether you want to define your waist, elevate your booty, or shape your thighs. Each piece of shapewear in our line is made from high-quality materials and carefully engineered to ensure maximum comfort and performance.

The time has come to embrace your ideal form and experience the transformational potential of our shapewear. Come check out our website and learn about all your choices. You can find the perfect size, shape, and set of features in our selection. self may begin the path to a more certain self with only a few mouse clicks.

Put an end to second-guessing yourself. Accept yourself as you are, revel in your individual charm, and move forth into the world with vigor. You should love the skin you're in, and these 10 best-selling shapewear will help you do just that.

Visit our website today to get started on the path to a more self-assured you. Learn how to achieve your ideal figure with the help of shapewear. The first step towards loving your body starts right now.
---