10 Common Mistakes to Avoid in Buying Your Shapewear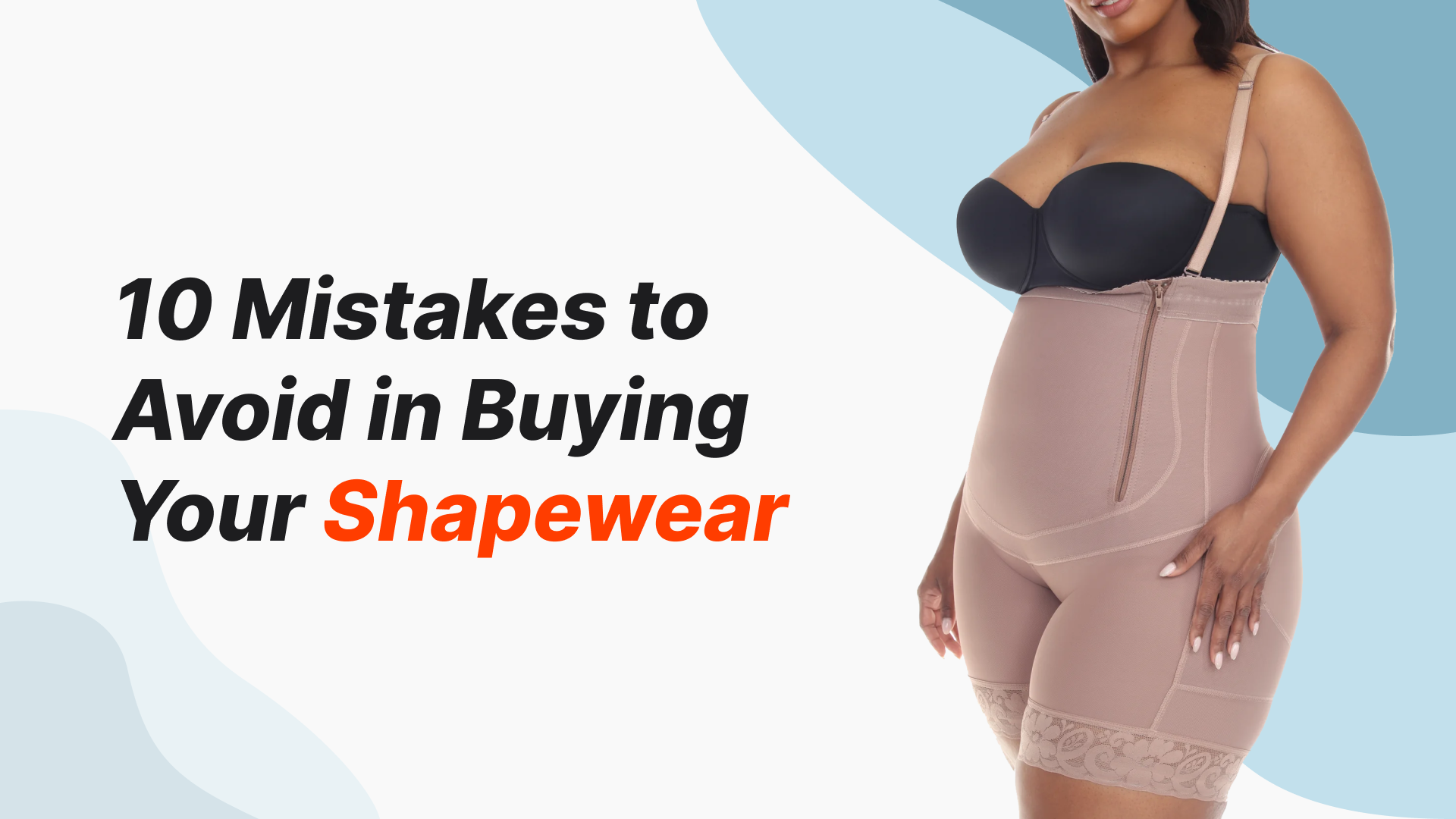 Shapewear has been around for centuries and is a game changer. Since the era of corsets, the shapewear industry has seen a surge in users. According to data, 15% of American women own shapewear.
From enhancing your appearance to creating a feminine silhouette and that perfect shape, shapewear is a wardrobe necessity. Even so, buying the wrong shapewear can ruin your occasion or outfit.
With so many options on the market, choosing the right shapewear for you can be overwhelming. Sadly, using the wrong shapewear results in discomfort and could potentially cause health issues.
The good news is that shapewear doesn't have to be uncomfortable. Whether you are a new user or a seasoned one, learn some common mistakes you can avoid when buying shapewear. Discover also some shapewear dos and don'ts and achieve the best results.
Buying the Wrong Size
Buying the wrong shapewear size is a common mistake many fajas buyers make. Have you ever wondered how stars smile and move around all evening wearing shapewear without passing out?
The secret is having shapewear in the appropriate size. There's a common misconception that fajas and other shapewear are supposed to be extra tight to bring out curves. Unfortunately, buying a size smaller bulges parts of the body and creates bumps and an uneven shape.
Some women might even imagine that smaller shapewear will make them appear smaller, only to cause untold discomfort. Avoid the wrong size, as shapewear is designed to smooth your curves and define your shape. To buy the right size, ensure you take accurate measurements and check the review charts.
Alternatively, ensure that you can sit and move around comfortably when trying on shapewear. Also, it's the wrong size if you struggle to breathe during fitting. Ill-fitting shapewear makes using the bathroom a challenge and will ruin your fun.
Buying/Using one Shapewear Type
The world of shapewear is broad, with many styles to choose from. But some women get one perfectly fitting garment in their shapewear shopping and stick with it without replacing it.
Shapewear may be versatile, but using only one may not give you its full benefits. You have to buy different shapewear in different styles to enjoy them.
Reusing one shapewear can make it less durable. The elastic stretches and loses its shape and effectiveness. However, having more pieces transforms your wardrobe and gives you options for casual, corporate, or evening wear. For example, you can have shaper shorts for smoothing thighs, shapewear panties for lifting the rear, and fajas for medical uses.
Explore different shapewear, find your style, and create your collection. Buying extra shapewear ensures you have a clean one to wear, maintaining hygiene.
Choosing the Wrong Color
Color may not seem essential during shapewear shopping, but it makes all the difference. The right shapewear color should be concealable under your outfit and not make heads turn for the wrong reasons.
Since there is no rule for the right shapewear colors, experiment with shades that flatter your skin tone. However, avoid colors that might draw attention to areas you want to keep hidden.
The standard colors available are white, black, beige, and nude. They also come in different shade variations, and it can be tricky to pick the right one. But it doesn't have to be complicated.
Consider your complexion and your outfit, and get a color that matches. You can also carry your outfit when shopping for a close color combination match-up. Another tip is getting black when uncertain, as it fits all complexions and dark outfits.
For lighter skin complexions, get brown hues that are lighter or darker than your skin. Again, for darker complexions, brown nudes are ideal. The secret is to match your skin tone as closely as possible.
Wrong Fabric
Another mistake most women make when buying shapewear is getting the wrong fabric. The best material should shape your body and still be breathable.
Shapewear has come a long way and evolved to be lightweight, breathable, and still practical. While synthetic fabrics like nylon and spandex are durable and great for cold seasons, they are not breathable during summer. Instead, get cotton fabrics during hot seasons for more comfort.
Ensure you buy shapewear that can regulate your temperature. Unbreathable fabrics can be uncomfortable and annoying for workout enthusiasts. The wrong material can cause chafing and irritate the skin.
Investing in high-quality fabrics ensures that your outfit and shapewear don't cling and result in bulges.
Not Matching the Outfit
When going shapewear shopping, ensure the outfit you intend to wear matches the garment you get. Different shapewear has different compressions designed for different clothes and specific areas.
Buying shapewear that doesn't match your outfit is a fashion faux pas you should avoid. For example, if you intend to wear a jumpsuit, you should seamlessly match it with a shapewear that conceals the panty line.
Again, if you're shopping for a form-fitting dress, you may consider a strapless shaper. Still, if you are wearing a tight-fitting dress or skirt, go for high-waisted shapewear that smooths your hips and thighs. If you are wearing a low-cut top or dress, a bodysuit with a built-in bra can support and shape your midsection.
Compression Levels
You don't want to buy shapewear with the wrong compression levels that are either too tight or loose. When purchasing wholesale fajas, note that shapewear comes in different compression levels. It would be best to buy shapewear at a compression level that suits your needs.
Light compression garments are ideal for daily wear as they are lightweight and breathable. They provide gentle support and smoothing of problem areas. On the other hand, firm compression shapewear should be for special occasions to achieve that perfect shape. This is because they significantly tone the abdomen, thighs, and rear.
If you choose firm compressions, remember they are appropriate for short periods as they may restrict breathing. Wearing shapewear with firm compressions for long periods can be uncomfortable.
Improper Cleaning of Shapewear
Some of the shapewear dos and don'ts revolve around cleaning and maintenance. It's best to clean your garment after each use to maintain its elasticity and shape. However, if you wear it less frequently, you can wash it every 2-3 wears.
Use a gentle detergent and cold water, and avoid scrubbing, wringing, or twisting the fabric. Then hang or lay flat to dry. But if you prefer using the washing machine, ensure it's on a gentle cycle and remember to use wash bags.
Don't use bleach or fabric softener, as they ruin the fabric and decrease its effectiveness. It's also important to check the care instructions for your shapewear for specific cleaning instructions. Proper cleaning of your shapewear extends its lifespan and keeps it looking fresh and well-fitting.
Not Understanding Body Type
Like every woman has a unique body shape, so is shapewear designed uniquely. Whatever shapewear works for one person may not work for another.
Many new buyers must avoid getting shapewear that doesn't compliment their body types. Understanding your body type is essential to empowering you to make an informed buying decision.
Common body shapes are the apple, pear, hourglass, and rectangle. Determine your body shape and what body part you want the shapewear to enhance; then get shapewear that accentuates your curves and, at the same time, is comfortable. You can try different styles until you find your perfect fit.
Buying Shapewear for the Wrong Occasion
Like other outfits, it is essential to give serious thought to the reason why you are buying shapewear. Wearing shapewear on inappropriate occasions can be uncomfortable or out of place.
Therefore, determine the occasion for which you intend to wear it, whether it is a wedding, dinner, gym, or a daily accessory. Decide whether you need support or comfort to help with your buying decision.
If you are searching for shapewear to wear daily, your main goal is to smooth out any bumps or lumps. In this case, you should prioritize comfort and choose a product that allows you to move and breathe freely.
However, consider different types of shapewear, such as fajas, high-waisted garments, or bodysuits, for special events to create a perfect shape. Additionally, specific types of shapewear designed for working out can help you sweat more and feel better at the gym.
Not Considering Shapewear Length
Shapewear can be the right length on a mannequin but the wrong one on you. Getting too short or too long shapewear that doesn't serve its function is one of the biggest mistakes you can make.
The length of the shapewear is essential to ensuring that it doesn't peek out from under your dress or skirt. How do you avoid such an unsightly mistake in your outfit?
To determine the right length of shapewear to wear under your dress or skirt, consider the length of your outfit. If you are wearing a short skirt or dress, opt for shorter shapewear that ends at the upper thigh or mid-thigh.
For longer dresses or skirts, choose shapewear that is the same length or shorter. It's crucial to select shapewear that aligns with your preferences and outfit.
Conclusion
Shapewear is perfect for many occasions and body types and shouldn't be restrictive. By following the easy tips and shapewear dos and don'ts above, you can wear your shapewear proudly and confidently.
The mistakes you will likely make during shapewear shopping include choosing the wrong size, fabric, and color. Keeping one shapewear for all occasions also compromises its durability. Avoid getting inappropriate material, compression levels, and garments that don't match your outfit.
Additionally, understand your body shape, the occasion, and the length of your shapewear. Remember to clean your garments while checking the care instructions properly.
Buy wholesale fajas specially designed to enhance your natural curves and provide comfort. Elevate your confidence with our well-crafted shapewear designed to flatter your curves.
---